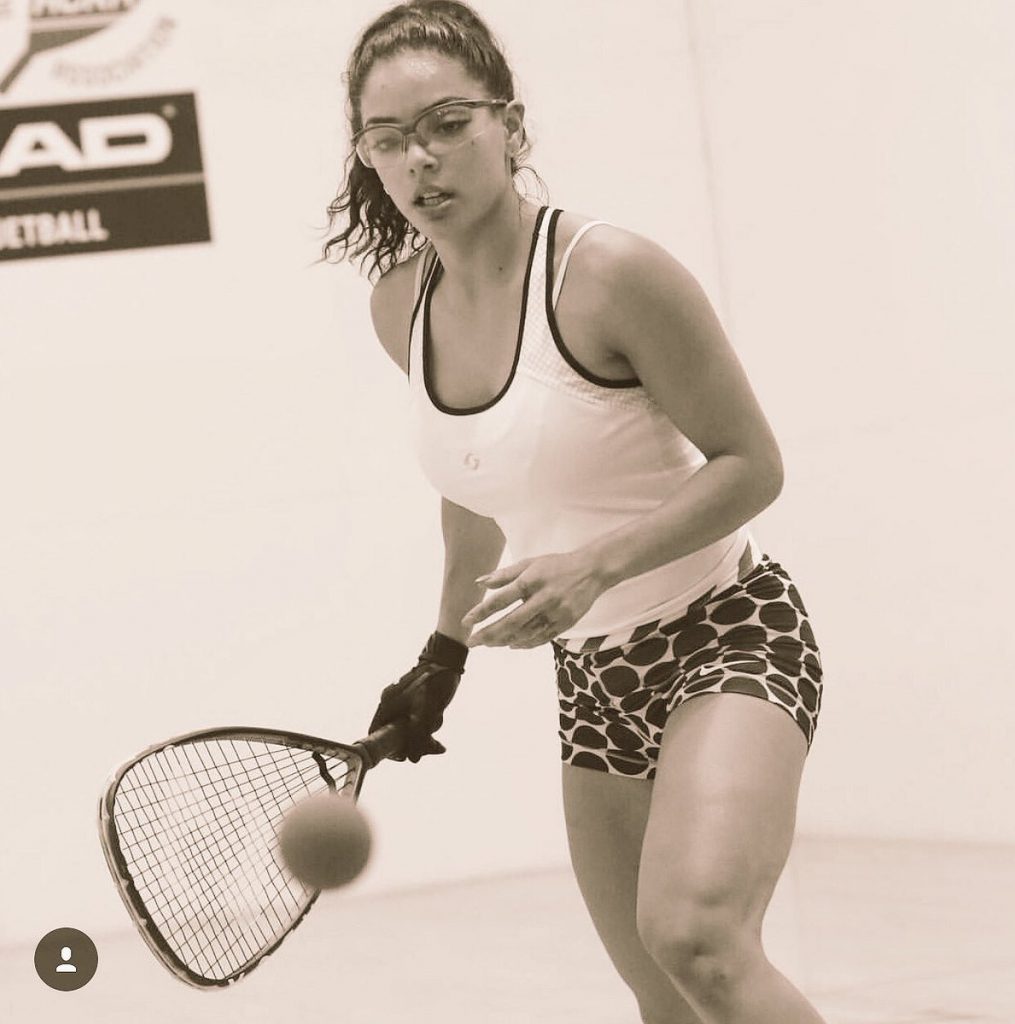 The last event on the LPRT slate is a big one: the 2019 Teamroot.com Grand Slam, held at the JCC in Overland Park, Kansas.
r2sports link: https://www.r2sports.com/portfolio/r2-event.asp?TID=30791
In a rarity; there are basically only pro draws in this event; singles and doubles (with a smaller Open singles draw). This is definitely a high-light event for the women's pros. 21 pros are in Kansas to compete in the last event of the year.
A couple of interesting entrants here that i'd like to point out:
– Former top-10 pro Jessica Parrilla has finally returned to the tour after badly injuring her knee last spring: her last appearance was in April of 2018. She did play Mexican Nationals this year in March as her first tourney back, and now starts from square one. She's seed 20th out of 21 entrants here (only Gomar is lower) and will have to fight starting next season to get back into the top 8.
– Guatemalan Marie Gomar is entered; she's got just one previous LPRT appearance (in 2014), and didn't have any international appearances for more than 5 years. With the retirement of Gaby Martinez, Gomar has ascended to #2 in Guatemala and is representing her country for the first time in years.
What's at stake from a rankings perspective? The top 2 are locked in for the year, and there'd have to be a pretty big upset of the 3-5 players for any change to happen there. The players ranked 6-10 however are each separated by smaller numbers of points, where a run to the semis could make a big change in the rankings thanks to the double points in this Grand Slam event.
——————————-
Lets preview the Singles draw:
Round of 32:
– In the 16/17 match, current Mexican champ and reigning world 18U champ Montse Mejia takes on Chilean #1 Carla Muñoz Montesinos. A tough opener for both, with Mejia favored to advance.
– #21 Gomar takes on regular touring pro Cassie Lee in her return to the tour.
– #20 Parrilla takes on regular touring pro Adrienne Fisher Haynes in her return to the tour.
– the 15/18 match looks tough as well: Susy Acosta versus Guatemalan #1 Maria Renee Rodríguez.
Interesting round of 16 projected matches:
– #1 Paola Longoria likely takes on Mejia in the 16s … again. They've met in the 16s two times already this year, including in the most recent pro event in Syosset (a brutal 5-game win for Paola Longoria). They also met in the finals of Mexican Nationals, an upset win for Mejia. Mejia seems to be in a points rut and needs a round of 16 win to get out of the 16-17 rankings range. Will it happen here? I favor Longoria, but i sense it'll be a 5-gamer again.
– The 8/9 match looks compelling: Amaya Cris versus Masiel Rivera Oporto . Colombia vs Bolivia, and two players who have very little history playing each other (just one match-up in 2014). Should be a good test for both.
– #4 Alexandra Herrera vs Parrilla; Interestingly, Parrilla's first match back from her knee injury in March was also against Herrera, in March at Mexican Nats. They're 4-4 career h2h, but Herrera has won the last three. Parrilla's had 3 months to improve fitness and knee stability; can she get the upset here?
Otherwise, i'm mostly predicting chalk in the round of 16.
Projecting the quarters:
– #1 Longoria over #8 Amaya; Longoria is 9-0 versus Amaya on the LPRT, 13-0 including IRF events.
– #5 Rhonda Rajsich over #4 Herrera; despite their ranks, Rajsich has never lost to Herrera, holding a 10-0 career h2h record. They've met in the quarters of the last two pro events too, both Rajsich wins … but they've both been 5-game marathons. I think Rajsich advances again, and once again its 5 games.
– #3 Maria Jose Vargas vs #6 Natalia Mendez; these two just can't get away from each other; after never playing prior to March … they've played each other 4 times in the last 3 months, including in the qtrs of the last three pro events. The two Argentinians (who are also doubles partners) likely face off again …and Vargas likely wins for the 5th straight time.
– #2 Samantha Salas Solis vs #7 Nancy Enriquez; they are projected to meet for the 3rd time this season. Enriquez has a couple of career wins over Salas, but they're forever ago and Salas advances here.
projected Semis:
– Longoria over Rajsich; this would be the 5th semis meeting between these two this season … Paola's got the first four, but it was a 5-gamer in Syosset.
– Salas over Vargas: they've met in the last three pro events; Vargas won on home soil in Bolivia, but Salas won the last two meetings rather easily.
Predicted final: Longoria over Salas. This has been the final in 7 of the 9 pro events this season … so might as well be the final in the last one too.
——————————-
Doubles preview
This event is serving as a warm-up event for a few national doubles teams for the forthcoming Pan Am games: the two top Mexican teams, the Argentinian team, and the Guatemalan team are all competing here (interestingly it seems like the Ecuadorian women's team went to the Black Gold event instead of Kansas City to practice, competing in the Men's open doubles event).
I'm going with #1 Longoria/Salas vs #5 Lotts/Munoz in one semi, #3 Herrera/Mejia vs #2 Vargas/Mendex in the other semi, and an all-mexican final with the top team winning.
Fun fact: LPRT commissioner Tj Baumbaugh is signed up, her first playing appearance on the pro tour since Aug 2016.
——————————–
Follow LPRT on facebook for streaming; veteran broadcaster Timothy Baghurst is making the short drive from OK to KS to help broadcast this weekend.
LPRT Federación Mexicana de Raquetbol International Racquetball Federation – IRF