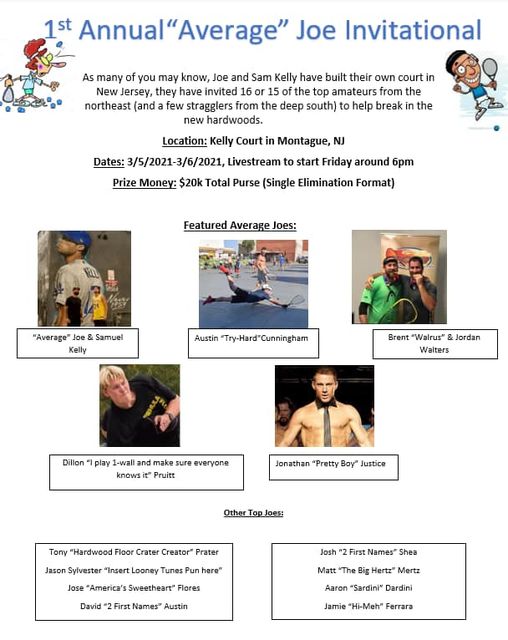 So, In case you weren't aware, the Kelley brothers from New Jersey have built a racquetball court at their house, complete with viewing area, mini-clubhouse and had it christened by none other than the legend Cliff Swain.
This weekend they've invited 15 of the top open players from up and down the East Coast to their home for a single elimination tournament. The draw sheet is out (Austin Cunningham posted it on Keep Racquetball Great earlier today).
Here's PRS' predictions on how it will play out.
In the round of 16s.
– #1 seed North Carolinian Brent Walters gets a bye, which is probably good since he's the oldest player in the draw. He'll need his energy come Saturday night.
– In the #9/#8, I've got Maryland's own Dylan Pruitt taking out New Jersey native #8 Greg Caruso in a slight upset. They played twice in mid 2019 and Pruitt beat him both times.
– #5 and host Joe Kelley takes out #12 Connecticut-based Tony Prater in the opener.
– #4 North Carolina's Jon Justice takes out #13 Jersey native David Austin.
– #3 Georgian Austin Cunningham takes out NY's #14 Josh Shea.
– #6 Fellow host @sam kelley handles New Yorker #11 Aaron Dardani.
– #7 Connecticut native Jose Flores takes out #10 North Carolina native Jordan Walters in a tight match.
– #2 New Yorker Jason Sylvester handles #15 Jersey native Matt Mertz.Just one upset by seeding in the 8/9, though the 7/10 could flip as well depending on how much Flores has been playing.
In the quarters we start to see some matches.
– #1 Reigning NC state champ Walters handles the youngster Pruitt.
– #4 2019 NC state runner up Justice takes out Joe Kelley.
– #3 Cunningham drops a game, but advances over Sam Kelley, knocking both brothers/hosts out in the quarters.
– #2 Sylvester goes tiebreaker but advances over long-time NE rival Flores.Chalk to the semis.
In the Semis:
– Walters prevails over his NC rival Justice in the semis.
– Cunningham takes out the veteran Sylvester.
In the final…
– Walters takes out Cunningham.
——-
Keep an eye out at KRG group and for Cunningham, Pruitt and Walters streaming the matches; they're always good for it. They've already started streaming practice doubles matches this afternoon, and its great to see the guys back on the court.