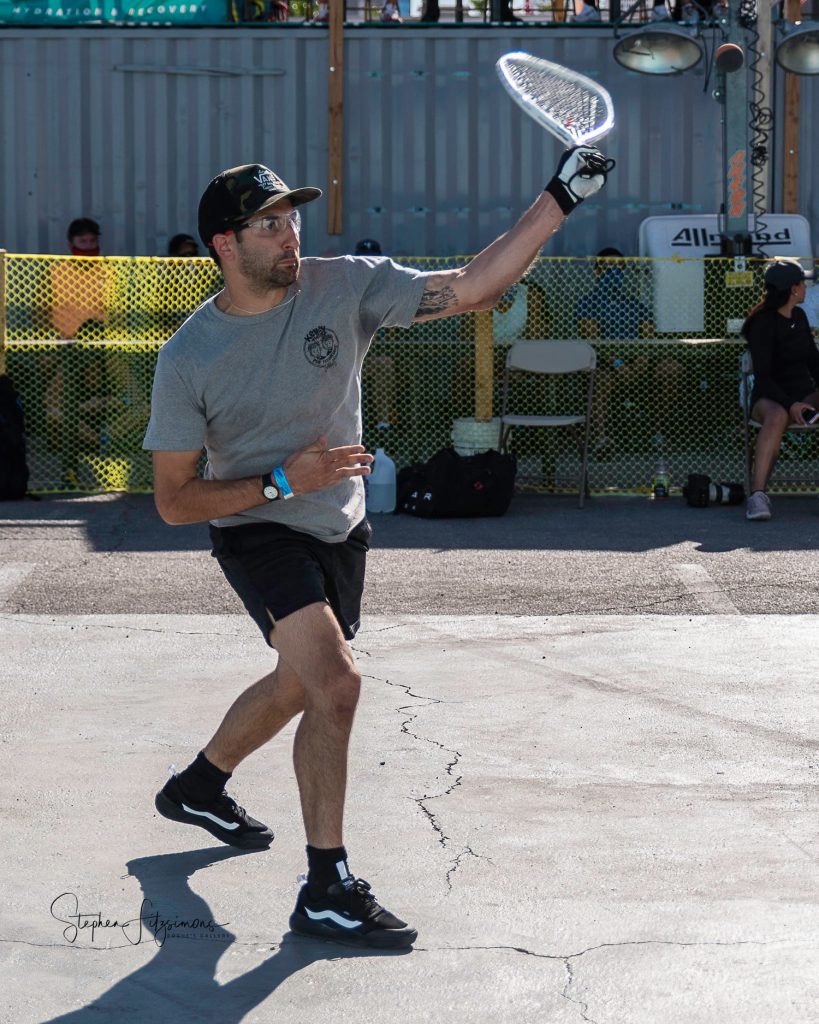 Congrats to Joe Kelley for winning on home turf and taking the first annual Average Joe's Invitational at the Kelley house in Montague, NJ.
15 players representing 6 states (NY, NJ, MD, CT, NC and GA) came to the home of Joe and Sam Kelley, who recently completed construction on a court adjacent to their home. The facility is great, the play was great, and the streaming was constant all weekend.
Play kicked off Friday night with the round of 16, then played out the full draw by Saturday evening; here's how things went
In the 16s:
– #1 Seed Brent Walters got a bye in the 16s and did a lot of reffing and streaming as a result.
– #9 Dylan Pruitt (who is NOT left handed, inside joke from my 3WallBall writeups last fall) topped Greg Caruso.8,8.
– #5 Joe Kelley topped Tony Prater 6,4
– #13 David Austin provided the biggest shock result of the round, crushing #4 Jon Justice 1,8 to move on.
– #3 Austin Cunningham topped #14 Josh Shea in a tight match 10,12. Shea is playing in his age 16 season and really hung well with the more experienced Cunningham.
– #6 Sam Kelley topped Aaron Dardini in two quick games 1,8.
– #7 Jose Dino Flores used his quick, compact swing and his agility to take out #10 lefty Jordan Walters in two games 9,6
– #2 Jason Sylvester beat Matt Mertz in two quick games 7,0.
In the Quarters:
– #9 Pruitt, recently graduated out of Juniors, played really solid ball to upset the #1 seed Walters and shake up the draw. Walters took the first game, but Pruitt battled back and dominated in the tiebreaker. final score (11),8,4
– #5 Kelley went tiebreaker against his frequent Jersey rival Austin, winning out in the battle of lefties to advance (13),4,6
– #3 Cunningham topped Sam Kelley in a breaker, splitting the first two games before advancing in the breaker. Final score (8),8,4
– #2 Sylvester edged out Flores in a battle between two long-time New England state level rivals. The two went 14-15, 15-14 in the first two games, with Sylvester saving match point against, before running away in the breaker 11-2. Not much between these two tough players on the day.
In the Semis:
– #5 Kelley dropped the first game 15-14 against the youngster from Maryland before rebounding to take game two 15-8. In the breaker, Pruitt ran off 5 quick points … and then hit a wall. Kelley ran off 11 unanswered points and took the breaker 11-5.
– #3 Cunningham made quick work of Sylvester, perhaps winded from his Flores battle, winning in two games 6,8 and displaying great reflexes and a sneaky fast serve that netted him points. He took match point with a behind-the-back roll-out.
In the final, Kelley mounted a furious comeback to shock Cunningham in game one, then cruised to the title in game two. Final score 13,7 (or perhaps 13,6 as Cunningham believes he lost a point on a technical to a fussy ref in Brent Walters
—–
Great event, great idea and it was awesome to watch from afar all day Saturday. Hope to see more live racquetball soon. Thanks to the participants and of course to the Kelley brothers for building this amazing court and hosting.