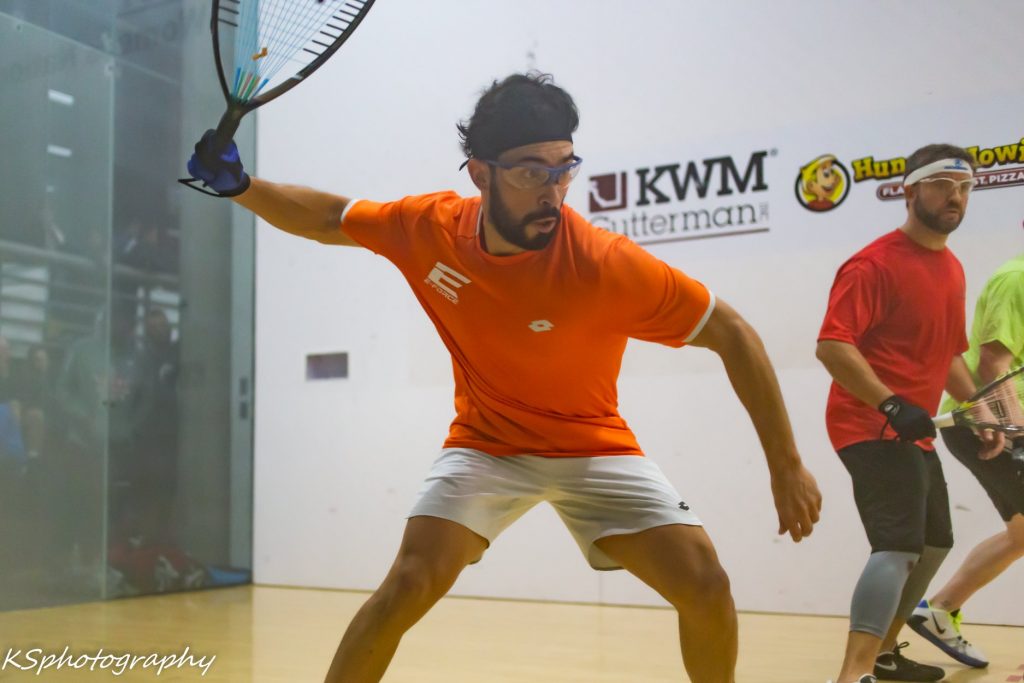 Congrats to your winners on the weekend:
– Men's Doubles: Sudsy Monchik & Alejandro Landa
– Women's Doubles; Aimee Ruiz & Erika Manilla
And the winners of the Singles qualifiers:
– Men's Singles: Rocky Carson
– Women's Singles: Hollie Scott
Sudsy/Landa win three straight 11-9 breakers over former USA National doubles championship teams to take the title. Ruiz secures her 12th title (13th won on the court) and brings along Manilla for her first ever National Doubles title.
R2 Sports App home page for event: https://www.r2sports.com/tourney/home.asp?TID=31680
——————
Lets review the notable matches in the Men's Doubles draw.
Men's Doubles Match report in the PRS database: http://rball.pro/989C2B
All three round of 16 matches were two game wins that weren't necessarily that close: #9 MoMo Zelada/ Robert Collins "upset" the #8 seeded team of Brent Walters and Thomas Gerhardt 13,3 as the round's closest match.
—————-
In the Quarters, we saw some fun matches.
– #1 Rocky Carson and Charlie Pratt Racquetball dominated the #9 seeded team of Zelada/Collins 9,3 to move on.
– The #5 team of Alex Landa and Sudsy Monchik barely got by a very good #4 seeded team of Tony Carson and Jansen Allen (13),12,9. Carson/Allen jumped out to a huge lead in game one and it looked for a time like the match would be a blow-out, but Landa/Monchik battled back and lost game one on a disputed call. Game two was more in Landa/Monchik control towards the end, leading to the inevitable tiebreaker.
In the breaker, a very tense match reached its crescendo. There was almost nothing between these teams and throughout the 3rd game rallies often ended with spectacular pinch winners or debatable hinders. Carson's backhand was lethal throughout the match, and his backhand hard Z gave Sudsy fits all night. At the end, Landa was able to find a serve that Allen couldn't (or didn't) attack, which led to scoring opportunities that they didn't miss to pull away and get the last two points to win 11-9.
– After dropping the first game, #6 David " Bobby" Horn] and Erik Garcia] were able to get the upset over #3 Adam Manilla] and Nick Riffel (7),3,5.
– #2 Jake Bredenbeck and Jose DIAZ were pushed to a breaker, but eventually advanced over #7 Maurice Miller and Troy Warigon.
—————
In the Semis
– #5 Landa/Monchik dethroned defending champs Carson/Pratt in a fascinating match that went down to the wire. After dropping the first game rather easily, the #5 seeds regrouped and forced a tie-breaker. There, it went down to the a couple of critical rallies, just as their match in the quarters. Carson & Pratt looked like they had the match in hand, up 8-4 with the serve … they missed two opportunities to push it further, giving the serve back. There, a skip, a funny bounce a mis-communication and a crack-ace quickly got the match to 8-8. From there, Landa crushed a service return for a half out, then Rocky buried a pinch kill from 39 feet for 9-8. Sudsy then crushed a pinch kill to get a side out … called a skip for 10-8 but overturned by both line judges for a critical side-out at 8-9 for Landa/Monchik. From there … destiny took over; Pratt got hit by a call heading for a setup for 9-9, Landa buried a kill shot for 10-9 and then Pratt skipped a service return for an anti-climactic end to a great match.
– #2 Jake/Diaz overcame a first game defeat to cruise to the win, advancing to the final for the third time in five years, defeating #6 Horn/Garcia (11),5,3.
—————
In the Finals, Sudsy/Landa looked for a time to be cruising to the title, jumping out to a big game one lead before Jake/Jose fought back to make it a game. Game two was one-way traffic, setting up yet another nail biting tiebreaker. There, the veterans jumped out to a big lead, only to have Jake/Jose grind back to 9-9. Then, as with the two previous matches, Landa/Monchik faced 9-9 down without the serve, got it back and served it out for the match.
The cardiac kid veterans beat three former champs, each time 11-9 in the breaker, to secure the title and claim National team spots.
—————-
Women's Doubles review
Match report in the PRS database: http://rball.pro/846600
In the quarters, two matches:
– The young #4 seeds Jazmin Trevino and Erin Slutzky prevailed in a breaker over #5 Cassie Lee and Fran Transfiguracion 11-8.
– the #3 seeds of collegiate stars Hollie Scott and Lexi York dominated the team of Graciana Wargo and Jessica Chen 4.3.
In the Semis:
– #1 seeds Aimee Roehler Ruiz and Erika Manilla cruised to the final over the #4 team of Trevino/Slutzky 7,7
– #3 Hollie Scott and Lexi York] outplayed the #2 seeded team of Kelani Lawrence and Sheryl Lotts, winning in two games 8,13 to move into the final.
In the Finals: the #1 seeds dominated, led by Ruiz' experience and cruised to the title 6,9.
—————-
Men's Singles Qualification:
(No match report in PRS database b/c we're not loading this data right now).
Here's a review of the singles qualifier:
round of 16 notable matches:
– #8 Maurice Miller got a solid win over #9 Erik Garcia 12,(6),5.
– #12 MoMo Zelada got the biggest upset of the night, playing a solid match to down #5 Charlie Pratt 12,11. Pratt made the semis of the last two US Nationals event, and Zelada has really been playing well lately.
– #6 Thomas Carter came back from a 15-0 first game defeat to down #11 Robert Collins (0),7,9 in a battle of lefty IRT tour veterans. Collins really couldn't do anything wrong in the first, but Carter made some adjustments to advance.
– #7 Manilla took two solid games over the improving #10
Sam Bredenbeck 8,12 to move on.
In the Quarters: all four top seeds advanced in two games in the near-chalk draw:
– #1 Carson over #8 Miller
– #4 Horn over #12 Zelada
– #3 Bredenbeck over #6 Carter
– #2 Landa over #7 Manilla
In the Semis:
– #1 Carson remained undefeated against #4 Horn, but was pressed to a tie-breaker to advance.
– #2 Landa also remained undefeated against #3 Bredenbeck, winning in two straight.
In the final, a fatigued Landa fell to Carson in two games; it looked for a bit like Landa could rally for a breaker in the second game, but a couple of curious calls went against him at the tail end of game two, he lost focus and the match was over; Carson wins 6,14.
——————
Women's Singles
Round of 16 notables:
– #8 Jessica Chen took out her doubles partner #9 Wargo in two.
– #6 York dropped the first game against junior Slutzky before advancing.
In the quarters: all four top seeds advanced.
– #1 Rhonda Rajsich over #8 Chen
– #4 Erika Manilla went tiebreaker to advance over #5 Lotts, dropping the first game 6 then winning (6),7,3.
– #3 Scott downed her doubles partner York 8,9
– #2 Lawrence took out fellow LPRT touring regular Cassie Lee 6,1.
In the semis:
– #4 Manilla got a career win, topping #1 Rajsich in a tie-breaker.
– #3 Scott upset #2 Lawrence in a rematch of last year's US National singles final.
I said my peace on the seeding issues here in the preview; this event was mis-seeded, and these semis match-ups demonstrate why it was mis-seeded and why Lawrence in particular probably feels hard done by here.
In the final…Scott prevailed over Manilla in the breaker to put herself in the driver's seat for a National team spot.
——————
National Team Standing Implications of these results.
(see https://www.teamusa.org/…/Team-U…/Qualifying-for-the-US-Team
for qualifying guidelines and point scoring here).
On the Men's side, if my calculations are correct, then the top for candidates in the race for the two National team singles spots are:
1. Landa: 36
2. Carson: 32
3. Jake: 20
4. Horn.20
Despite losing the final here, Landa is in the lead for a national team spot thanks to the vast difference in US OPen results. Landa and Carson have a pretty sizeable lead over Jake and Horn; the only way Jake or Bobby could surpass Landa or Carson is to win US Nationals this coming May and have one of Landa/Carson upset prior to the semis.
On the Women's side, here's the current standings:
1. Scott: 31
2. Manilla: 24
3. Rhonda: 20
4. Kelani: 19
Hollie pretty much has a spot sewn up at this point: The second spot will come down to how 2 thru 4 play at Natioanls in May.
——————
Other notable draws from National Doubles:
– Miller and Warigon took the Men's Open Doubles title.
– Trevino and Slutzky took the Women's Open Doubles title.
——————
Next up?
There's no major tournaments anywhere in the world (pro or amateur) until the first week of March. So we have a bit of a break.
——————-
USA Racquetball
International Racquetball Tour
LPRT
International Racquetball Federation – IRF