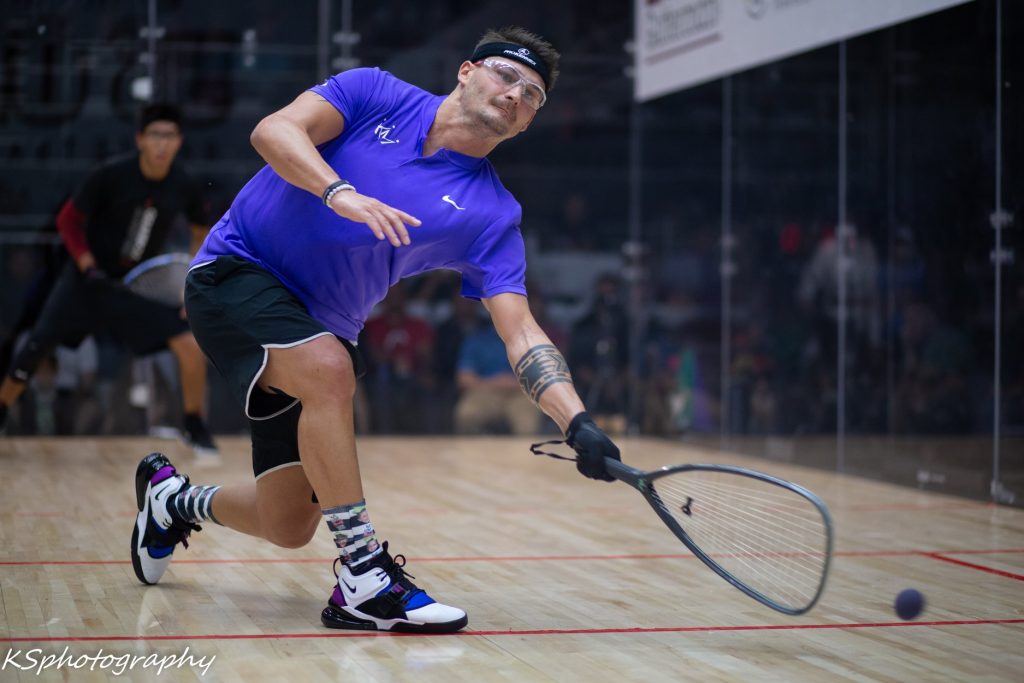 Congrats to your winners on the weekend:
– Singles: Kane Waselenchuk
– Doubles; Daniel De La Rosa/Alvaro Beltran
R2 Sports App home page for event: https://www.r2sports.com/portfolio/r2-event.asp?TID=31369
——————
Lets review the notable matches in the Singles draw.
Singles Match report in the PRS database: http://rball.pro/2D58FF
—————-
In the 128s: no surprises. Local @Victor Migliore took Guatemalan veteran Christian Wer to a tie-breaker but fell 11-9. The other three traveling members of the Guatemala national team all won their openers and moved on. Oregon's Jim Douglas, an active member of the online rball community, went down in a tie-breaker to local player Nadeem Sharifudden.
In the 64s, a couple of notable matches:
– Guatemalan Juan Salvatierra downed IRT touring regular Justus Benson in two close games 12,13. Solid win by Salvatierra to move on.
– Semi-regular IRT regular Kyle Ulliman was stretched by another traveling Guatemalan in Edwin Galicia before advancing in a breaker.
—————-
In the 32s, we got some upsets and close matches.
– In the 16/17 match, a tiebreaker as expected. #16 Sebastian 'Patata' Fernandez held off the Costa Rican number one Andres Acuña 11-7 in the breaker.
– Jaime Martell Racquetball showed he came to play, crushing the #9 seed Mario Mercado 7,2 to make the main draw as a #24 seed.
– #13 Thomas Carter crushed the upstart #20 Sam Bredenbeck 1,9 to make the main draw.
– #19 Robert Collins pushed #14 Eduardo Garay Rodriguez to a breaker before falling.
– In the 15/18 match, a surprise. #18 Adam Manilla outplayed and outhustled #15 Javier Mar to advance 9,9. Mar was off, but Manilla was definitely on. can he make another run (he made the Semis in Austin in January?
—————-
In the 16s:
– #1 Kane Waselenchuk got his tourney started off against the upstart youngster #16 Sebastian Fernandez, who lost 6,9. Good showing here against the king.
– #8 Lalo Portillo99 got a very solid win against #24 Martell 13,13 to move on. Martell pushed but couldn't break through here, though there wasn't much between these players on the day.
– #5 Andree Parrilla reversed his recent one-and-done trend with am emphatic win over #12 Gerardo Franco Gonzalez 0,11.
– #4 Alvaro Beltran held serve against #13 Carter 8,8 to move on.
– #3 Rocky Carson was stretched to a tiebreaker by #14 Garay before advancing 11-7.
– #6 Daniel De La Rosa went to the limit against #11 Jake Bredenbeck, saving match point against to win 11-10.
– #7 Samuel Murray dominated #10 Rodrigo Montoya Solís 11,3 to get another quarter final appearance and put some distance between him and Rodrigo in the race for the top 10. Montoya, who had been as high as #8 this season, will dip down to #12 with these results, and he has to be thinking about what he can do to turn things around.
– #2 Alex Landa advanced by the skin of his teeth, beating upstart lefty #18 Manilla 11-10.
So, the quarters are chalk, with the top 8 seeds advancing, but it could have gone either way with a number of these matches.
—————-
In the Quarters
– #1 Kane held serve against #8 Portillo, advancing to the semis 6,7.
– #5 Parrilla continued his best pro showing in months, coming from a game down to take out veteran Beltran in a breaker.
– #6 DLR crushed #3 Carson 5,5. This is Rocky's 5th exit this season at the quarters or earlier … last season he made the semis or better in every event. Meanwhile DLR continues his resugence; these results will be enough for him to supplant Moscoso for #6 on tour, and within shouting distance of #5 and #4.
– #2 Landa cruised by his doubles partner #7 Murray in two shorter games.
—————
In the Semis
– #1 Kane showed how formidable he can be, coming down from a large game two deficit to cruise into the final 6,11 past #5 Parrilla. With this semis appearance, Parrilla nearly catches back up with Beltran for 4th on tour; its going to be a great battle for that 4/5 spot the rest of the way.
– #2 Landa ended the DLR freight train but needed a tiebreaker to do so. Landa extends his recent dominance over DLR (he's won their last 7 meetings).
In the Finals, it was one-way traffic like it often is with Kane, who took about 10 minutes to take the first game 15-3 and eventually the match 3,5.
—————-
Points Implications of results; This tourney replaces the same event last season, so there's some players defending higher than average points. In Chicago last season, Kane d Rocky in the final and Andree/Montoya made the semis. Also notably, DLR got upset in the 16s, so he had great gains here this weekend.
Notable ranking moves:
– DLR overtakes Moscoso for #6
– Bredenbeck should jump to #10; he was #13 entering the event. Jake and Mercado are now separated by just 2 points in my worksheet for the #10 spot, which would be the first time Jake finishes in the top 10 if he can retain the spot.
– Horn's injury-driven absence costs him 3 spots in the rankings; he falls to #18 from #15 last week.
– Sam Bredenbeck jumps back into the top 30; he is now #28.
– Jaime Martell makes a huge jump from #42 to #35
—————-
Doubles review
Match report in the PRS database: http://rball.pro/B01855
Chalk to the quarters, though both the #1 and #2 seeds went tiebreaker to get there.
In the semis, the top to Mexican teams advanced yet again to the final to face off. #1 DLR/Beltran dropped a game to the quickly improving Portillo/Parrilla pairing before moving, while Montoya/Mar dominated the #2 seeds Landa/Murray 11,3 to force a rematch of the Mexican Nationals event that happened just a few weeks ago.
In the final, DLR/Beltran got back the upper hand in their burgeoning rivalry with their younger Mexican teammates, taking a closely fought 10,13 match for the title. Its their 7th pro doubles title together since Jan 2017.
—————-
Other Draws:
Men's Open went nearly chalk into the quarters, and chalk to the semis with the top 4 seeds (all IRT regulars) advancing.
In one semi Fernandez topped Franco in two, while in the other Acuna spanked Mercado to make the final. There, both guyts played like they had a plane to catch (both are very fast workers), and Acuna took out his Mexican rival 11,13.
Women's Open; a decent 8-woman draw was taken by Erika Manilla, who beat top junior Erin Slutzky in the semis and then Costa Rican international Melania Sauma in the final.
Men's Open Doubles was taken by Cuevas/Franco over top seed Illinois locals Keith Minor and Fernando Javier Rivera.
Mixed Open Doubles was taken by Slutzky and India international Alok Mehta.
—————–
Thanks for all the streaming on the weekend, especially from broadcasters Dean Baer, Favio Soto, Pablo Fajre and the IRTLive crew
——————
Next up?
Well. I have no idea what is next.
Its pretty amazing what has transpired in this country in just the last 7 days. A week ago we were finishing up the Boston Open on the Ladies side without any real national movement on this Covid-19 Corona Virus. Then in the last week, from a rball perspective we've seen every major tournament planned for the next month cancelled. WOR Beach Bash, a number of state singles competitions, an IRT tier 5 in Monroe, LA, USAR intercollegiates, and most notably the annual PARC event to be held in Bolivia.
That clears out the racquetball schedule through at least mid April. But who knows what will transpire between now and then. We're already seeing travel bans; it seems unlikely that a "tour" based sport like pro racquetball could function if none of the traveling players could travel to the events.
So who knows. Is it possible we've seen the last pro events until well into the summer? Maybe. Depends on how dangerous this virus turns out to be, how exponentially it expands, and how much more of an impact it makes on society. Crazy times.
——————-
tags
International Racquetball Tour
LPRT
International Racquetball Federation – IRF
USA Racquetball
Racquetball Canada
Federación Mexicana de Raquetbol
Federación Boliviana de Futbol
Racquetball Colombia
Federacion Colombiana de Racquetball
Federación Costarricense de Racquetball
Jugadores Racquetbol Guatemala