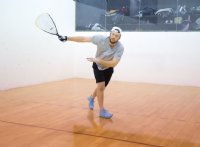 While some of us were in Vegas, others in Atlanta … the Kelley brothers had 20 of their closest east coast (and beyond) friends up in Jersey for a quick two-day shootout. Here's the results.

In the play ins:
PA's Simon Totive took out fellow PA native Glenn Sincovich
CT's Tony Prater took out Jersey's Matt Mertz Plumbing, Inc.
Jamie Ferrera took out NY's Abraham Mercado
Jersey's Julio Infante upset NY's Aaron Dardani.


In the 16s:
#1 Kyle Ulliman took out Totive.
#9 Josh Shea with the upset over #8 Jersey native David Austin (who in the preview I mistakenly thought was Austin Cunningham: apologies to both).
#12 host Sam Kelley with the upset win over #5 Brennen Jennings, showing that home court advantage does exist.
#4 Dylan Pruitt cruised past qualifier Prater 4,0
#3 Victor Migliore advanced past qualifier Ferrera
#6 Alex zamudio got a solid win over NY veteran #11 Jason Silvester
#7 Ben Bleyer held serve against CT veteran #10 Jose Flores Jr.
#2 co-host Joe Kelley cruised past qualifier Infante.
So, two upsets in the opening round, and some top level talent moving on.


In the quarters:
#1 Ulliman took out the junior from NY Shea
#4 Pruitt held serve against his host Sam to move on
#3 Migliore took out the Floridian Zamudio
#7 Bleyer had the big upset of the round, taking out his host and defending champ Joe Kelley.


In the semis, it was Ohio versus Maryland in both matches:
#1 Ulliman defeated Pruitt
#3 Migliore over Bleyer.


In the final, #1 Kyle lived up to his seeding and defeated Migliore in an all-Ohio final.
Congrats to the Kelley brothers once again for putting on a fun event.