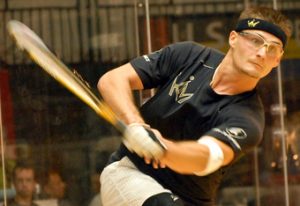 (data now loaded to the PRS database for the event; see this link for the tourney Match Report: https://bit.ly/2PliRnD)
Here's a quick list of all links to US Open Pro Singles content created for this year's event:
Congratulations to #3 Kane Waselenchuk, who defeated #4 Daniel De La Rosa in two games 11,6 to capture his 14th US Open crown. Waselenchuk has not been defeated at the sport's biggest tournament since 2002, when he lost in the semis to one of the sport's previous legends, Cliff Swain.
Waselenchuk, as is characteristic, did not drop a game in this tournament. He vanquished all comers in two straight, and instead of wondering who might beat him, or even take a game off of him, we marveled at the likes of DLR, or Andree Parilla, or Javier Mar … all of which achieved the amazing accomplishment of scoring double digits in a single game against Waselenchuk.
In winning this event, he also extends his current on the court/non forfeit match winning streak to 66 games, which is third most in the history of the sport (behind only himself; Kane now owns the sport's top three longest match winning streaks).
Kane's win, coupled with Rocky Carson's semi finals loss and Alex Landa 's quarter final upset will not be enough to return Kane to the #1 ranking on tour; he trails Rocky by more than that points delta. But with a couple more similar results, he'll return to the top of the rankings table. http://www.irt-tour.com/singles-rankings/ .
Congrats to Kane on winning the sport's top prize, and we hope we see more of him going forward this season as the status of his retirement from the sport still seems to hang in the balance.