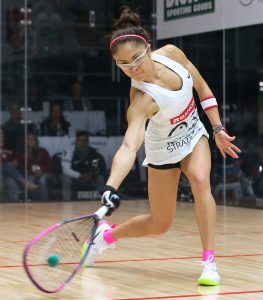 Match report in the database: https://bit.ly/2yrkHMq
Here's a wrap-up of all the LPRT singles posts for this year's US Open:
Congratulations to Paola Longoria, who captured her 9th career US Open title by defeating #3 Samantha Salas Solis 9,2,5. Paola has not lost at this event since 2010, when she was upset in the final by #2 Rhonda Rajsich.
This tournament represents Longoria's 84th Tier 1 or Grand Slam title, and she seems well on her way towards challenging Kane Waselenchuk's overall record for total pro titles (which currently sits at 111).
Paola maintains her current stranglehold on the points lead on the LPRT; she is set to extend her current lead on #2 Frederique Lambert, who was vanquished in the semis by finalist Salas.