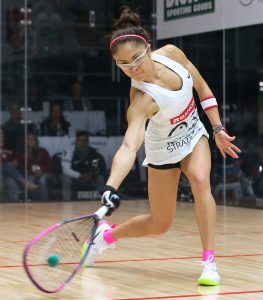 Congrats to Paola Longoria on her double win on the weekend. This is her 85th tier-1 singles tourney win, nearly double the next closest competitor in the ladies pro tour history.
The matches are now in the DB; here's the Singles Match Report link:
http://www.proracquetballstats.com/cg…/print_results_new.pl…
Lets review the event.
In the qualifiers, Adrienne Fisher Haynes overpowered the retired champ Cheryl Gudinas , and Masiel Rivera Oporto ousted international vet Maria Renee Rodriguez in four (the only "upset" by seeding for the play-in rounds).
The round of 16 went completely chalk, with all eight top seeds advancing. 7 of the 8 matches were three straight games, though #8 Natalia Mendez took three tight games over #9 Cristina Amaya Cris 9,9,8. Only Maria Jose Vargas was stretched to four, dropping a game to Adriana Riveros before advancing.
In the Quarters…a couple of surprising results. #1 Paola Longoria dropped a game to Mendez but advanced. #4 Alexandra Herrera got a solid win over #5 Nancy Enriquez, #3 Salas had a 4-game win over Vargas, and #7 Rhonda Rajsich got an upset win over #2 Frederique Lambert.
In the semis…Longoria overpowered #4 Herrera in three to advance to her 99th career tier-1 final, but Salas was stretched to the limit by Rajsich, requiring a 5th game tiebreaker to advance to her 13th career final.
In the final: Salas did what she could to stay with Longoria, but it was another 3-game win for the champion. Longoria improves to 45-3 career h2h against her frequent doubles partner.
——————
The doubles draw saw an 8-team competition, and much closer matches.
Here's the Doubles match report:
http://www.proracquetballstats.com/cg…/print_results_new.pl…
In the quarters, the top team of Longoria/Salas was stretched to a tiebreaker by the team of Nancy Enriquez and current world doubles champion Yazmine Sabja Aliss before losing. Lambert/Munoz upset the Argentinian national team of Vargas/Mendez. The US National doubles team Rajsich/Sheryl Lotts reversed some recent form and trounced the Colombian National #1 team of Riveros/Amaya. Lastly the #2 seeds Herrera/Rodriguez came back from a game one pounding to advance in a tiebreaker.
The semis were anticlimactic,with the #1 team getting an injury walkover into the final when Carla Munoz turned her ankle, and the #2 team advancing easily 7,9.
The final was similarly anti-climactic, as the world's best team wiped out the make-shift #2 seeds 7,2 for the win. Longoria & Salas improve to an amazing 68-3 record in pro doubles since we started tracking it in 2013.