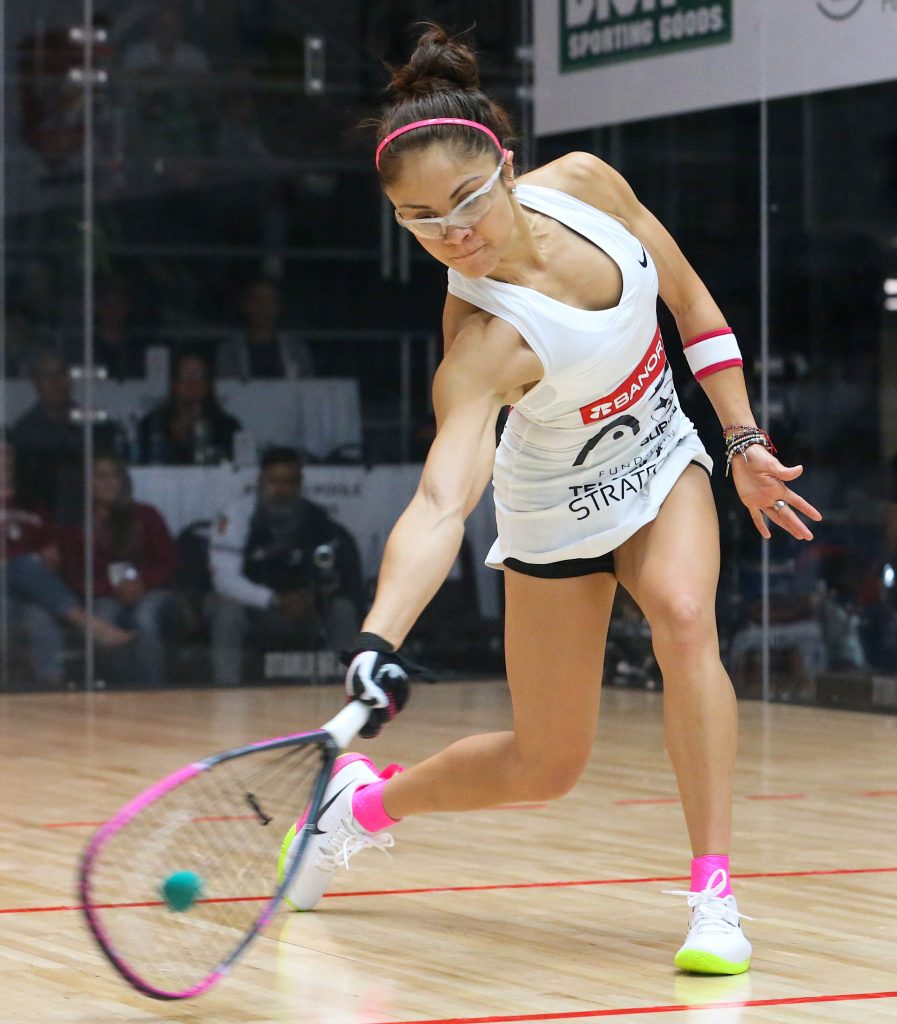 Congrats to Paola Longoria on her win this weekend in NY.
With this win:
– this is Paola's 90th tournament title in the database and 97th that she claims (we have yet to reconcile this difference with her media group).
– She remains undefeated on the season, improving to 33-0.
– Paola creates an insurmountable lead at the top of the season to date rankings, ensuring her 10th pro title (more on that later).
– Paola extends her current match winning streak to 37.
– She improves to 49-3 career on the LPRT over #2 Salas.
R2sports link: http://rball.pro/B39D6C
PRS Match Report: http://rball.pro/E8EB94
Here's notable results by round:
In the 32s/qualifiers:
– #12 Brenda Laime Jalil needed four to get by Canadian Michèle Morissette, who just finished representing Canada at PARCs 2019 and played solidly.
————————
In the 16s:
– In a battle of two of the worlds best, far too early, #1 Paola Longoria avenged a loss in the 2019 Mexican Nationals final to top Montse Mejia 11-7 in the 5th. It was a battle though, a back and forth 5-game monster.
– #5 Rhonda Rajsich came from two games down to take out youngster Laime.
– #6 Natalia Mendez took a 3-game win over #11 Masiel Rivera Oporto 8,9,9. Closer than it seemed.
– #10 Amaya Cris got a nice win over #7 Nancy Enriquez 5,6,6.
————————-
In the Quarters:
– #1 Paola Longoria took out last year's 2nd ranked player and #8 seed Frederique Lambert in three straight.
– #5 Rajsich again came from 2 games down to top #4 Alexandra Herrera and remain undefeated against the lefty Mexican in her career.
– #3 Maria Jose Vargas topped her doubles partner #6 Mendez in straight sets, her 4th win over Natalia in the last few weeks.
– #2 Samantha Salas cruised past #10 Amaya to make the semis for the 8th time in 9 tries this season.
So nearly chalk into the semis: 1,2,3,5.
————————-
In the semis:
– #1 Longoria had to come from two games down to top #5 Rajsich. After dropping the first game 4, a battle royale ensued in game two, with Rhonda topping Paola 13-11. From there though, all champion, as she cruised to win the next three games 2,3,1.
– #2 Salas beat Vargas in three straight advance to her 8th final in 9 events this year.
—————————
In that final, Longoria improved to 49-3 on the pro tour over her doubles partner Salas … but she had to work to do so. A back and forth affair resulted in another 5 game match for Longoria before she came out on top.
Three 5-gamers in this event for Longoria; that doesn't happen too often. But she comes out with the title.
—————————
One more event for the LPRT; a grand slam in Kansas City in mid June. However, Paola has sewn up the year end title, having an insurmountable points lead at this point over Solis for #1. And Solis has a similarly insurmountable lead for #2. We'll go through the points ramifications in the preview for the last event for the rest of the top 10 after the Kansas event.
But Longoria has now officially wrapped up her 10th pro title. Congrats to Paola on this great accomplishment!.
————————–
LPRT Federación Mexicana de Raquetbol Racquetball Canada USA Racquetball