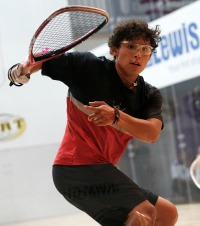 We got a fun treat at the Syosset open; mixed pro doubles. 20 teams entered and we got some great ball.
r2sports Mixed Pro doubles draw: https://www.r2sports.com/website/bracket.asp…
We don't have a spot in the Proracquetballstats.com database for Mixed doubles. But we have staged these results, World Doubles 2018, and the nice mixed pro draw from San Antonio last weekend as a starting point. If anyone can think of mixed pro doubles draw from the past, i'm more than happy to dig up the r2sports links and stage them too.
here's a quick wrap up:
—————————-
In the quarters,
– #8 Alvaro Beltran + Montse Mejia upset the #1 seeded team of Alejandro Alex Landa and Maria Jose Vargas Parada in a tiebreaker.
– #4 Paola Longoria and Rodrigo Montoya Solís topped the all-Canadian team of Frederique Lambert and Samuel Murray
– #3 Andree Parrilla and Alexandra Herrera were upset by the young #11 team of current junior world champ Eduardo Lalo Portillo and current inter collegiate champ Hollie Rae Scott.
– #2 Seasoned doubles players Daniel De La Rosa and Samantha Salas Solis cruised by #7 Jake Bredenbeck and Yazmine Sabja Ráquetbol, the current reigning World Doubles champion.
——————–
In the semis:
– Beltran (the current men's world doubles champion) topped the finest women's doubles player in the world and current PARC doubles title holder Longoria with partner Montoya.
– De La Rosa (with 2018 world doubles champion with Beltran) and Salas (she the holder with Longoria of the 2019 PARC title) topped the Portillo/Scott team.
——————–
In the final:
– DLR and Salas downed Beltran and Mejia in two straight to claim the title.
——————–
In the three Mixed Pro events I know of, here's the winners:
– World Doubles 2018: Daniel & Michelle De La Rosa
– San Antonio 2019: Alan Natera Chavez and Mejia
– Syosset 2019: Daniel De La Rosa and Salas.
——————–
International Racquetball Tour LPRT Racquetball Canada USA RacquetballUSA Racquetball Federación Mexicana de Raquetbol International Racquetball Federation – IRF