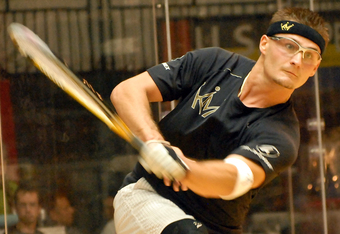 Congrats to Kane Waselenchuk, who wins the Syosset Open on the weekend.
With this title:
– Kane's 116th professional win.
– He improves to 26-2 on the season
– He improves to 76-3 over Rocky, his opponent in the final.
– Most importantly … Kane secures an insurmountable points lead and clinches his 13th pro tour title.
We'll put up a separate post about the ramifications of this win for the year end's rankings … this was the final Tier 1 event of the year.
r2sports link for brackets: http://rball.pro/CCDF9D
Match Report in PRS: http://rball.pro/A7214A
Here's the matches I found notable, by round:
——————————
In the 64s:
– #9 seed Rodrigo Montoya Solis absolutely pasted #41 Alan Natera Chavez2,2. Talk about turning the tables from the last time they played at Nationals.
– Similarly, #24 Javier Mar advanced with relative ease over #25 Eduardo Garay Rodriguez 5,10 to setup a fantastic 32 match up with each other.
– #16 Adam Manilla took out #33 Nick Montalbano with relative ease 5,3. I thought this would be closer, given Montalbano's results on tour earlier this season.
– #13 David Horn was stretched to an 11-8 tiebreaker win, taking out Marylander #36 Mauricio MoMo Zelada.
– #11 Jose Diaz advanced over Mexican junior #38 Oscar Nieto 13,11. Nieto is playing in his age 18 season but missed last year's Mexican Junior Nationals after advancing to the 2017 16U Mexican finals (where he lost to Fernandez, also playing here).
– #22 Andres Acuña made fast work of Georgia IRT frequenter #27 Maurice Miller 3,7.
– Teenager #26 Sebastian Fernandez downed #23 Mauro Daniel Rojas with relative ease 10,6. Like with several of these match-ups, I thought this would be closer.
– #42 Andres Gomez upset his fellow Colombian #10 Mario Mercado 11-9, making for another one-and-done for Mercado and likely killing his chances of finishing in the top 10 this season.
———————-
In the 32s.
– Solid win by youngster #17 Lalo Portillo to beat #16 Adam Manilla to advance to the main draw.
– In the match of the round, #9 Montoya was ousted by his good friend and frequent doubles partner #24 Mar 12,7. Both games were neck and neck up to a point, and then featured Mar pulling away. Such a shame to see two top 10 players in the world meet in the 32s. But Mar survives the gauntlet of this little section of the draw to move on.
– #12 Jake Bredenbeck came from a game down to dominate #21 Charlie Pratt and advance (8),6,1. I thought Pratt had a deep run in him, given his PARC run last month, but Jake played really well, frustrating Pratt and dominated the tie-breaker.
– #19 Thomas Carter got a statement win over #14 Gerardo Franco Gonzalez 1,10.
– Similarly, #22 Acuna dominated #11 seed Jose Diaz 4,12 to move on.
– #26 Fernandez dominated Gomez 8,0 to advance into the main draw.
———————-
In the 16s.
– #1 Kane Waselenchuk seems to show little ill effects from last weekend, dominating the youngster Portillo in a 4,4 win to open his tournament.
– #24 Mar continued plowing through ranked players, topping #8 Sebastian Franco 7,13 to setup a rematch with Kane of a round of 16 last October at the US Open.
– #12 Bredenbeck makes his first IRT quarter final since Nov 2017 with a solid win over #5 Daniel De La Rosa.
– There he'll face long-time WRT rival Andree Parrilla , who advanced for the 2nd week in a row with a 2-game win over fellow WRT veteran David Horn.
– #3 Alex Landa dispatched surprise main draw participant #19 Carter 5,6. Unless Parrilla makes the final, Landa has sewn up #3 with this win.
– #6 Alvaro Beltran was taken to a tie-breaker by the surprising Costa Rican Acuna before advancing.
– #7 Samuel Murray dropped a game to #26 Fernandez before coming back to advance in a tiebreaker.
– #2 Rocky Carson dispatched #15 Jansen Allen in two straight 4,10.
So, 6 of your top 8 seeds advance; only #3 and #8 are upset at this juncture.
———————-
In the Quarters…
– #1 Waselenchuk left no doubt that he's recovered from whatever ailed him in Florida, pounding one of the best players in the world in #24 Mar 6,3.
– #4 Parilla squandered match point in game two, but held on in the tiebreaker to advance over #12 Jake, ending Bredenbeck's best run in a year and a half on tour.
– #3 Landa pulverized Beltran 4,4 in a rematch of last weekend's final, throwing down the gauntlet on this event.
– #2 Carson cruised past Canadian #7 Murray 9,5.
So, despite the depth of this 49-man draw and the presence of a slew of top world players who don't regularly play the tour … its chalk seeds into the semis. Cream rises.
———————-
In the Semis:
– #4 Parilla came out swinging, taking Game 1 over Waselenchuk and putting into doubt not only the year end title race but also the state of Kane's game right now given his loss last weekend. Kane rebounded though taking game 2 and donutting Parrilla in the tie-breaker to advance to thefinals.
– #2 Carson avenged a loss to #3 Landa last weekend by taking a solid 12,13 win to advance to the final.
———————-
In the Final, Kane showed no mercy and showed no ill effects of any past physical ailments by dominating the tour's #2 player 3,4 for the title.
———————-
Next up; per the IRT schedule, there's a few non-tier 1s between now and the end of June, including two Tier 2s that could theoretically juggle the year end rankings a bit. We'll definitely cover them as they stand to have good draws, especially the "Black Gold" event in Mexico in mid-June.
Also notable; the tour plans on announcing a preliminary copy of the 2019-20 schedule next month and they've teased it a bit; it should include the return of several events that dropped off in the last year, plus the return of some of the great events that happened this year.
International Racquetball Tour Racquetball Canada USA RacquetballFederación Mexicana de Raquetbol Federación Boliviana De Raquetbol – Febora Fecoracquet Fecoracquet International Racquetball Federation – IRFInternational Racquetball Federation