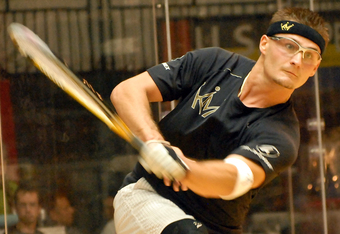 Syosset was the last Tier 1 of the season, and as noted in the previews for this event, the #1 spot for the season was technically in the balance heading into the event. Kane Waselenchuk entered the Syosset event with a 132 point lead over #2 Rocky Carson in the year end title race. They had both opened up a massive gap even to the #3 ranked player; nearly 700 points separated #2 and #3 heading into the event, and that gap has only widened after the event. So Syosset was all about determining #1 for this year.
By winning the event, Kane has now distanced himself by a sufficient amount of points from Rocky to have ensured himself the year end title. This post explains why (at least as I understand the system), and talks about the rest of the top 10 ramifications.
5/6/19 updated points standings are now online here: https://www.irt-tour.com/singles-rankings/
As the tour standings now sit, Kane leads Rocky by 234 points. This is roughly 100 more points of a lead than he had heading into Syosset, due to the difference of 100 points between winning a Tier 1 event (400 points) and losing in the final (300).
Now, there are still multiple events left on the IRT schedule between now and the end of June (notionally the end of the season each year); I postulated before the Syosset event that those events could actually come into play if the results went a certain way this past weekend. Players get 120 points for winning IRT Tier 2 events … and there are two Tier 2s still on the schedule (Costa Rica in two weeks time and Chihuahua Mexico in Mid June), at least one of which i've heard Carson is scheduled to attend.
So why can't Rocky go win both of those Tier 2s and get 240 additional points to overtake Kane for the title, since he trails by 234 points? Because the tour only takes each players' best 9 results for the season … and a potential 120 point Tier 2 win would not be enough to replace any bad results for Rocky this season. Plus, for the final season rankings players drop their lowest tournament result (which for Kane would be a 0 point missed event). Rocky made the semis or better in ALL NINE IRT events this year, guaranteeing him at least 220 points per event. So Rocky actually cannot improve his current points totals one bit from where they are now, hence Kane's insurmountable points lead.
So, Congrats to Kane on his 13th pro title (click here for a season summary for Kane's career: http://rball.pro/C08BD1) and Rocky finishes 2nd for the ninth season in his career (click here for the same for Rocky: http://rball.pro/610C77).
Once all the rest of the tourney slate plays out, I'll capture the official season ending standings and update the database and links to show these results.
———————————–
Now, how about the rest of the top 10? What did Syosset do to their rankings and what remains to play for?
So, there's a couple of noteworthy rankings achievements to work towards besides the #1 title for the rest of the tour:
– the top 4 players on tour avoid the seedings flip
– More importantly … the top 8 players get protected seeds into the 16s at tier one events.
– less important; finishing in "the top 10" as a career achievement.
I know there's lots of complaining about protected seeds on tour, especially in a tournament like Syosset with 49 guys in the draw and some players potentially having to play 3 matches to face a rested, seeded player in the 16s. I'd rather not get into it here, just noting that there were several reasons it was implemented and remains in place today: see this link http://www.proracquetballstats.com/…/guidry_post_roundof32.… for a good summary of why it was put in and how it actually *helps* lower ranked players instead of hurting them, both in terms of prize money and rankings points.
Nonetheless, while the protected seed system is in place, players really want to stay in the top 8.
Here's how the Syosset event results shape the current top 10, and what may happen with the remaining non-Tier 1s:
– By virtue of making the semis this past weekend, #3 Alejandro Alex Landahas locked up #3 on the season. He has a 142 point lead over #4 and cannot be surpassed even if Parrilla plays tier 2s and wins them to replace his lowest scores. Landa finishes #3 for the second year running and had a nice solid run in the 2nd half of the season to get there.
– #4 Andree Parrilla should have guaranteed himself the #4 spot for year end by making the semis. This is a pretty remarkable one-season rise for a player; he finished ranked 11th last season, basically playing the tour just half time. This year though, he played all 9 events, made four quarterfinals and four semifinals and was a couple of unlucky points from doing even better. Twice this season Parrilla went out in the tie-breaker 11-10 or else maybe we'd be talking about him fishing 3rd.
– Andree's lead over #5 Alvaro Beltran is only 107 points. And, Beltran missed the first event of the season, meaning he could possibly win a Tier 2 and add 120 points to his year end total to over take Andree for the #4 spot. But … Alvaro played (and won) the Lou Bradley Tier 2 earlier this season (see http://blog.proracquetballstats.com/…/lou-bradley-irt-tier…/ for the wrap-up of that event), meaning he's already got a 120 tier2 win on the books, so I'm not sure how much Alvaro can improve upon his current #5 ranking with the remaining events. Alvaro did miss the first Tier 1 of the season, meaning in theory that's a zero-point result he should be able to "replace" …
– With his early upset loss this past weekend, Daniel De La Rosa dropped to #6 on tour for the season, his lowest season-ending ranking since the 2012-13 season. He's just 50 points behind Alvaro though for the #5 spot, and missed not one but two events on the year, so he could improve his year end standing markedly by playing (and winning) some of the remaining lower tier events. But I wonder what motivation there would be for DLR to go out of his way to play non-tier 1s just to try to improve from 6th to 5th. If he was planning on playing (say) Costa Rica, or Chihuahua, or the smaller events in Arkansas and Kansas already so be it, but with his likely focused on outdoor events and pickleball and family for the summer, we may not see him again on the IRT til the opener in August/September.
– There's a huge gap from #6 to #7; 420 points, really showing how the guys in the 3-6 range have separated themselves from the pack, similarly to how the 1 & 2 guys have separated themselves even from #3.
– #7 Samuel Murray picked a great tournament to hold serve and make the quarters as per his seeding; he retains a 70 point lead over #8 Franco and is probably locked into that as a year end seeding.
– #8 Sebastian Franco was upset in Syosset, but so were all his possible competitors to the last coveted protected seeding #8 spot, meaning he's in line to retain it heading into the next season. Franco also is a very active player, having two "extra" events on his resume already being dropped, so I'm not sure how much he could improve his ranking with the remaining events, or if he'd even travel to them (Franco skipped the Bolivian Grand Slam, likely for travel/family reasons, and traveling to Costa Rica/Chihuahua may also not be in the cards).
– #9 Rodrigo Montoya Solís was upset before the 16s thanks to a brutal draw (having to play Javier Mar to qualify for the main draw) and could not move from his #9 seeding in Syosset in the standings. Montoya missed a couple of tier 1s early in the season, but has himself played a couple of non-Tier1s this season, so i'm not sure if he can improve upon the 100 point gap between himself and the coveted #8 spot at this point without a deep dive into his full results on the season. Maybe if he goes to Chihuahua and wins it he could slip into the top 8.
– Both #10 Mario Mercado and #11 Jose Diaz got upset early in Syosset, costing them any shot at moving up. Despite his big run to the quarters as a #12 seed, Jake Bredenbeck remains locked into that year end seeding. #13 David Horn made the main draw but got no further and stays ranked #13 for the season.
– After #13, there's a size-able gap to #14: Luis Conrrado Moscoso Serrudo, who has all his points from just two events (the Bolivia grand slam and a non Tier 1), and who seems unlikely to be seen on the regular tour at this point. I'd love to see him get some sponsors … but regular flights from Bolivia to the US are pretty grueling and we may not see him again til the US Open.
– The Guys ranked 15th-20th are all within 100 points of each other. Gerardo Franco Gonzalez, Jansen Allen, Lalo Portillo, Thomas Carter, Adam Manillaand Robert Collins. I'd describe all these guys similarly; they play nearly every IRT event, sometimes get upset early, and are still mostly lacking that one big run to the semis where they get a couple of solid wins in a row over top 8 guys that they'd need to really kick start their rankings. Some of these guys are moving up in the world (especially Portillo), while others are slipping (Allen), and it'll be interesting to see how next season plays out for this crew.
————
So that's it. Hope you enjoyed, and I hope i didn't get any of this analysis egregiously wrong 🙂