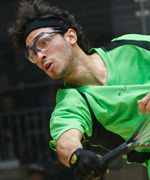 Over the past week or so, we found out through various forums that the Mexican National teams for the Pan Am Games were named in the past few days … and to say that the selection on the men's side is "curious" would be an understatement.
As with the USA, the Mexican delegation's team size was lowered to be just 3 players on the Men's side due to results at the Pan American Racquetball Championships (PARC) earlier this year. Which means that, like with the USA leaving off National singles finalist David Horn , that it was likely that a significant Mexican singles player would be left out.
See http://www.internationalracquetball.com/xviii-pan-american…/ for the team size determination from the results at PARC 2019.
The Men's team as announced:
– Alvaro Beltran
– Javier Mar
– Rodrigo Montoya Solis
The obvious and (frankly) ridiculous omission is Alex Landa . Landa WON Mexican National singles earlier this year. So your reigning National singles champ, an event that exists to decide who represents your country in international events … is being ignored when determining the team playing in an international event.
Apparently, the Mexican federation used the results of its singles players at the PARC event to chose its singles representative. In a response to the uproar, the FMR president claims to have informed the players ahead of PARCs that their results would matter, this despite the entry form for Mexican National Singles in 2019 specifically stating that the winner and finalist of singles would represent Mexico at both PARCs and the Pan Am Games.
The team of Mar/Montoya won Mexican National doubles, so they're a natural doubles pairing. Montoya likely plays the second singles spot, given that he was the 2018 Mexican national singles champ and then subsequently won 2018 Worlds. Of course, Mar himself is no singles slouch; he was the 2017 National singles champ and has represented Mexico well in international events in limited experience. So we'll have to wait and see who takes the #2 singles spot for Mexico (note: it seems it will be Montoya playing #2 singles based on press releases).
But to this outside observer, it seems like the Mexican Federation went out of its way to find the one plausible scenario where they could make an argument to exclude Landa at the benefit of Beltran. Not surprisingly, Landa took to social media, and the story was picked up by numerous media outlets, and (if i'm reading the posts correctly), Landa may be summarily quitting the Mexican national team altogether and exercising his dual citizenship option to begin playing for the USA. More to follow.
——————–
On the Women's side, there's also some drama, but not nearly as bad as omitting the sitting singles national champ. The Mexican women's team won both singles and doubles at PARC, giving them 4 team members in Lima. I'm inferring the team based on press releases/official posts on facebook pages. We know …
– Paola Longoria
– Samantha Salas Solis
– Montse Mejia
– Alexandra Herrera
Are named for Lima. But … by insider accounts, Longoria & Mejia will play singles, while Longoria/Salas together will play doubles, which leaves Herrera … named to the team and traveling to Peru only to sit and watch? Its unclear.
The "drama" on the women's side? Despite the fact that Mejia beat Longoria to win Mexican National singles final earlier this year, Longoria will play #1 seed in Lima … by virtue of finishing higher at PARCs than Mejia. The FMR is using the same logic exercised to omit Landa in order to seed Longoria higher than the player who topped her at Nationals. Furthermore, Salas has lodged criticism in various forums that she was passed over, given her dominant position on the pro tour this season (and she's not wrong … but lost to Mejia at Nationals at an inopportune time).
Longoria & Salas are the natural doubles representatives; they won Mexican National doubles and have a slew of international titles together, and this will apparently be the sole event Salas enters.
——————–
However it turns out, and who ever plays, you have to think the Mexican contingent is favorites to take home a slew of medals across the board.
——————–
The Pan Am games starts 7/26/19 and runs through 8/11/19. Follow along at http://www.internationalracquetball.com/ , and follow @international racquetball federation on Facebook for live streaming throughout.
Federación Mexicana de Raquetbol
International Racquetball Federation – IRF