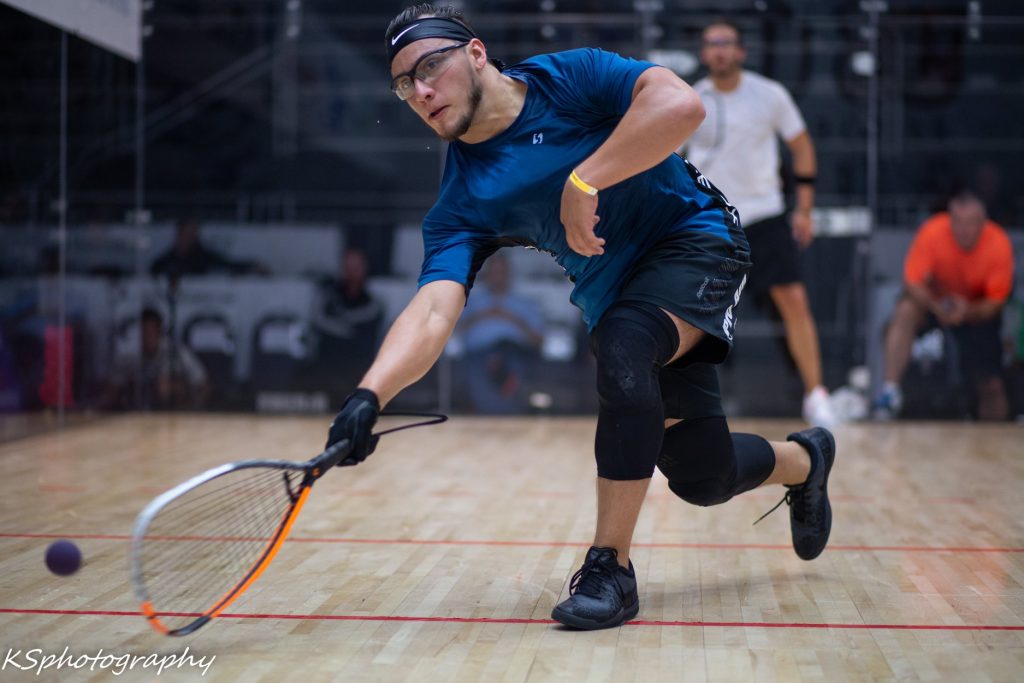 The full Mens tour is back in action for the 35th Annual KWM Gutterman, Inc. Shamrock Shootout Tier 1 Pro Stop Presented by MyPillow, being held in Lombard, just outside of Chicago IL.
The 35th annual running event, which makes it one of the longer running events in the land. It has been a full tier 1 stop for the past 5 years. Chicago itself has been a regular home to IRT stops in general, for years hosting Pro Nationals, and then for years before that the famous Halloween Open. A lot of this was due to former tour commissioner and long time rball organizer Dave Negrete being Chicago-based.
R2 Sports App link: https://www.r2sports.com/website/event-website.asp?TID=31369
This year, we've got a large draw: 39 players entered.
top20 players missing: Bolivians #6 Conrrado kevin Moscoso Ortiz Racquetball and #14 Carlos Keller Vargas are both absent, probably saving travel dollars for next month's Pan American Racquetball Confederation – PARC event. Moscoso's absence elevates #9 Portillo into a top 8 seed here. #12 Sebastian Franco is missing; the 4th event this season he's missed. #15 David Horn picked up what he described as a "bad injury" last weekend in Pueblo and is out. The rest of the top 20 is present plus a good chunk of the guys ranked 21-30 so this is a great draw.
is it a flip draw? Nope, this is a straight draw 1-8.
——————————
Lets preview the draw. Here's some notable qualifying matches that i'm looking forward to:
In the round of 128:
– Thanks to the proximity of the upcoming Pan American Racquetball Championships, we've got the full Guatemalan team here (Edwin Galicia, Javier Martinez, Juan Salvatierra and Christian Wer). Each of these four is playing a local IRT debutant in the opening round of 128, so welcome all first time pro players.
———————————-
In the round of 64: things start to heat up.
– #17 Andres Acuña manages to be the highest player not getting a bye into the 32s; for his trouble he likely gets a juicy central american match-up against Guatemalan Martinez.
– #24 Jaime Martell Racquetball vs #25 Anthony Martin; great opener, as we would expect from a 24/25 match-up. Martel makes a rare appearance on tour, while Martin plays his 6th event of the season.
– #19 Robert Collins likely takes on Guatemalan veteran Christian Wer.
– #26 Guatemalan Edwin Galicia likely takes on #23 Kyle Ulliman in what could be a close match.
——————————-
Projecting the 32s: here's some possible match-ups, though the depth of this draw could make for some upsets and make these predictions moot:
– #16/#17 looks like a potential doozy: #16 Sebastian 'Patata' Fernandez, who has been stuck at the #17 seed the last couple of tournaments, jumps a spot and thus gets the bye into the 32s. He'll likely face #17 Acuna, who has been getting solid wins all season. Tough one to predict: I like Patata to build on his Mexican Nationals showing and move on.
– #9 Mario Mercado versus likely #24 Martell: Rough possible draw for Mercado, who has faced Martell a few times before and never beaten him. I like a run for the Mexican here.
– #13 Thomas Carter versus likely #20 Sam Bredenbeck; fun match here between two of the younger guys on tour. Sam beat Carter in 2019 Sioux Falls but it was tight.
– #11 Jake Bredenbeck vs likely #22 Justus Benson: lots of broken balls in this one; two hard hitters.
– #15 Javier Mar versus likely #18 Adam Manilla: this is the highest i can recall seeing Mar seeded in an event; he'll fancy his chances to move on and face a familiar opponent in the 16s.
——————————-
round of 16:
– #1 Kane Waselenchuk versus the Fernandez/Acuna winner; neither will be favored to beat the King of course, but I like what i've seen lately out of Fernandez and i'd like to see what his confident game style brings against Kane.
– #24 Martell vs #9 Lalo Portillo: this is a stretch, but if Martell pulls off the upset of Mercado he could very well also upset Portillo. They faced off in 2019's Mexican Nationals, a straight forward 2-game win for Jaime. Portillo won the Minnesota event last weekend and had a very solid Mexican nationals in 2020 (topped Montoya, took DLR to a breaker). This could be a fascinating match.
– #5 Andree Parrilla vs #12 Gerardo Franco Gonzalez: Parrilla is in a rut; he's gone one and done the last three pro events, he lost in the 16s at Mexican Nationals to a player he should have beat, and one of those pro round of 16 losses was to Franco. I sense another upset here until Andree can right the ship.
– #4 Alvaro Beltran faces the Carter/Bredenbeck winner: either way i like Beltran, though Carter did put a Loss on Alvaro in Portland in December.
– #3 Rocky Carson returns to action after a rare missed pro event in January and likely faces the tough Eduardo Garay Rodriguez in the 16s. Garay has been playing increasingly well against top opponents, while Carson topped Landa in his last on-the-court match, seemingly having fully recovered at this point from his knee issue in December.
– #6 Daniel De La Rosa vs #11 Bredenbeck: Jake has a couple of wins over DLR … but DLR has been playing some great ball lately. He advances.
– #7 Samuel Murray vs #10 Rodrigo Montoya Solís; just a couple of meetings between these two on the books; they're 1-1 h2h. This is the kind of match Montoya needs to win in order to establish his spot in the rball elite. Both players have had kind of up and down seasons; this could be a win to build on.
– #2 Alex Landa vs #15 Mar: Neither guy here can be happy with this draw; they're pretty evenly matched, they have split a couple of meetings at Mexican Nats over the years but have not played professionally. I think it could be tight but will favor Landa to move on.
——————————
Projected Qtrs:
– #1 Kane over #24 Martel
– #4 Beltran over #12 Franco: they've played 4 times, Beltran has never dropped a game to him.
– #3 Carson vs #6 DLR: they've been trading wins back and forth for a few years now. DLR topped him earlier this year in Sioux Falls and has been playing really consistent ball; i'll go with the upset here.
– #2 Landa vs #10 Montoya; when they do play, its often close: last meeting was an 11-10 win for Rodrigo in Sioux Falls in 2019. I'll go with Landa here.
Semis:
– Kane over Beltran in what would be their 54th pro meeting.
– Landa over DLR; Landa has beaten DLR the last 6 times they've played and seems to have his number. But, its always close.
Finals: Kane over Landa.
——————————-
Doubles review
We're playing pro doubles this weekend too; 10 teams with three of the best teams in the world present, plus the Bredenbeck brothers and the two national Guatemalan teams playing.
I like a rematch of the Mexican national finals to happen between #1 Beltran/DLR and #3 Montoya/Mar, but both teams will have to earn it to get t here against tough semi-finalists.
———————————
Look for Streaming in the regular places; follow the IRT on facebook and sign up to get notifications when they go Live.
Look for Dean DeAngelo Baer, Favio Soto, Pablo Fajre and the IRTLive crew all weekend on the mike, calling the shots!
Tags
International Racquetball Tour
International Racquetball Federation – IRF
USA Racquetball
Racquetball Canada
Federación Mexicana de Raquetbol
Federación Boliviana De Raquetbol – Febora
Racquetball Colombia
Federacion Colombiana de Racquetball
Federación Costarricense de Racquetball
Jugadores Racquetbol Guatemala