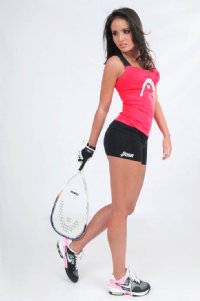 Congrats to your winners on the weekend:
– Singles: Maria Jose Vargas
– Doubles: Paola Longoria and Samantha Salas
R2 Sports Tournaments link: https://www.r2sports.com/tourney/home.asp?TID=30697
The big story ahead of this event was LPRT #1 Paola Longoria going for her 100th professional win. She had family and media on site for the event, but lost in the final. I'm sure she's under a bit of pressure to hit a milestone win that's been pushed in social media for months … and now she'll have another opportunity to do so at the sport's biggest event, the US Open.
As some of you may have noticed from the broadcasts, yours truly was at this event Friday night to see the 32s and 16s, and I got to help with the broadcast for the quarter final matches on the show court. It is the first time in a while I've seen the Ladies pros up close, and I had a blast working along side Timothy Baghurst, LPRT Commissioner Tj Baumbaugh and LPRT gadget king Jerry J Josey Jr., who work tirelessly to put on these events. My first time on the mike was a lot of fun and I hope you all enjoyed listening to the commentary as much as I had calling the matches.
——
Lets recap the event, and I'll provide some additional commentary for the matches I saw up close.
Singles Wrap-up:
PRS Singles Match report in the DB: http://rball.pro/CAAD42
There were three round of 32 matches, all involving traveling pros and local VA players, including tournament director and Hall of Famer Malia Kamahoahoa Bailey (who fell in two to Jessica Parrilla).
Notable Round of 16 matches:
– #9 Brenda Laime Jalil got a solid win over #8 Adriana Riveros 3,14.
– #4 Rhonda Rajsich was somewhat fortunate to get by #13 Carla Muñoz Montesinos in their round of 16 match, advancing by the scores of (14),14,4. This was a back and forth match for the entirety of the first two games, with the ladies trading points back and forth, trading leads, etc. Both veteran players played solid tactical games. Munoz had the advantage in game two, leading 14-12 when an odd sequence of events occurred; the referee asked for a replay of a point well after it was completed due to a belated ruling on the serve; this seemed to slightly unnerve Munoz, who lost the 2nd game and wasn't competitive in the tie-breaker. Credit to Rajsich though; she sensed something was amiss, got the call she needed and kept her composure to win out.
– #3 Maria Jose Vargas Parada advanced over reigning US National champ #14 Kelani Lawrence in two tight games 13,10. Lawrence was playing on the courts she grew up on and had the home town crowd rooting her on against one of the world's best. I must also note; it's not too often we see two generations competing in the same event like we did here with Mom Malia and daughter Kelani. That was cool to see.
– #6 Nancy Enriquez outlasted #11 Sheryl Lotts (12),8,0. Lotts really played a solid game to take the first, but Enriquez settled in, took over game two with her power, and then went on a run that Lotts couldn't stop in the tie-breaker to secure the 11-0 tiebreaker win. Enriquez has sneaky power; you don't realize it until you're up close how much pace she hits with.
– #2 Samantha Salas Solis topped former top-4 touring pro Jessica Parrilla7,8. Salas struggled even to get to this event on time, pushing through the same local storms in the Monterrey region of Mexico that prevented 4th ranked Alexandra Herrera from traveling. She arrived in time though to face off against a tough opponent in Parrilla, and a slug-fest ensued. Both players really put some velocity onto the ball, but i'm not sure i've ever seen a harder hitter than Salas. Towards the end of game two, Parrilla started working Salas' backhand more on the serve, had some success, but it was too little, too late as Salas moved on.
——-
In the Quarters, thanks to Alexandra Herrera's absence we had some unexpected match-ups … in fact three of the four quarter final matches featured players who had never played each other professionally. It made for some unexpected results.
– #1 Longoria cruised past #9 Laime 1,4. Laime was outclassed by the veteran, but credit to her for getting this far (a career best showing).
– #4 Rajsich squeaked past #5 Natalia Mendez in the first game, then cruised to a two game win 14,1. This is only the 2nd time these two have met in a pro setting.
– #3 Vargas dominated #6 Enriquez 6,3 to move into the semis.
– But the surprise of the round, perhaps the surprise of the last two seasons, was #7 Masiel Rivera Oporto beating #2 Salas 12,14. Rivera hung with the hard-hitting Salas, worked her backhand well, and got a career win to advance to her first semi final. Salas played 9 pro events last season and made the final of all nine, but now has been upset in both events so far this season.
In the Semis:
– #1 Longoria raced past #4 Rajsich 5,3 to move into the finals, continuing her dominant tourney.
– #3 Vargas mashed her way past Rivera 11,9 to move into her second final of the season.
In the final, Longoria took game one in her quest for 100 … but Vargas had other ideas, winning game two and the tiebeaker to spoil Longoria's record-setting win attempt. Vargas gets her first ever professional win over Longoria and gets an early lead in the points rankings in her quest to take over the #2 spot from Salas, or perhaps to challenge for the year end title.
——————
Doubles re-cap:
PRS Report: http://rball.pro/C41D72
Longoria and Salas bounced back from losses to take the doubles crown, cruising to the title without dropping a game. They topped the #2 seeded Argentinian team of Vargas/Mendez in the final.
———————
Next up for the LPRT? The US Open in Minneapolis!
Thanks to the Chesapeake crew for bringing Ladies pro racquetball to the Tidewater region for the first time ever.