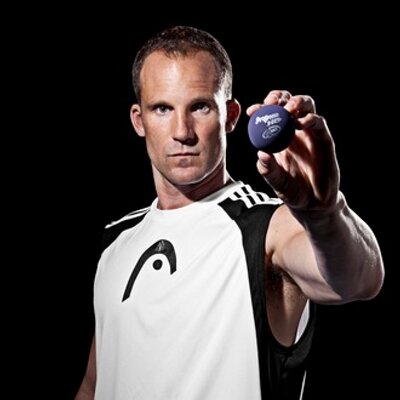 Congrats to your winners on the weekend: 
Men's Singles: Rocky Carson
Men's Pro Doubles: No Winner; see below for explanation.
R2 Sports App link for tourney:
#1 Kane Waselenchuk had to withdraw at the last minute, giving him a forfeit loss in the 16s and opening up the tournament for the taking, as happens when he misses an event.
Here's a wrap-up of Singles, citing notable results by round:
PRS Reports in the DB: http://rball.pro/529EA0
In the 64s:
– Set Cubillos Ruiz got a solid 2-game win over IRT regular #22 Nick Riffel. Cubillos is really active in the game in his home country of Colombia and its good to see him active in IRT events.
– MoMo Zelada reversed the result from the Bolivian Grand Slam and topped #21 Kadim Carrasco in two straight for a solid win.
– Utah amateur Anthony Martin stretched #12 Gerardo Franco Gonzalez to a tiebreaker before falling; solid showing.
—————-
In the 32s:
– #17 Sebastian Fernandez gets a career win, topping #16 Javier Mar 10,11. With Kane's withdrawal, I thought Mar had a good shot at the final here. Instead, Fernandez gets one of the better wins in his career and gets a pass into the quarters for the first time in his pro career. 
– #12 Gerardo Franco was stretched to a tiebreaker by Zelada before advancing.
– #20 Carlos Keller Vargas was taken to a tiebreaker by #13 Thomas Carter before advancing. This was a closer match than I expected and makes me wonder if Keller is still nursing the injury that he was struggling with this summer (with all due respect to Carter, who played solid ball all night).
– #18 Eduardo Garay Rodriguez got a solid win over #15 Andres Acuña 11-8 in the breaker to advance. 15/18 matches are usually close, and this was no different.
—————-
In the 16s, we saw some matches that didn't quite go as I thought they would in my preview;
– #8 Sebastian Franco took the first round of many 8/9 matchups against #9 Rodrigo Montoya Solis taking an 11-7 tiebreaker. 
– #4 Andree Parrilla got a dominant win over 2-time defending PARC champ Carlos Keller 8,8. Parrilla was able to really put balls away and wore out Keller over the course of the night.
– #6 Daniel De La Rosa was taken to a tiebreaker by the precocious #11 Lalo Portillo before advancing. Portillo continues to impress.
– #7 Samuel Murray took a solid win over #10 Mario Mercado, a match-up not unlike the Franco-Montoya rivalry that could be one we see a lot this season. Notably, it looks like Mercado is a full timer on tour this year; he's made both IRT events so far on the schedule.
—————
In the Quarters, all four matches went to tie-breaker.
– #8 Franco ended #17 Fernandez's run, but was made to work for it, winning 11-9 in the end.
– #4 Parrilla couldn't close out game 2's match point opportunities, but advanced 11-4 in the breaker.
– #3 Alex Landa had his typical barn-burner against #6 DLR, winning 11-10 to move on. There's a slew of razor-thin matches between these two over the years; this is just the latest in a series.
– #2 Rocky Carson improved to 10-0 over #7 Murray, but had to go tiebreaker to do so.
In the semis:
– #4 Parrilla dominated #8 Franco to earn his 3rd career IRT pro final.
– #2 Carson beat #3 Landa in two tight games 11,12.
In the final; Rocky earns his 27th career pro win, topping Parrilla 13,8. He now sits just 2 behind Jack Huczek for 5th place in tourney wins all-time.
——————-
Ranking Implications of this event:
Because there was no Atlanta event this weekend last season, points earned here should just add on to existing rankings and will have some effects on the Laurel event's seedings. For this week, Rocky overtakes Kane for #1 … but only for this week week. On 9/16/19, last year's points fall off and Kane should be back at #1, and should be the #1 seed in Laurel.
What's more interesting is what happens when the 9/16/19 date hits. if i have my data right:
– Parrilla will over take Landa for #3.
– Montoya will move to #7, finally getting a top-8 seed and setting up an intriguing qtr with Carson if seeds hold.
– Murray drops to #9; he loses a ton of points from last year's Laurel event, where he made the final. He'll have to battle Franco just to make the quarters now.
– Portillo moves up to #13, Fernandez jumps to #21.
So, pretty important ranking moves for the next Tier 1 event in Laurel in two weeks' time.
—————-
Doubles wrap
PRS Report in DB: http://rball.pro/34FD97
With the withdraw of Kane, the Ben Croft /Kane team that I thought would win this draw was taken out of the equation.
The #1 seeds of DLR/Beltran battled their way through two of the toughest teams in the draw, outlasting Vargas/Carrasco in the qtrs and then their Mexican nemesis team of Montoya/Mar in the semis. The #2 seeds of Landa/Murray beat the upset-minded Parrilla/Portillo team (who had upset #3 seeds Franco/Mercado in the qtrs) in the other semi.
Unfortunately, the final was not played and a Double Forfeit was declared. As per an IRT announcement, the players had a misunderstanding about scheduling (most of the time, Doubles final is sat. night, but in Atlanta it was scheduled for Sunday instead). So flights were already arranged in conflict with the final.
This is a first for me, I think. I cannot recall ever entering "Double Forfeit" in for a final, in more than 3,100 tournament draws now entered into the database. I've seen some 3rd place games abandoned like this before, but even that's pretty rare. Lets hope this is a one-off and doesn't happen again. Nobody looks good here.
—————-
Next up on the schedule (after I wrap up the LPRT event tomorrow); we do have a small break in the schedule, possibly an RKT event in Mexico we can cover, before the IRT's next Tier 1 in Laurel, MD.
—————-
Fecoracquet Fecoracquet
International Racquetball Tour
Federación Mexicana de Raquetbol
Federación Boliviana de Racquetball
Racquetball Canada
USA Racquetball