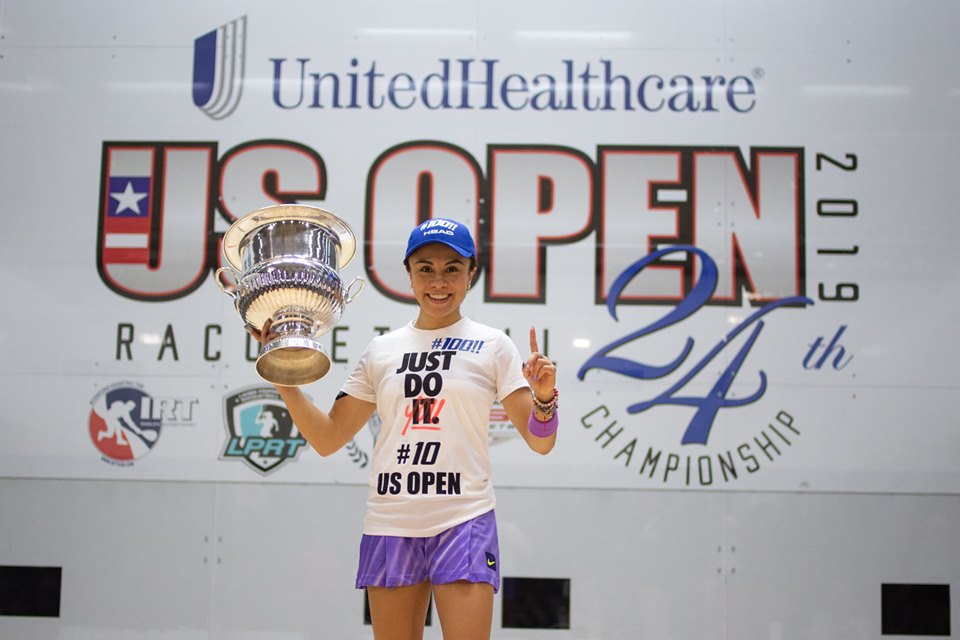 Congrats to Paola Longoria on her win at the 2019 US Open.
With this win, Paola reaches two pretty incredible milestones:
– her 10th US Open title
– more importantly, her 100th LPRT win.
Generally speaking:
– she improves to 65-7 at the US Open
– she increases her lead at the top of the LPRT rankings to more than 800 points (which is 4 tier one victories).
We'll have a separate post about the 100 tourney wins later this week.
PRS Match Report: http://rball.pro/A34644
Lets review the Q/SF after the last post ran through the qualifiers, 32s and 16s:
In the Quarters:
– #1 Paola Longoria battled close with #9 Masiel Rivera Oporto for good chunks of the first game and then kept her at bay in the second for a two game win and one step closer to her 100th title.
– #12 Montse Mejia looked like she'd blow away #4 seed and doubles partner Alexandra Herrera after a 15-3 first game win, but Alexandra dominated the second in similar fashion to force the breaker. There, Mejia cruised to the 3-game win.
– #3 Maria Jose Vargas continued her dominance over her doubles partner and country-woman #6 Natalia Mendez Erlwein, winning 13,2. This is now the 6th time they've met in the quarters of a major event since March, and Vargas is 6-0.
– #2 Samantha Salas Solis advanced in two games over country-mate #7 Nancy Enriquez 9,9. This has also proven to be a frequent quarterfinals match-up; this is their 5th pro quarters meeting this calendar year.
——————————————————————————————————————–
In the Semis:
– #1 Longoria was focused and on fire, downing her young Mexican rival #12 Mejia 5,6. Many observers think Mejia may be the heir apparent … but on this day, Longoria reminded everyone why she's the GOAT. Mejia will move into the tour's top 10 with this win.
– #3 Vargas topped #2 Salas for the second time in as many meetings this season, splitting the first two games before dominating the tiebreaker 11-1 to move into the finals. Vargas is on the cusp of taking over #2 on tour now from Salas, who made the finals in every event she played last season, but now has failed to make a final in any of the events so far this season.
——————————————————————————————————————–
In the Finals:
Anyone thinking there would be a repeat of the Chesapeake final (a Vargas upset) was quickly corrected; Longoria put on a serving clinic and improved to 24-1 career on the LPRT over her Argentina rival Vargas, winning the title dominantly 5,7.
——————————————————————————————————————–
LPRT
UnitedHealthcare US OPEN Racquetball Championships
US OPEN Racquetball
Federación Mexicana de Raquetbol
Asociación Argentina de Racquetball
Federación Boliviana De Raquetbol – Febora
USA Racquetball