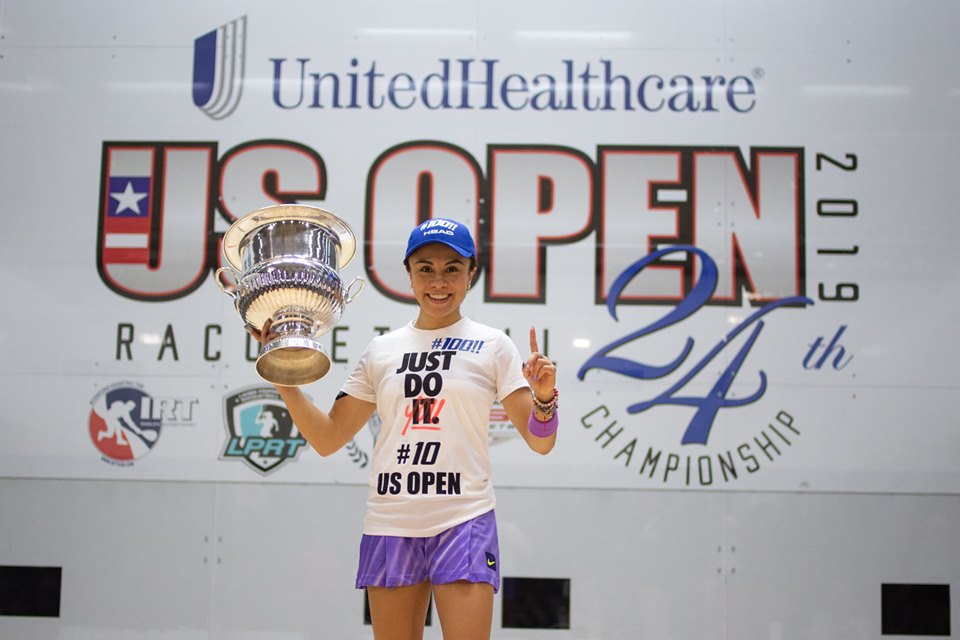 Here's some additional fun facts and a data discussion related to Paola Longoria's 100th pro win.
– She wins her 100th title in her 125th Tier 1/Grand Slam appearance.
– She improves her career W/L to 451-31, a .936 career winning percentage.
– She becomes just the second pro in the history of our game to win 100 titles.
– Kane Waselenchuk also won his 100th tourney at the US Open … he accomplished the feat when he won the 2016 title.
– Kane was 35yrs, 11mos when he won his 100th.. Paola won 100th tournament in 2019 at age of 30yrs, 3 mos.
Consider this fact. Kane's the GOAT on the Men's side … but Paola seems like she's in a position to shatter any records that Kane sets. She's got more than 5 years head start at a time where she's just as dominant in her tour as Kane is in his. You can't predict the future of course; not with injuries, life events, etc. But another 8-10 seasons of Longoria dominance could really put some big numbers into the history books.
————-
Now for a Data discussion; Why does Pro Racquetball Stats database only have 93 career titles for Paola, if she's just won her 100th?
The racquetball world and the Mexican media celebrated her 100th career professional win this past week, which happened to happen on our sport's biggest Stage, the US Open., but the database of record only has her with 93 tournament wins. (see http://rball.pro/FD0529 ) . Why the discrepancy? We get asked this question often, and now's as good of a time as any to discuss.
Here's the answer.
Pro Racquetball Stats only tracks Tier 1 (or higher) events in its database. Over the years covering Longoria's career, there have been a slew of non-Tier 1 Ladies Professional events that have occurred that she's won, and these satellite or lower tier LPRT events are counted in her professional career win total. They were sanctioned pro events by the LPRT or its predecessors WPRO and LPRA and are counted as pro wins by the Longoria camp.
We have not had too many non-Tier 1 events in recent memory; the last known one was in Bolivia in June 2016. Before that, the LPRT gave Tier 5 status to the 3-Wall event in Vegas and to an event in Arizona in 2015. But ten years ago, they were much more common. In fact, in the 2009-10 season there were nearly as many Satellite events as there were full-money tour events. Longoria won a few, Rhonda Rajsich won a slew of them herself in this time-frame.
PRS has gone back and attempted to find the 7 "missing titles," after much discussions with Longoria's media relations team (which does not have a full list of her 100 tournaments). We've found most of them:
– Nov 2009: Chihuahua Open in Chihuahua, MEX
– Mar 2011: Terrapin Shootout in Laurel, MD
– Jan 2012: Wilson Tour for Hope, Cincinnati, OH
– May 2012: 2012 US National Singles Pro draw, Fullerton, CA
– June 2013: Suncoast Open, Sarasota, FL.
We're assuming the remaining two titles were Satellite events that may not have gotten onto the official LPRT calendar in the 2007-2010 range. Hopefully in time we'll find them for a complete record of Paola's accomplishments.
but, that's the reason. Fyi.
—————
Congrats on 100 pro titles to Paola Longoria!
LPRT
Fran Davis
Federación Mexicana de Raquetbol
RKT
HEAD Penn Racquetball