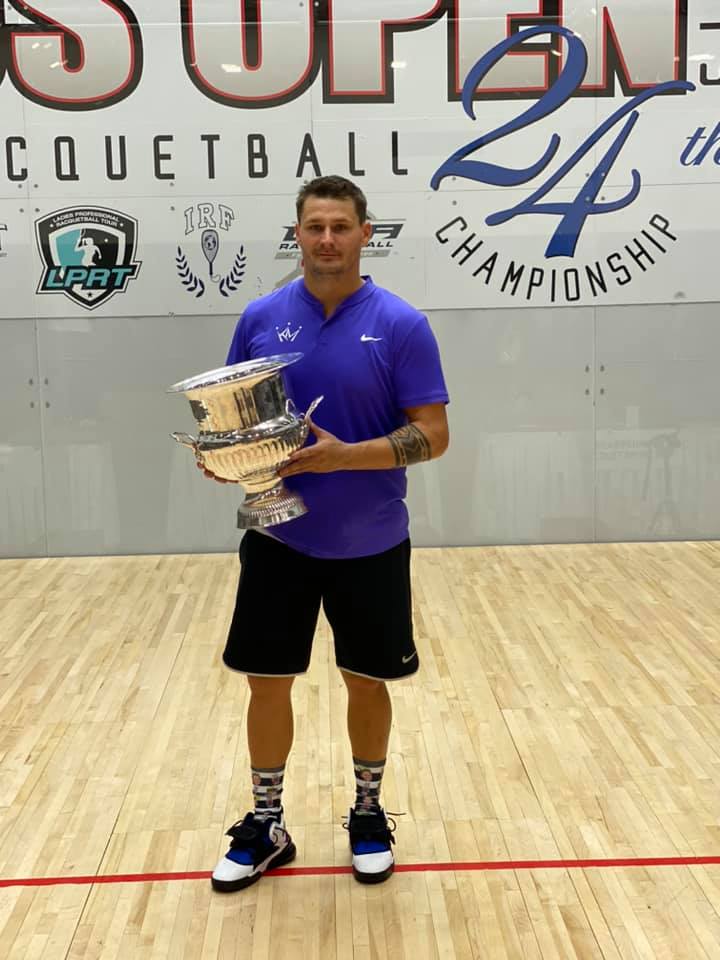 Congrats to Kane Waselenchuk on his win at the 2019 US Open. He continues an unbelievable reign of dominance at this event, and over the sport in general. With this win:
– his 118th career pro title
– his 15th US Open title … in a row
– He improves his career W/L to 558-53 for a .917 winning pct
– He extends his lead at the top of the IRT rankings due to Carson's early round upset.
– He improves his US Open W/L record to an astounding 90-3
Lets review the Q/S/F after the last post ran through the 32s and 16s.
PRS Match Report: http://rball.pro/B79567
In the Quarters:
– #1 Kane Waselenchuk played solidly to take out the talented #24 seed Javier Mar 5,3. These two have met a couple times in the last year and its a testament to Kane's greatness how effortlessly he plays against a guy like Mar. With this result, Mar jumps up a few spots in the rankings, but not nearly enough to avoid qualification issues in future events.
– #4 Alex Landa topped his countryman #5 Álvaro Beltrán in two games 9,12. Landa was in control and Beltran kept it close, but never close enough that you thought he had a chance to win this one. With this result, Beltran will jump Parrilla for #4 on tour.
– #6 Daniel De La Rosa upset #3 Andree Parrilla in a tiebreaker; this is a solid showing for DLR after he's spent most of the last two seasons slowly dripping down the rankings. He'll have as good of a chance as he could hope for to return to the final with the upset of Rocky Carson. Despite making the quarters, Andree loses points from last year's event (where he made the semis) and will drop down to 5th.
#15 Conra Moscoso Ortiz made short work of the 18U phenom Sebastian Fernandez 4,4. Moscoso's got his eye on just one thing; a shot at the finals with Kane, and he did well not to look past the up and coming Fernandez. With this result, Sebastian will make a huge jump in the rankings, from #23 all the way up to #16.
————-
In the Semis:
– #1 Waselenchuk absolutely destroyed #4 Landa 1,2. No looking past Landa here; Kane could do no wrong. This is one of the worst defeats in the Q/S/F in tour history. Nonetheless, thanks to his result here Landa will return to #3 on tour for the next event.
– #15 Moscoso continues his great run, taking out #6 DLR in two close games 11,11. These two athletes put on a heck of a show, both diving all over the court and making fantastic shots. A match-up of two true-and-true shooters was taken in the end by the Bolivian, who moves into the final. With this win, Moscoso will jump into the IRT's top 8 (specifically #7), an interesting fact given that he has results in just a few events. It does make you wonder where he'd rank if he played the tour full time.
————–
In the final:
Game one was really entertaining, as the shooter in Moscoso really came out firing. It was neck and neck for most of game 1 before Kane pulled away. In game 2, Kane's relentless pressure wore down the young Bolivian and he took the game easily. Final score: 12,5.
My takeaway from the match is this: There might not be a more skilled power shooter in the world than Moscoso (except for Kane of course) … and make no mistake Moscoso put away a ton of balls and had spectacular returns of serve in this match. But Kane doesn't make mistakes at the same rate as other players, and time and time again Moscoso would fail to put a ball away and then the next swing would be a Kane winner. Again and Again. You just cannot make mistakes against Kane; to beat him you have to play a perfect match, and as we've basically seen now for years, nobody has really been successful in putting together a long enough streak of perfection to take him down.
Also, we have to mention … Moscoso really needs to work on his foot work during his serves; we lost count how many foot faults he triggered in the final.
————–
International Racquetball Tour
UnitedHealthcare US OPEN Racquetball Championships
US OPEN Racquetball
USA Racquetball
Federación Mexicana de Raquetbol
Federación Boliviana De Raquetbol – Febora
Racquetball Canada
International Racquetball Federation – IRF