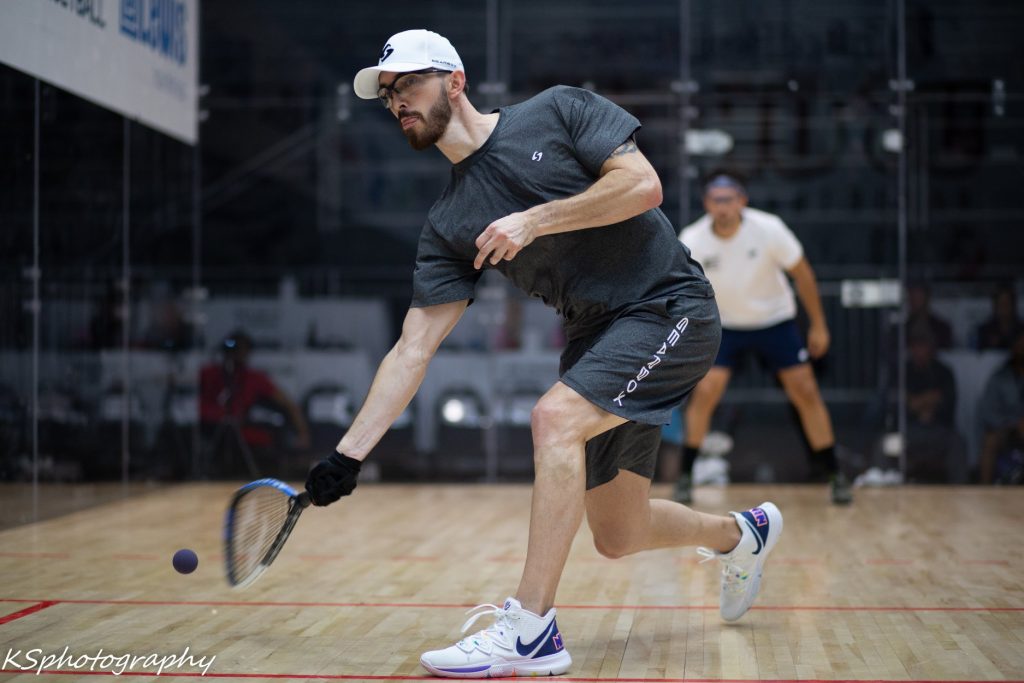 r2sports home page:
https://www.r2sports.com/website/event-website.asp?TID=31326
In the wake of the massive 2019 US Open, Reaching Your Dream Foundation helped fund a lower tier IRT event this past weekend in Northern California (Pleasanton in particular), close enough to the "209" to get a good crew of Stockton players and a healthy Men's singles pro draw of 21 players.
Here's a quick review of the Singles draw.
—————
In the 32s.
– #21 Mitchell Forrest Jr. took out former Outdoor champion #12 Luis R Avila in two games, a solid win for Forrest, who honestly I have almost no results for in the national databases.
– Junior #20 Vedant Chauhan took out the 13th seeded Kalyan Kosetty 8,7. Chauhan is just *14 years old* this year, and made it to the final of USA Junior Nationals 14U earlier this year.
– Another California junior national champ #22 Nikhil Prasad defeated Chilean international #11 Johan Igor in two. Think Chauhan is young? Prasad won the World 12U juniors last year, defeated Chauhan in the 14U final this year and is playing in his age 13 season.
————
In the 16s; some surprises and some great matches
– #5 Adam Manilla ended Forrest's run 5,3.
– #4 Robert Collins was played tough by junior Chauhan but advanced 7,12. Chauhan certainly did not play like a 14yr old in this match, pressing Collins and making shots. He's one to watch for.
– In the match I immediately looked at upon seeing this draw … former top 8 touring pro #14 seed Markie Rojas met up with up and coming pro #3 Sebastian Fernandez and the match did not disappoint. Rojas advanced 12,(9),10 to move on. Rojas, if he were playing full time, would probably be the favorite in this draw despite the presence of several top 20 pros; it should be interesting to see how far he goes.
– #6 Charlie Pratt ended junior Prasad's run 7,10. Pratt is another guy to watch for in this draw; he only plays the tour part time but always seems to make noise when he enters tournaments. And, a solid showing for a 13yr old in a pro draw.
– #7 Bolivian 18U Diego Garcia Quispe, still hanging out state-side after traveling up for the US Open, took on another traveling South American in #10 Francisco Troncoso and beat his elder 7,11 to move on. Garcia is going to be a tough out in this fall's Junior Worlds.
– #2 Jose Diaz ousted 4,4 the Chilean 18U player and #18 seed Rafael Gatica Negroni. I was thrown
for a loop here initially; they posted Gatica as the initial winner on r2sports and was getting ready to talk about what an upset it was. 🙂
So, two upsets by seed in the 16s, with the #9 over #8 and #14 over #3 (though the #14 wasn't exactly a normal 14 seed).
—————-
Qtrs:
– #1 David " Bobby" Horn dominated the Mexican international #9 Christian Longoria 2,8 to advance to the semis.
– In a rare battle of lefties, #5 Adam Manilla got the upset-by-seed over #4 Robert Collins in a tiebreaker.
– #6 Pratt took advantage of a possibly spent Rojas and advanced 10,6 into the semis.
– #7 Garcia played two solid games but could not beat #2 Diaz, falling 12,11.
——————
Semis and Final:
– #1 Horn outlasted #5 Manilla 13,11 to move into the final.
– #6 Pratt advanced in two games over #2 Diaz 12,6.
In the final: Horn got a very solid win over Pratt, winning the title in two 13,11. Solid win for Horn over a solid field.
—————–
Consolations: Avila and Troncoso made it to the consolation final after early round upsets, and Troncoso stomped Avila 11,4 to take the title.
In the Open/Elite doubles, a large/fast round robin draw played Sunday afternoon featuring no less than 15 teams. The four teams who made the semis were Diaz & Harold Jagoda, Collins & Tyrone E Snipes, Avila and Will Reynolds, and Rojas with RYDF patron Michael Lippitt.
Avila/Reynolds topped Collins/Snipes in the final
—————–
Nice little tournament! I'll wrap up another small tourney that went on this weekend in Chihuahua next, then we have a small break until a busy Halloween weekend of events that includes the next IRT Tier 1 in Arizona.