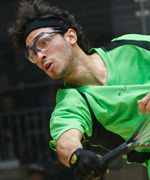 A RKT-associated tourney was put on this past weekend with little fan fare…. but it featured most of the top Mexican pros and some excellent singles and doubles action.
Here's a quick wrap-up. Follow RKT to get video streams of most of the good matches from the weekend.
Thanks to Jaime Martell Neri for the heads up and sending me the draws 🙂
—————–
Singles wrap-up
In the qtrs:
– #1 Alex Landa advanced over a local player.
– #5 Eduardo Garay Rodriguez upset Alan Natera Chavez to move on; Natera was upset early in the US Open and I probably would have favored him in this match too. Garay has been trying to get it going this season but has been unlucky in match-ups on the pro tour thus far (his losses this season have been to Carson, DLR and Keller; a tough slate).
– #3 Javier Mar took out Javier Estrada, who was not able to replicate his success from the Black Gold event in his home town.
– #7 Alex Cardona upset #2 Rodrigo Montoya Solís to move on. This was much better than a 2/7 match-up; the two-time WRT winner holds a 4-2 career h2h lead over Montoya on that tour … and beat him again here.
In the semis:
– #1 Landa topped hard-hitting #5 Garay
– #3 Mar beat #7 Cardona (11),4,4; I wonder if this score-line indicates a lack of match fitness for Cardona; after beating the very top-quality Mar in game one, he gets wiped out in games 2 and 3.
In the final: #1 Landa eked by #3 Mar 14,10, a scoreline I would have expected knowing the quality of these two players. Mar has more than demonstrated that he's a top 8 player in the world through his periodic IRT results.
———————-
Doubles wrap-up:
The doubles draw was solid, and quality teams such as Ernesto Ochoa/Estrada, the Nateras and the Garays couldn't even make the final.
The final ended up being #1 vs #2: Landa/Cardona d Montoya/Mar 11-7 to make Landa a double winner on the weekend. Its saying something when the defending Pan American champion team of Montoya/Mar is beaten by their countrymen on the depth of the doubles circuit right now.
———————–
Good little tourney
International Racquetball Tour
Federación Mexicana de Raquetbol
RKT