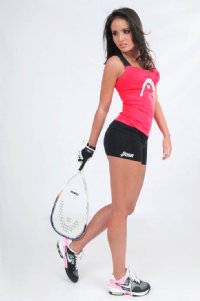 After a month and a half hiatus, the Ladies pros are back in action this coming weekend, in Chicago for the 28th Annual Turkey Shootout. This is the 2nd year in a row that this event has had an LPRT component to it, and there's a solid draw of 28 players in Lombard for the event.
R2 Sports App link: https://www.r2sports.com/website/event-website.asp?TID=31372
18 of the top 20 players are present. Missing are #11 Brenda Laime Jalil and #17 Angelica Barrios (fresh of her win at 18U World Juniors). And a good chunk of the players ranked 20th-30th are present, for a very solid pro draw.
With 28 players, the top 4 seeds get byes into the 16s while the rest play a round of 32 match Friday morning.
One interesting seeding note: for the first time in more than a year, Salas has been pushed out of the #2 spot on tour. Vargas has eclipsed Salas for now; Vargas has opened a 79 point lead based on results so far this season. Salas will need an early-round upset of Vargas to have a chance of reclaiming the #2 spot this weekend.
—-
Here's some intriguing round of 32 matches to watch for:
– #16/#17: Carla Muñoz Montesinos vs Maria Renee Rodríguez: 16/17 matches are always tight and this should be no different. Munoz is 4-0 in pro/internatonal events over MRR, but they havn't played in a top-level event in 2 years.
– #9 Masiel Rivera Oporto vs #24 Cheryl Gudinas; great to see the four-time title winner playing in her home-town.
– #11 Adriana Riveros vs #22 Hollie Rae Scott; despite her lower seed, Scott is a tough player and this could be a pretty close match.
– #10 Montse Mejia vs #23 Valeria Centellas: Mejia (last year's world 18U champion) takes on this year's 18U finalist and 2018's 16U champion in a battle of two of the better young players in the world. Mejia has taken some serious steps forward professionally and is now in the top 10 on tour, and it seems like she's poised to keep moving up.
– #15 Sheryl Lotts vs #18 Susy Acosta; Lotts has a 1-3 career record against Acosta, but they last played more than 3 years ago. Since then Acosta has stepped back from full time touring while Lotts is stepping up. Still could be close.
—
Projecting the round of 16. Assuming some earlier results here's some round of 16 matches to watch for:
– #8 Amaya Cris vs #9 Rivera: Amaya is 3-0 career in top-level events against Rivera, including a 2-game win earlier this season. I see Amaya advancing here again.
#4 Alexandra Herrera vs #20 Kelani Lawrence; i'm really curious to see how Lawrence, who doesn't play the tour part time but is the reigning US National champ, plays against other top pros. She played Vargas really tough in Virginia earlier this season, but doesn't often get chances at players in the top 8. I think Herrera advances but Lawrence keeps it close.
– #3 Samantha Salas Solis vs #19 Jessica Parrilla: Parrilla keeps running into top players in her attempts to regain points on tour; this time running into Salas, who she also ran into at this juncture in Chesapeake earlier this season.
– #6 Natalia Mendez Erlwein vs #11 Riveros; if Riveros gets by Scott, we get a classic South American match between these two. Mendez knocked Riveros out of the US Open last month in a tie-breaker and leads h2h 3-1 across all tours.
– #7 Nancy Enriquez vs #10 Mejia: These two Mexican Nationals have never played in an event our databases track, an interesting side note to the seedings and Mejia's quick rise. I like Mejia's chances here, but Enriquez' power will be a factor.
—
My projected Quarters:
– #1 Paola Longoria over #8 Amaya
– #5 Rhonda Rajsich over #4 Herrera: she's 10-1 lifetime on LPRT, but Herrera won their last meeting. Is it the changing of the tide or a one-off?
– #3 Salas over #6 Mendez: Mendez gets a break from running into Vargas in every pro quarterfinal … and instead gets the long-time #2 Salas on a mission.
– #2 Maria Jose Vargas over #10 Mejia: they've only met twice on tour, most recently a 5-game marathon in San Antonio in april. While I think the 3-game format benefits a player like Mejia … Vargas has been on fire this season and I think advances here.
—
Semis:
– Longoria over Rajsich
– Vargas over Salas
Final: Longoria over Vargas.
—–
They're also playing doubles in Chicago: 12 teams headlined by the #1 Longoria/Salas team, the #2 Argentinian team of Vargas/Mendez and the US Open champs Herrera/Mejia. Should be another great event.
Some fun players entered into doubles include 11-time USA National doubles champ and new member of the IRT team Aimee Roehler Ruiz, who is teaming up with Rivera to attempt to make some noise.
—-
Streaming schedule already out: follow LPRT on facebook. Jerry J Josey Jr. and Timothy Baghurst should be onsite to broadcast all weekend.
—
USA Racquetball
Racquetball Canada
Federación Mexicana de Raquetbol
Federación Costarricense de Racquetball
Federación Boliviana de Racquetball
Fecoracquet Fecoracquet
Racquetball Colombia
Asociación Argentina de Racquetball
Racquet Chile
Jugadores Racquetbol Guatemala
International Racquetball Federation – IRF