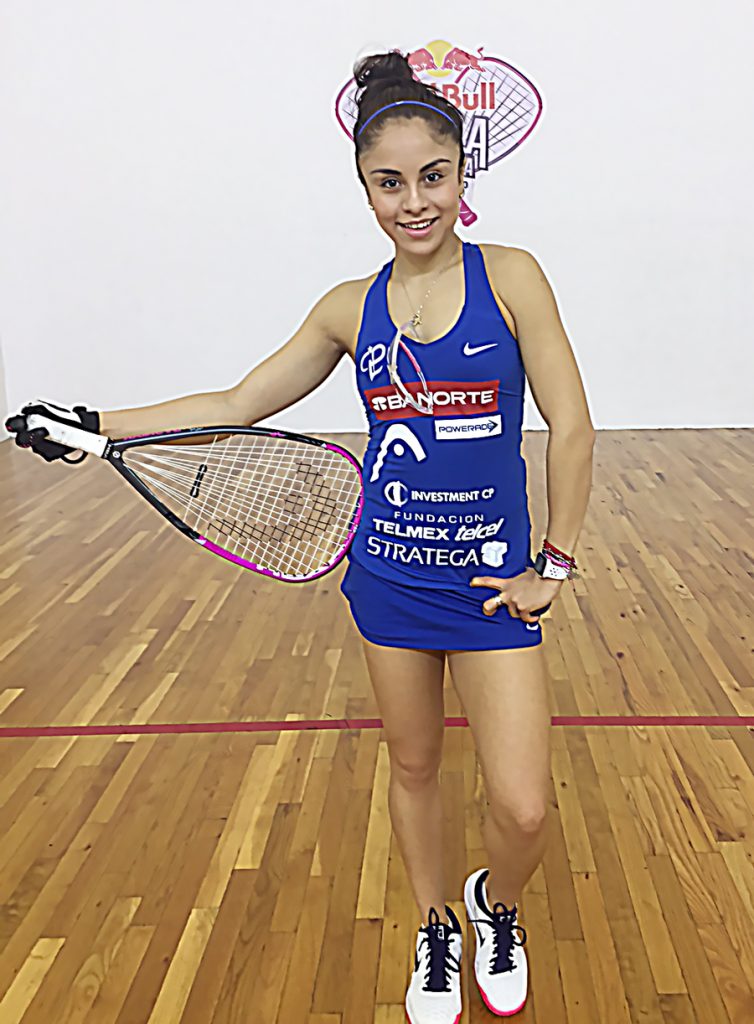 Congrats to your pro winners on the weekend:
– Singles: Paola Longoria
– Doubles Paola Longoria/Samantha Salas
With this singles win, Longoria extends some of her own records:
– 94th career Tier 1/Grand Slam LPRT title (101st overall pro title)
– Improves to 455-31 career on tour
– Improves to 16-1 on the season.
– Extends her current lead at the top of the LPRT rankings to more than 800 points, which is the equivalent of four tier1 pro stops.
r2sports link for the event: https://www.r2sports.com/website/event-website.asp?TID=31372
Here's a quick wrap-up of the Singles draw, with notable results by round:
PRS Match Report: http://rball.pro/D3B284
In the 32s:
– Erin Rivera got the upset over her doubles partner for the weekend, #12 Ana Laura Flores11-8 in the breaker. Rivera avenges a loss to Flores in 2019 Mexican Nationals, and gets a second solid pro win in as many events (she topped Amaya Cris at the US Open).
– Masiel Rivera Oporto topped former tour champ and home-town favorite Cheryl Gudinas in two straight.
– In the round's most anticipated match, reigning US Intercollegiates champ Hollie Rae Scott, who was a point from taking the US National title this past May, faced off against #11 seed Colombian Adriana Riveros. Scott ran away with game one 15-3, but Riveros held out to take a close game two 15-13 before running away with the tie-breaker to advance. I think a full-time tour playing Scott is nearly a top 10 player, making this a really solid test for both players.
– 18U world junior finalist Valeria Centellas pressed former 18U junior champ Montse Mejia before falling in two 12,11.
in the 16s, a couple of significant upsets and close matches:
– #8 Amaya and #9 Masiel Rivera played about as close a match as you can for an 8/9 match-up, with Rivera staving off match-points against in game two, and Amaya doing the same in game three before winning 11-10.
– Erin Rivera got her second upset win in as many rounds, this time taking out #5 Rhonda Rajsich in a close tie-breaker. Its her second win over a top-8 pro in as many events and this is easily the best win of her career.
– #19 Jessica Parrilla got the first significant win in her come-back attempt, taking out #3 Samantha Salas Solis in two 3,14. This game was not really even as close as the scores; Parrilla could not miss game one, and ran out to a similarly huge lead in game 2 before Salas went on a run to make a push for a tie-breaker. Its notable that Parrilla finished the 2017-18 ranked 3rd, made a final and four semis; its just a matter of time before she's regularly making the quarters again.
– #10 Mejia dominated #7 Nancy Enriquez 5,7 to move on to a juicy quarters match-up with the new #2 seed Vargas.
Salas continues her difficult season: she made 9 finals in 9 tournaments played last season. This season she's been upset in the 16s and the quarters, and has been beaten twice at the semis stage by Vargas, which has resulted in the two ladies switching rankings spots. On the one hand she's run into a number of hot hands … but on the other, she's losing to players she normally dominates.
In the quarters…
– #1 Paola Longoria made quick work of #8 Amaya 2,5
– #4 Alexandra Herrera also made quick work of #21 Erin Rivera 6,3, ending her great run. With this run, Rivera should improve her ranking on tour a few spots and get into the top 20.
– #6 Natalia Mendez Erlwein took out ##19 Parrilla in a tie-breaker. This surely was disappointing to Parrilla, who got just her 2nd pro win over Salas to get here, then lost to a player in Mendez that she previously had a career winning h2h record (3-1 before this loss). Mendez advances to just her third pro semi final in her career. Parrilla's big win will jump her up four spots in the rankings, to #18 overall.
– But the biggest result of the round was #10 Mejia taking out #2 Maria Jose Vargas Parada in a tie-breaker to move on to the semis for the third time in as many tries this season. Mejia's season has been a significant departure from last season, when she was eliminated in the 16s five straight times.
In the semis:
– #4 Herrera's shot-making ability got her points against the world's top player, but it wasn't enough as Longoria advanced to the final 8,9. Longoria now has reached the finals of the last 21 pro events she's entered, winning 18 of them with this weekend's event pending.
– #10 Mejia continued her run to make her first pro final, defeating #6 Mendez in a tiebreaker. The winner of this match was set to advance to her first pro final and it was Mejia who made it happen.
In the final…
– #1 Longoria completely dominated #10 Mejia, displaying the gulf that exists on tour between herself and the next set of competitors, going on nearly unstoppable runs in both games to take the final 2,6.
With this result, Mejia should jump Masiel Rivera for #9 on tour, which (unfortunately for Montse) will have her routed right into Longoria in a possible quarter-final next event.
—————–
Doubles wrap-up.
PRS match report: http://rball.pro/53132B
As we have come to expect in ladies pro doubles lately, the top two Mexican teams both advanced to the final with relative ease. Fans were treated to a commonly seen final between what seems to clearly now be the two top doubles teams in the world.
In the final, #1 Longoria/Salas took on #3 Mejia/Herrera. It looked like we'd see another upset by the younger pairing, who took the first game 15-4, but the veteran #1 pairing rebounded to take the next two games to make Longoria a double winner on the weekend.
This represents the 41st pro doubles title for Longoria and the 29th for Salas since we started tracking pro doubles in the fall of 2013.
—————–
we'll do a quick wrap up of the Men's IRT Tier 5 event in a separate post.
—————–
LPRT
USA Racquetball
Federación Mexicana de Raquetbol
Federación Boliviana de Racquetball
Fecoracquet Fecoracquet
Asociación Argentina de Racquetball