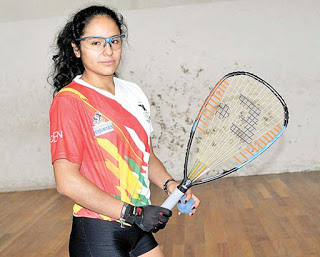 Welcome to the first pro event of the 2020 calendar year!
https://www.r2sports.com/website/event-website.asp?TID=31860 for the R2 Sports App home page for the event.
The LPRT returns to the Miami area for the first time since 2014, and what a great place to have an event in the dead of winter (as I scrape ice off my windshield this morning)…
Perhaps because of the proximity to the new year, the pro draw is a bit small; just 16 players in the event. Missing are top 10 players #3 Samantha Salas Solis, #7 Montse Mejia and #10 Masiel Rivera Oporto. Its pretty rare for Salis to miss and event; the only one she missed last season was due to travel problems; perhaps she's taking a mental break after getting some upset losses early this season. Traveling to his event is a trio of top Bolivian players, which should make for some great round of 16 match-ups; read on.
Thanks to missing players in the 11-14 range, Jessica Parrilla gets elevated all the way from her #14 ranking to the 8th seed here.
Lets preview the draw.
Matches to watch for in the 16s:
– 8/9 Carla Muñoz Montesinos vs Jessica Parrilla; 8th vs 9th always seem tough, and this one is no exception. Both players have notched wins over Salas this season, and both seem to be on the upswing. I've only got two career meetings in the database, one in 2013 and on in 2017 (they're 1-1). Expect this to go tie-breaker, and I'm leaning towards the former top 4 pro Parrilla to end up on top.
– #5 Rhonda Rajsich vs #12 Valeria Centellas; If ever there was a "youth versus experience" match, this is it. Centellas was born in 2001; in the year 2001 Rhonda was busy finishing 3rd on the pro tour. Centellas is perhaps the most promising junior in the world today; as a 17yr old she finished runner-up to her country-woman at World Juniors and is already a regular representative of Bolivia in international events. So what may happen here? Based on her results against LPRT pros, i'm guessing Centellas takes this to the breaker but Rhonda prevails.
– #4 Natalia Mendez vs #13 Micaela Meneses Cuellar; well if you thought Centellas was precocious … Meneses just lost in the 16U world junior final 11-10, playing in her age 15 year season. She has just one LPRT appearance; last year's Bolivian grand slam, where she took a game off of #1 seeded Salas in the 16s. She could trouble Mendez but I expect the Argentinia veteran to move on.
– #6 Nancy Enriquez vs #11 Kelani Lawrence; no prior meetings between these two players, but I suspect that Lawrence might keep this pretty close. Kelani has a couple of closer losses to Vargas this year, one of the few players on tour with power that rival's Enriquez.
– #7 Cristina Amaya Cassino vs #10 Maria Renee Rodríguez; these two are frequent international competitors, given that they're both frequent representatives of their home countries of Colombia and Guatemala respectively. Amaya holds a 6-1 career h2h, but the games are often close.
————–
Projecting the quarters:
– #1 Paola Longoria over #8 Parrilla: Jessica is 0-9 versus Paola in the database, but they havn't met in more than two years.
– #5 Rajsich vs #4 Mendez: last meeting was an interesting game; Rhonda won 14,1. In 2018 worlds, Natalia beat Rhonda by the scores of 1,13. What may happen here? I like Rhonda in this one.
– #3 Alexandra Herrera over #6 Enriquez. Herrera is 5-2 over Enriquez, but Nancy beat her in last year's SC event in a 5-game marathon after losing the first two games. I think the shorter match format favors Herrera, and I expect a two game win.
– #2 Maria Jose Vargas vs #7 Amaya: Another international tinged matchup; they've met 9 times with a lot of IRF meetings; Vargas is 7-2, but those two losses were years ago. Expect a Vargas win.
—————
Possible semis:
– Longoria over Rajsich: this would extend the most populous head to head matchup in the tour's history: these two have met 66 times on the pro tour and quite a few other times internationally. After a shock upset at the 2018 Pan Ams, Longoria has regained control of their rivalry.
– Vargas over Herrera: Vargas is 6-0 lifetime over Herrera, but none of them really have been blowouts.
Projected Final: Longoria over Vargas.
—————-
Doubles preview:
A 6-team doubles draw is scheduled; Salas' absence robs the top team of one of its partners, and Mejia's absence robs the 2nd best team of one of its partners … so it only made sense for Longoria to team with Herrera here. They'll likely run into either the Enriquez/Parrilla team (which has been playing well together), or the #2 seeded Argentinian national team of Vargas/Mendez).
———————–
Great to be back in action!
LPRT
USA Racquetball
Federación Mexicana de Raquetbol
Federación Boliviana De Raquetbol – Febora
Asociación Argentina de Racquetball
Federacion Colombiana de Racquetball
Racquetball Colombia
Federación Chilena Racquetball