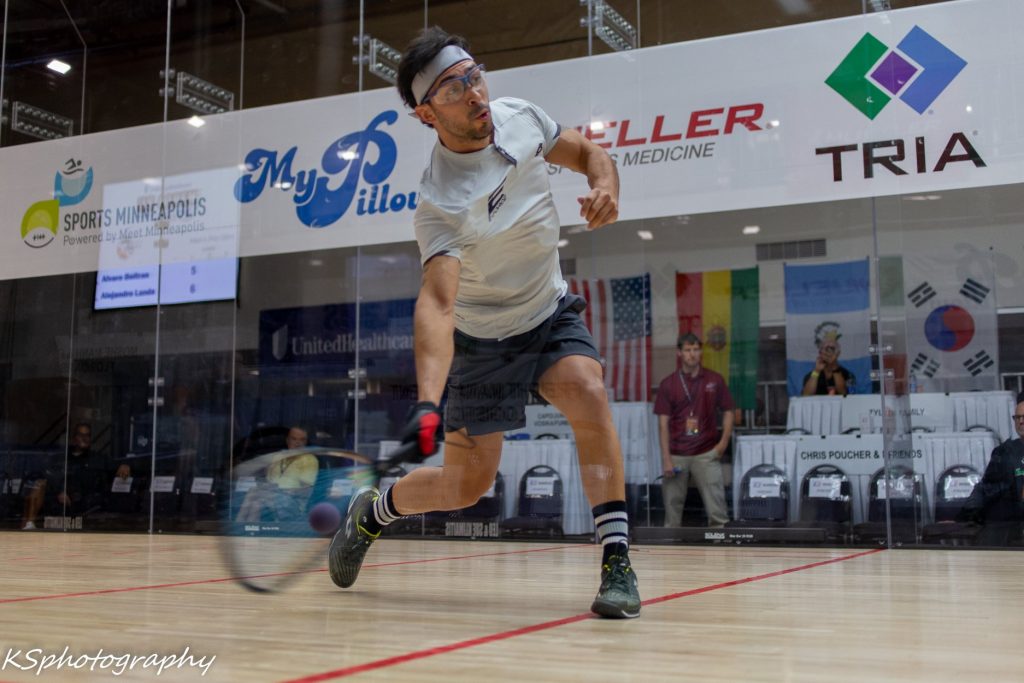 Note: this was published with some slightly modified text updates on 1/13/20 here:
https://www.irttour.com/pro-racquetball-stats-top-5-predictions-for-the-remainder-of-the-2019-20-season/?fbclid=IwAR1_n9O2dL0EYcGelNDNqjd3_2gVB1-iE9jZwDP3bkVvoG2JpmJ7gCu70ak
Welcome to the 2nd half of the 2019-20 IRT season, racquetball fans! We've already seen six Tier 1/Grand Slams in the books this season, and we have at least another six Tier 1/Grand Slams on the slate for the spring, perhaps more to be announced. Here's five predictions on what will happen the rest of the way out this season:
(Reminder: these are in the opinion of Todd Boss, not the IRT. This is for entertainment purposes only).
---
Prediction #1. Kane will win his 14th title … but will lose a match between now and the end of the season.
The first prediction probably isn't that ground breaking, considering that Kane Waselenchuk has yet to be beaten on the court this year. But he's going to have to work a bit to get the title; he has about the same amount of points to defend in the spring as Rocky Carson, but he's slightly behind Alejandro Landa in YTD points right now.
But I'm predicting that Kane drops another match on the court at some point this year. Its hard to stay 100% healthy deep into your 30s, and I'm guessing that somewhere along the line Kane runs into a nagging injury that costs him a match. The schedule in Jan-Feb is tough: three straight weeks of Tier 1s, including the Tier 1 "plus" Lewis Drug Pro-Am in Sioux Falls that generally gets the best and biggest draws outside of the US Open. I wonder if we'll see "load management" out of some of the IRT's veterans to get through this section of the season. I hope not; the Sioux Falls event is great, and the Lou Bradley Memorial deserves a great showing since its a Tier 1 for the first time. But if it does, more opportunities for upsets and surprise runs from younger players.
---
Prediction #2: Landa will pip Carson for #2 at year end…. but Carson holds off Parrilla for #3
Carson dropped out of the top 2 on tour at the end of the Portland ToC event for the first time (save a brief period in 2016) in nearly a decade. After making the semis or better in all nine tournaments last season, he's been upset in the quarters or earlier in 3 of the first 6 events this season. This has enabled Landa to take over #2 this season at the half way point. But the news doesn't get much better for Rocky the rest of the way: Rocky has 400 more points to defend from the 2nd half of last season as compared to Landa, and Landa already has 300 more earned points this season.
A better question might be this: can Andree Parrilla overtake Rocky for #3 by season's end? Rocky has a sizeable current lead in the rolling-12 month points standings over Parrilla for #3 … but like Landa has significantly more points to defend in the season's second half. Rocky earned roughly 1,770 points from Jan 2019-season's end, as compared to ~1,365 for Landa and ~1305 for Parrilla. Parrilla's big problem now is his #4 ranking; he's set every tourney for a tough 4/5 quarter, then feeds into Kane in the semis … making it really hard for him to make a final (or win the event) unless there's a significant upset or Kane skips an event. Parrilla may need a tourney win to eclipse Carson for #3 this season.
Nonetheless, some interesting battles to watch for at the top.
---
Prediction #3: Eduardo Portillo will finish top 10 … but not top 8.
One of the big risers this season has been the young Mexican Portillo, who won Junior Worlds 18U in 2018 and is making a full time push on the pro tour. Playing half time last season, he finished 17th on tour, making the main draws in all five events he entered. He's continued that streak of making main draw in ever event he enters this season, throwing in a couple of solid wins over top players to make the Semis in Arizona.
Portillo currently sits 10th in the rankings, 9th in season-to-date. But he's gone one-and-done in the last two pro events at the hands of his direct competitors for the last top 10 spots (Franco and Montoya respectively) and needs to gain success in these matches to take the next step.
---
Prediction #4: Moscoso will make the Bolivian Open final again
The Bolivian Grand slam is set to occur in mid May 2020, a month and a half later than it was held in 2019. Right now Moscoso sits 7th in the rolling 12-month rankings and 7th in season-to-date rankings, but he'll lose a significant chunk of his ranking points in early April when the points from his 2019 Bolivian GS event expire. This will send his ranking down significantly, probably into the 13-14 range, but it shouldn't stop him from making a similar run to the final.
Who will he play there? Will we see Kane make the trip this year? I certainly hope so: I think the Bolivian crowd would love to see a rematch of the US Open Final between Kane and Conrrado. But, coming from a 13-14 range seed will make it that much tougher for Moscoso to advance through.
---
Prediction #5: The end of the season will see a number of "Retirements" of long-time touring players
I can't read minds, and I won't name names, but fans of the sport can already see a number of long-time touring players taking significant steps back already this season. In some cases sponsorship changes have forced players to make hard choices about the costs of touring. In other cases the realities of the current state of the game have exposed their true talent levels and they find themselves dropped well out of even a top 16 seed.
---
Bonus prediction: 2nd half should see more Mexican players playing Tier 1s.
The locations of the 6 tourneys on the schedule for the spring of 2020 are: Austin, Sioux Falls, Sun Prairie WI, Chicago, Bolivia and Denver. We also had a couple of additional stops on the schedule (New York and Chihuahua). The nice part about these stops? A lot of them are in easy airline hubs or close to/in Mexico, making it a lot easier from a cost perspective for the up and coming Mexican contingent of players to attend.
So here's hoping that guys like Mar, Estrada, Natera, Martell, Cardona, Garay, Ochoa, Alonso, Longoria and the like play more this spring.
---
Happy New Year and here's to an exciting 2nd half of racquetball!