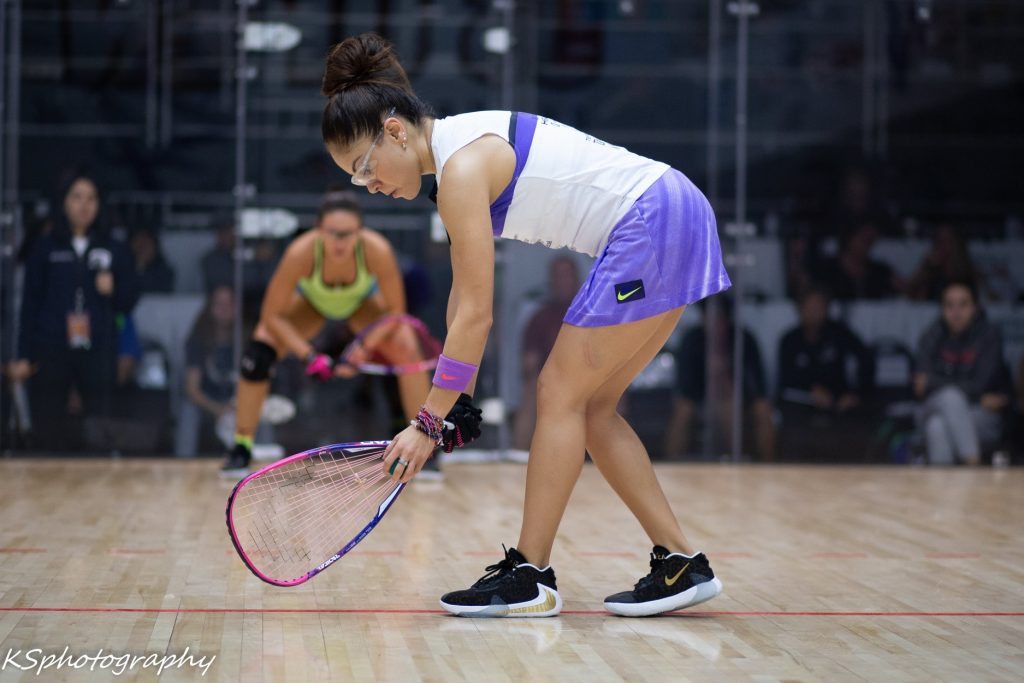 Congrats to your winners on the weekend:
– Singles: Paola Longoria
– Doubles: Paola Longoria/Samantha Salas
Longoria dominates the competition, never giving up more than 8 points in a game on the weekend to cruise to her 97th career tier-1 title. And, the #1 doubles pairing holds serve against the upstart Mejia/Herrera duo to take the title.
R2 Sports App home page for event: https://www.r2sports.com/portfolio/r2-event.asp?TID=31722
——————
Lets review the notable matches in the Singles draw.
Singles Match report in the PRS database: http://rball.pro/8DECFC
—————-
In the 32s:
– #12 Jessica Parrilla made a statement in her win over junior Bolivian Angelica Barrios – Raquetbolista, winning the first game 15-1 and holding on 15-12 in the second.
– Good friends and doubles partners Ana Laura Flores and Erin Nocam (Erin Rivera) battled it out in a tie-breaker, with Rivera advancing.
– #22 Susy Acosta Racquetball got a solid win over tour vet Adriana Riveros Racquetball 7,12 to advance into the 16s for the 2nd time this season.
– #23 Valeria Centellas got the better of #10 Masiel Rivera Oporto for the second week in a row, earning the upset win to move into the 16s.
– #15 Sheryl Lotts got a hard-earned tie-breaker win over #18 Guatemalan Maria Renee Rodriguez to move on.
—————-
In the 16s:
– #9 Montse Mejia took out #8 Cristina Amaya Cassino in a tight 14,9 match, as one would expect in the 8/9 meeting.
– #12 Leona Parrilla took #5 Natalia Mendez to the brink, nearly pulling off the upset before Mendez advanced 11-8.
– #23 Vale Centellas RaquetBol made short work of #7 Nancy Enriquez, dominating to win 7,5 and move into the quarters for the second time this season. She's a force to be reckoned with.
—————-
In the Quarters:
– #1 Paola Longoria dominated her young Mexican rival #9 Montse Mejia 3,8 to move into the semis. More and more Mejia's win over Longoria at the 2019 Mexican Nationals is looking like a fluke; Longoria has beaten Montse the last three times they've played on tour by the score lines 5,6 then 2,6 and today 3,8.
– #4 Alexandra Herrera needed a tie-breaker to get past #5 Natalia Mendez Erlwein in what could be an interesting budding rivalry.
– #6 Rhonda Rajsich became the latest player to get an upset win over #3 Samantha Salas Solis this season, taking out her long-time rival in a breaker by the slimmest of margins 11-10. Salas has now been beaten prior to the finals in all six of this season's events she's entered; last season she played 9 events and made 9 finals.
– #2 Maria Jose Vargas Parada was pressed in game one by the junior phenom Centellas (now officially her country-woman having made the switch to represent Argentina), but pulled away to win in two.
—————
In the Semis
– Longoria continued to dominate in Greenville, beating #4 Herrera in two games 3,7 to return to the final.
– Rajsich pushed Vargas to the breaker and looked for a moment like she could get to a final for the first time since June 2017 … but ran out of gas in the breaker.
—————
In the Finals, we get the 5th final between Longoria and Vargas on the season. The first four were Longoria wins … and we got another Longoria win here too. Paola dominated the #2 player on tour to win 5,6 for the singles title.
—————-
Points Implications of results: there's definitely some interesting movement in the rankings as a result of this event.
– The top 1-6 stay the same, and in the same order. Longoria treads water in that she's the defending champ, while Vargas gains on her and Salas loses more ground. Vargas now has a large enough lead on Salas that it likely is impossible for Samantha to regain #2 this season.
– Despite her run to the semis, Rhonda actually loses ground to Mendez for #5 thanks to Rajsich having to defend semis points from last year.
– The big news is that Enriquez has been knocked from the #7 perch that she's held for quite a while. Mejia has moved up to #7, which means that she avoids Longoria in the quarters and could have deeper implications for draws going forward. This also bumps Amaya to #9, which is less impactful to her in that 8-9 still plays into #1.
– Parrilla has now ascended to #11; its been a long grind for her attempting to get back her top 4 ranking, due partly to unlucky play-in matches and partly to increased depth on tour. But every tick up in rankings means a slightly "easier" round of 16 for her, and more opportunities for her to get deeper into events.
– Munoz makes a big jump from 18 to 13, and will continue to rise since she played no events in the 2nd half of last season, meaning every point earned is a net point gained on the rest of the field. I could see her getting up as high as #11 by the end of the season, but it'd be tough to get much higher thanks to a points gulf from 11 to 10 on tour.
– Centellas continues her meteoric rise; last week she was ranked 25th, now she's 16th. She started the season outside the top 30. And she's proving that her results are no mistake, taking down multiple top 10 players along the way.
—————-
Doubles review
Match report in the PRS database: http://rball.pro/6F84A6
In doubles, the all-Bolivian junior team of Barrios/Centellas upset the 5th and 4th seeds to advance to the semi; there they joined the top 3 seeded teams.
We got the expected all-Mexican final, though this time the #1 team Longoria/Salas held serve in a tiebreaker to take the title over #3 Mejia/Herrera
—————-
Other Draw results:
– In Women's Open, Carla Muñoz Montesinos took a solid win, downing Amaya in the semis and Kelani Lawrence in the finals.
– In Men's Open, Maurice Miller downed fellow Georgia native Austin Cunningham in the final.
——————
Next up? the LPRT has a break until Boston the first weekend in March.
——————-
tags
LPRT
International Racquetball Federation – IRF
International Racquetball Federation
USA Racquetball
Racquetball Canada
Federación Mexicana de Raquetbol
Federación Boliviana De Raquetbol – Febora
Federación Boliviana de Racquetball
Racquetball Colombia
Federacion Colombiana de Racquetball
Asociación Argentina de Racquetball
Federación Chilena Racquetball
Jugadores Racquetbol Guatemala