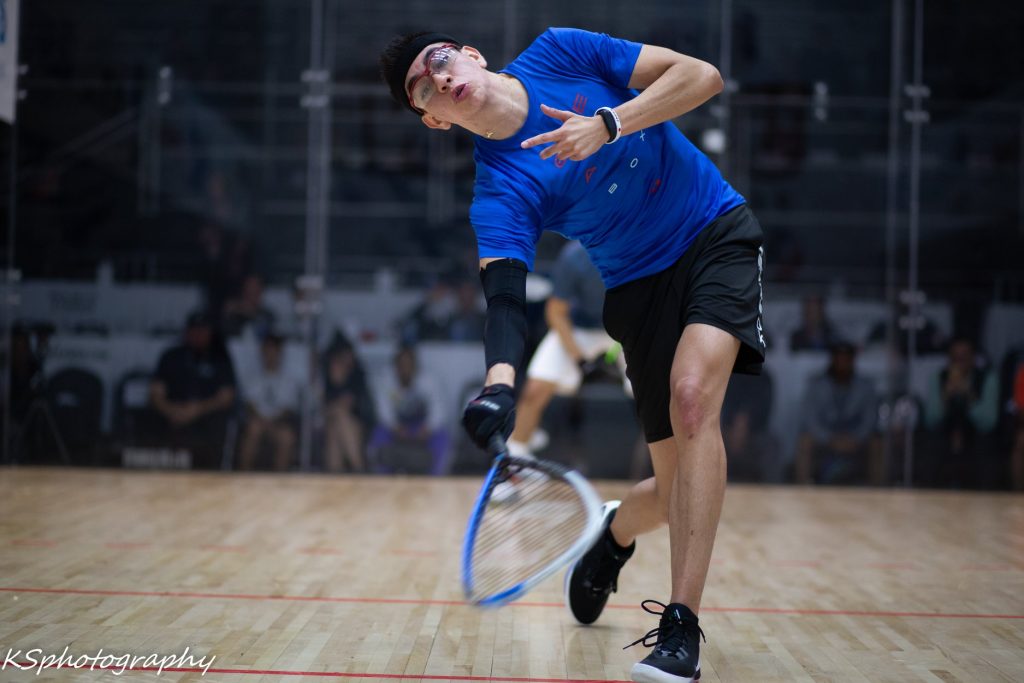 Welcome to the last event of the 2020 IRT mid-west swing, and its a special one. "The Lou," a long-running IRT satellite in Sun Prairie, WI (outside of Madison), has stepped up this year for the first time to become a Tier 1 event.
This represents the first time the IRT has had a full tier 1 in the state of Wisconsin since 2004, and this is the first time ever going anywhere except Milwaukee within the state for a major event.
Fun fact: the very first US Amateur Nationals event was held in Milwaukee in 1968. The first major racquetball tournament ever held, won by Bill Schultz over Hall of Famer Bill Schmidtke in the final.
R2 Sports App link: https://www.r2sports.com/portfolio/r2-event.asp?TID=31897
There's 34 players in this singles draw. There's not a pro doubles draw but there is a healthy Men's Open draw filled with top players that will be fun to watch.
The draw is missing two major names: #3 Rocky Carson picked up an injury (or perhaps came back a bit too soon from his Dec 2019 surgery) and misses the event. This is pretty notable; in 20 years on tour full time this is just the third event he's missed. Also missing the draw is last week's champ #6 Daniel De La Rosa (also reportedly out with a knock), which has to be a bummer b/c he's been playing some of the best ball of his career this month.
Other top 20 players missing: #14 David " Bobby" Horn (who has stated he's stepping back from touring for financial reasons), and #18 Andres Acuña, who may be heading back to his home country to help with a big tourney starting up next week.
is it a flip draw? Yes. The 5th-8th seeds are:
– Moscoso: ranked 7th, 5th highest seed in draw, seeded 8th
– Murray: ranked 8th, 6th highest seed in draw, seeded 5th
– Portillo: ranked 9th, 7th highest seed in draw, seeded 6th
– Bredenbeck: ranked 10th, 8th highest seed in draw, seeded 7th.
Obviously, Moscoso is hardest done by, flipped into the #8 spot meaning a meeting with Kane in the quarters. Jake would have been in the same quarter he got flipped into anyway without the missing top seeds. Portillo gets a big break and is in line to face #3 seed Parrilla, who he beat recently. Biggest benefactor has to be Murray, who gets out of a Kane quarter and instead feeds into #4 Beltran (who he's never beaten, but has been playing close).
A comment about the impact of 3 straight events; it seems to have taken a toll on some the tour's older full-time players:
– Kane (age 38): missed the middle event
– Rocky (age 40): missed 2 of the 3 events
– Landa (age 31) fft'd out of Lewis, wonder if he's still showing any ill effects of the injury this weekend.
Of course that being said the tour's oldest regular (Beltran, age 41) has made all three and shown no ill effects, so maybe its more coincidence and less causation.
——————————
Lets preview the draw. Here's some notable qualifying matches that i'm looking forward to:
In the round of 64:
– #28 Minnesota native Lee Meinerz takes on former top-10 touring vet Costa Rican #21 Felipe Camacho. I like what I saw from Meinerz last week; he can give Camacho a match here for sure. He puts pressure on the ball on every shot and could push for an upset.
– #22 Mexican Alan Natera Chavez takes on #27 Anthony Martin in a solid first rounder. Natera lost out to Pratt in the 64s last weekend but will shoot for a better result this weekend.
– #23 Bolivian Kadim Carrasco takes on #26 American Justus Benson in the opener; 21-yr old Texan Benson has gone one-and-done in four straight tourneys and will be looking to break that streak here.
——————————-
Projecting the 32s:
– #16 Javier Mar likely takes on #17 Sebastian 'Patata' Fernandez in a very tasty match between two solid players. Somehow Fernandez gets exactly the 17th seed for the second straight event, meaning he has to play that extra match before facing a top opponent. Last week he qualified into the #1 seed; this time around he won't be favored to repeat the feat. Mar slots into the brutal #16 seed, meaning that with a win he faces Kane in the first round of the main draw instead of the quarters (as he did in last year's US Open) or later. A great match either way to see where Fernandez' game is these days.
– #13 Thomas Carter likely takes on #20 Javier Estrada for the second week running. Estrada took him out in a breaker last week; will we see a different result here?
– #11 Mario Mercado Valenzuela likely vs #22 Natera; Both these players were taken out last week by the same guy (Charlie Pratt Racquetball): now they slate to face off for a spot in the main draw. Mercado's season has been hit and miss: he's got solid wins and surprising losses. its anyone's guess here.
– #15 Eduardo Garay likely takes on #18 Adam Manilla. Manilla surprised everyone with his run in Austin and has committed to the tour full time; he has his hands full though with Colombian Garay, who beat Landa in Austin two weeks ago and is moving up in the world.
——————————-
Projecting the round of 16:
– #1 Kane Waselenchuk takes on the Mar/Fernandez winner; Kane took last week off and should be refreshed as compared to either player here, who are doing play-ins and working on two-three straight weeks of play.
– #8 Luis Conrrado Moscoso Serrudo vs #9 Rodrigo Montoya Solís]; Great match for the 16s. Montoya beat Moscoso in both 2018 Worlds (en route to the gold medal) and in the 2019 Pan Am games (en route to the gold medal). Both matches were close. Both are hard hitters, with great diving abilities. Moscoso has a slight knock sustained in Austin that still seemed to be bothering his mobility on the court in Sioux Falls. I'll favor Montoya here.
– #5 Samuel Murray likely vs #12 Carlos Keller Vargas: another intriguing match; Murray knocked Keller out of the 2019 Pan Am games in the quarters, but Keller upset Murray in the 32s of the US Open (a big loss in the season's biggest event for a top 8 seed). I like Murray here.
– #4 Alvaro Beltran likely vs #20 Estrada: These two met just last week at this same gate, an 8,9 win for Beltran. Can Estrada flip the script in a week's time? Is three straight weeks and a ton of court time too much for the 41-yr old Beltran?
– #3 Andree Parrilla likely vs #14 Gerardo Franco Gonzalez; Parrilla has not been enjoying the mid-west swing so far: two one-and dones in a row in Austin and Sioux Falls. He's now been beaten in the 16s three times this season: he had just one upset prior to the quarters the entirety of last season. If he wants to keep his top 4 seed, he needs to be making semis regularly. First up: an old WRT adversary in Franco. Parrilla is 4-0 against him in the old tour; they havn't met professionally since 2017. I suspect Andree advances.
– #6 Lalo Portillo vs the Natera/Mercado winner. Match-ups matter: Portillo has a couple of wins over Natera in RKT local events in the last year, but lost to Mercado two weeks ago in Austin. Which Portillo shows up this week? The guy who looked absolutely dominant in a run to the finals last week? Or the guy who lost three straight round of 16 openers in Nov, Dec and Jan? I'm going to go with the former and project another run here for the youngster.
– #7 Jake Bredenbeck vs #10 Sebastian Franco; they've met 7 times in pro/IRF events over the years: Jake leads 4-3 and won their most recent skirmish; a RR affair at the 2019 Pan Am Games in Peru. I like Jake here; he's been playing more consistent all season, while Franco has been missing events and taking upset losses.
– #2 Alex Landa vs #15 Garay. How hurt is Landa? He was really struggling against Murray last week before retiring. Next week is US Nationals, where he's playing with Sudsy Monchik in an attempt to qualify for the US team … which I have to think is pretty darn important to him given all that transpired with the Mexican federation last year. Meanwhile, Garay is tough and just beat an un-injured Landa in Austin two weeks ago. I sense another upset here, whether its Garay beating him on the level or Landa protecting his arm.
——————————
Projected Qtrs:
– #1 Kane over #9 Montoya: Kane's 3-0 against the young world champ … but their most recent meeting in Portland in Dec was closer than it had been before. I sense a pattern in kane's "close" matches; when a top player is playing well, they'll hang with Kane for most of each game .. you'll see scores like 8-8 or 10-9 … then poof, Kane hits another gear and suddenly its 15-10 game over. Its tough to play flawless racquetball for two straight hours against the GOAT; how close can Montoya come this time?
– Beltran/Estrada winner vs Murray; Which ever Mexican advances, i'll favor over the big Canadian. It'll be either Beltran (who's never lost to Murray), or Estrada (who, if he beats Beltran it means he's "on" this week and will be tough to stop).
– Parrilla over Portillo: I don't think Parrilla is going to get upset three tourneys in a row; he's never lost to Portillo in an IRT or WRT event (but did lost to him last year in SLP local event). But it'd be quite a statement if Lalo made another run.
– Garay over Jake/SFranco; if Garay tops Landa, no reason not to think he'd also get a win here.
I know I keep predicting wins for Estrada and Garay in particular; something about their games really strikes me as solid. Maybe i'm crazy, but both players have power, athleticism, good wins on their resumes and are growing tourney by tourney. What can I say, i'm a sucker for upsets.
——————————-
Semis:
– Kane over Estrada
– Parrilla over Garay
Finals: Kane over Parrilla.
Andree has come an awful long way from the 0,0,0 beating he took in the US Open 2016 at the hands of the king. Parrilla took a game from Kane in Syosset last season (though, to be fair Kane was nursing a hand injury), and was dominated in their most recent meeting (Portland semis). Look for Andree to find unique ways to keep this close but for Kane to pull away.
———————————
Look for Streaming in the regular places; follow the IRT on facebook and sign up to get notifications when they go Live.
Look for Dean DeAngelo Baer, Favio Soto, Pablo Fajre and the IRTLive crew all weekend on the mike, calling the shots!
Tags
International Racquetball Tour
International Racquetball Federation – IRF
International Racquetball Federation
USA Racquetball
Racquetball Canada
Federación Mexicana de Raquetbol
Federación Boliviana De Raquetbol – Febora
Federación Boliviana de Racquetball
Racquetball Colombia
Federacion Colombiana de Racquetball
Federación Costarricense de Racquetball