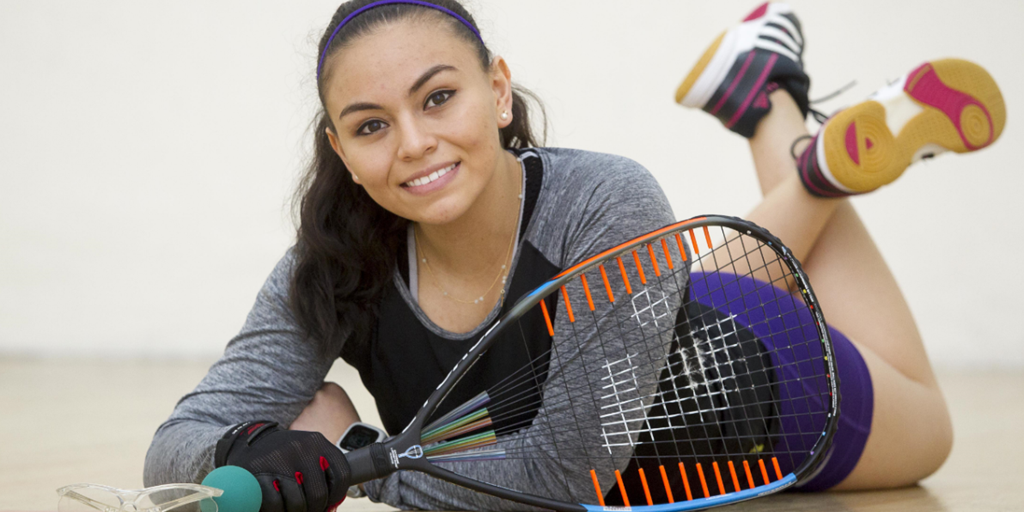 Congrats to your winners on the weekend:
IRT pro Singles: Daniel De La Rosa
LPRT pro singles; Ana Gabriela Martinez
R2 Sports App home page for event: https://www.r2sports.com/tourney/home.asp?TID=30515
Lets review the notable matches in the Men's Singles draw.
Singles Match report in the PRS database: http://rball.pro/C05199
In the 128s and 64s:
Kadim Carrasco got a solid tiebreaker win over Mexican vet Abraham Peña to earn a spot in the main draw.
We were robbed of a potentially awesome round of 32 projection when #20 seed Javier Estrada no showed; this paved the way for little-known Bolivian Miguel A. Arteaga Guzman to earn a spot in the main draw with two good wins.
– #23 seed MoMo Zelada got two solid wins over veteran internationals Set Cubillos Ruiz and Javier Martinez to earn a round of 32 main draw spot.
In the 32s:
#17 Andres Acuña cooled the home-town favorite #16 Adam Manilla and advanced 12,5. Manilla had a great tournament in Austin in January 2020, making the semis and nearly making the final, but more and more its looking like a one-off as he hasn't been able to replicate that success since.
#19 Carlos Keller Vargas eked out game one against #14 Thomas Carter, then raced to a two game win 14,1 for one of the only two upsets by seeding in the round.
#11 Mario Mercado took a really tight match against #22 Alan Natera Chavez to move on 14,12. Two really evenly matched players and Mercado got a good win.
#10 Sebastian Franco played really solid ball to beat his former Baltimore neighbor Zelada 5,4 to move on.
– The only tiebreaker of the round, fittingly, was in the 15/18 match, where Eduardo Garay Rodriguez got a really solid win over Sebastian Fernandez 11-9 in the breaker. Might have been 11-10; i heard it one way but R2 has it another. Two really solid up and coming players and the crowd got a great match as a result.
In the 16s, a slew of upsets and really big surprises.
#1 Alex Landa and #17 Acuna played quite a contentious match, building one some previous "history" between the two players, which resulted at one point having to have the players separated on the court. The antics seemed to fire up Landa, who bounced back after dropping game one to dominate the second game and eventually advance in the breaker. No Love lost here.
#8 Lalo Portillo came back from a game one defeat to dominate the breaker 11-1 to move past #9 Jake Bredenbeck.
#5 Andree Parrilla turned the tide on recent matches against his long-time rival #12 Rodrigo Montoya Solis and advanced 14,3. Parrilla has really turned it around since going on a slide of form in early 2020 and this was a great win, avenging a loss to Montoya in the Mexican National finals earlier this year.
In the biggest upset of the round, Carlos Keller Vargas absolutely destroyed #3 Samuel Murray 6,4 to advance to just his second ever IRT pro quarterfinal. Murray was the champion of the previous IRT event and a favorite to advance deep, but is a one and done in the pro draw here.
#11 Mercado got another solid win, this time downing #6 Alvaro Beltran in two solid games 12,6.
#7 Conrrado Moscoso nearly got pushed to a breaker by #10 Franco, but finished the match off to win in two games.
– #2 Rocky Carson handled Garay's pop and moved on in two games 11,10 to setup a juicy quarter final.
In the Quarters, some seriously unexpected results.
#1 Landa tweaked something in his back early in his match against youngster #8 Portillo and fell with little resistance 3,4. Landa asked for an injury time out but was denied, and basically went through the motions for the entirety of the match. Portillo advances to just his 4th ever pro semi.
#4 DLR handled #5 Parrilla 10,10, continuing his relative dominance over his younger country-man.
#19 Keller continued his career-best performance, building on just his second ever quarter final by winning a close match against his former country-man Mercado to advance to his first ever pro semi. Bravo to Keller for this great run.
– For the fourth time in four tries, #7 Moscoso downed #2 Carson on the pro tour. This time Carson bounced back from a blow out first game loss to make it a match, and Moscoso had to dig down to take the 11-9 breaker.
In the Semis
DLR took advantage of Landa's upset loss by taking out Lalo in a breaker to move into the final.
Moscoso downed his countryman Keller, in a rematch of the Bolivian national singles final two weeks ago 10,14 to move into the final. Moscoso makes the finals for the 4th time in his 11 pro appearances.
In the Finals, a meeting between two players who are 2-2 lifetime in pro and international events turned into a relatively one-sided affair. DLR took a commanding lead in the first game and threatened to donut Moscoso before Conrrado pulled back a handful of points to make it respectable. Everyone anticipated a rebound game in the 2nd, but DLR's veteran, calm approach to the match was the story. Daniel did not panic, stuck to his game plan and wore down the flashy but inconsistent Bolivian to take the title 7,13.
With this win, DLR earns his 5th pro title and takes back over the title for most titles by a Mexican player from Landa.
Lets review the notable matches in the Women's Singles draw.
Singles Match report in the PRS database: http://rball.pro/9F93A8
In the 32s:
We were robbed of a fun all-USA match when Hollie Scott no-showed, giving Lotts a walkover.
#5 Natalia Mendez Erlwein was pushed to the absolute distance by USA's Erika Manilla, the home-town favorite, but she saved match point against in a back-and-forth tiebreaker to win 11-10. Manilla crushed Mendez in game 2, but Mendez gritted out the win.
#19 Micaela Meneses Cuellar dominated #14 Maria Renee Rodríguez 10,2 to get a statement win on tour. The 18U junior is getting some really great international experience this year and could be one to watch for, the latest in a continuing line of top Bolivian juniors.
#11 Nancy Enriquez dominated #22 Lucia Gonzalez to advance 4,12. The last time they faced off, Gonzalez shocked Enriquez (and Herrera) to advance to the 2020 Mexican National semis … but Enriquez showed little weakness in this match.
15 Brenda Laime Jalil cruised past her frequent DC-area rival Masiel Rivera Oporto 9,4. I thought this would be a lot closer.
In the 16s, one monumental upset and a couple of good matches.
#8 Valeria Centellas moved past #9 Rhonda Rajsich 9,4.
Bolivian junior Meneses took a game off of #3 Maria Jose Vargas Parada before Vargas took the match in a breaker. Great showing by Meneses, who has quickly been improving her game this year.
#11 Nancy Enriquez took a really tough match against #6 Jessica Parrilla, continuing her recent excellent run of form. The two traded blows and games to 14 before Enriquez blanked Leoni in the breaker.
#10 Ana Gabriela Martinez took a very nice close game against her long-time international rival #7 Angelica Barrios 11,14. These two go back well into Junior racquetball, and played a quality match here.
In the shocker of the tournament, #15 Laime took out #2 Montse Mejia in a tie-breaker. Mejia is the winner of the most recent tournament and was my odds-on favorite to blow through this draw; instead she's out in the quarters in a shocking result. Kudos to Laime, who advances to her third career pro quarter.
In the Quarters:
#1 Alexandra Herrera took care of business and downed #8 Centellas in two 9,9. I had predicted an upset here, but the lefty #1 seed played well and took out a dangerous opponent.
#5 Natalia Mendez Erlwein got a really good win over #4 Samantha Salas Solis to get into the semis of another major. These two have met in each of the last three LPRT events, and Mendez now has won two of those three meetings.
#3 Vargas showed that she's back in full, advancing past the in-form Enriquez in two games.
#10 Martinez took advantage of Laime's earlier round exploits and blasted the young Colombian 3,7 to move into the semis. Gaby is the new favorite to win this event.


In the Semis:
Herrera topped Mendez for the 9th time in 10 tries on pro and IRF events, needing a tiebreaker to do it.
Martinez went two full games to top #3 Vargas 13,10 to move into the final.
In the final:…two good friends who just had a practice session in Guatemala a few weeks ago battled it out to determine which of the two would be a first-time pro winner. In the end, Gaby outlasted Alexandra in a tiebreaker, racing to a commanding lead and holding on as both players gave everything on the court. Gaby wins (12),9,4 to become the 30th known winner in the history of the Ladies pro tour.
Points Implications of results
On the IRT side, assuming the policy of not expiring old points, the rankings won't move too much. But there are some moves:
DLR moves from #5 to #3.
Moscoso and Beltran switch places at 7/8.
Mercado and Franco switch places at 11/12
Keller the big mover; improving from 21 to 16 with his semis win.
The other big mover is Miguel Angel Arteaga, who takes advantage of a surprise withdrawal to make the 32s and jump from #71 to #47.


On the LPRT side…. some big moves.
Martinez jumps from #11 to #4 with her win, rightfully taking her spot among the tour's elite.
Despite missing the event, Longoria retains her #1 ranking by a sizeable margin. She could probably miss another 4 events without losing the top spot.
Mejia drops from 3 to 5, and Salas drops from 5 to 7 with their upsets.
– Lastly, a landmark bit of history on the professional tour. Rhonda's finish likely means she's dropping out of the top 10, which means that personally she drops out of the top 10 for the first time since 1999. However it also means that for the first time ever, no USA-born player is in the ladies top 10. The highest ranked USA player projects to be Sheryl Lotts at #16.
Open Singles and other significant draws:
Men's Open Singles final was won impressively by Mexican junior Erick Trujillo, who topped Colombian veteran Set Cubillos Ruiz in the final. Cubillos advanced past a rich international draw, defeating players from Bolivia, Costa Rica, Guatemala and Mexico. Trujillo's more impressive win was in the semis, taking out top Mexican touring vet Alan Natera in the semis.
Trujillo also took the 18U title on the weekend, beating a number of players he's likely to face in Junior Worlds later this fall. He topped Bolivian 18U champ Hector Barrios (Angelica's brother) in that final.
Women's Open was taken by Angelica Barrios – Raquetbolista, who topped American Sheryl Lotts in the final.
– Micaela Meneses took the Girls 18U title over American 18U champ Annie Roberts in a possible World Juniors final preview.
Thanks for all the streaming on the weekend from both the IRT and LPRT crews, Thankyou Dean DeAngelo Baer, Favio Soto, Pablo Fajre, Timothy Baghurst and Tj Baumbaugh for all your hard work on the mike.
Thanks to the Tourney Director Jim Hiser for putting this event on!
Reminder to Players! Please like and follow this page so that when I tag you, you see it. Facebook will only retain tags of people that like/follow a page, which means lots of you are not getting the notoriety of getting tagged and noticed on FB. If your name is here and it isn't tagged … it probably means I attempted to tag you but FB stripped it.
Next up?Part 2 of the wrap-up covering the doubles draws.
tags/Sponsor links
International Racquetball Tour
LPRT
International Racquetball Federation – IRF
Pan American Racquetball Confederation – PARC
UnitedHealthcare US OPEN Racquetball Championships
WOR – World Outdoor Racquetball
USA Racquetball
Racquetball Canada
Federación Mexicana de Raquetbol
RKT
Federación Boliviana De Raquetbol – Febora
Federación Boliviana de Racquetball
Racquetball Colombia
Federacion Colombiana de Racquetball
Federación Costarricense de Racquetball
Asociación Argentina de Racquetball
Federación Chilena Racquetball
Racquetball Rancagua, Chile
ASOCIACION DE RAQUETBOL DE GUATEMALA
Ferac Racquet
Federación Ecuatoriana de Racquetball – FERAC
India racquetball
Reaching Your Dream Foundation
FormulaFlow
Splathead
onewallball/Ruben Pagan
3wallball
Beastmade Apparel
Wear Rollout
Racquetball Warehouse
Splatit
Zurek Construction/Francisco Fajardo
AGE Solutions/Andy Gomer
team root/Randy Root
KWM Gutterman/Keith Minor
Hashtags #racquetball #proracquetball #outdoorracquetball #irt #lprt #wor