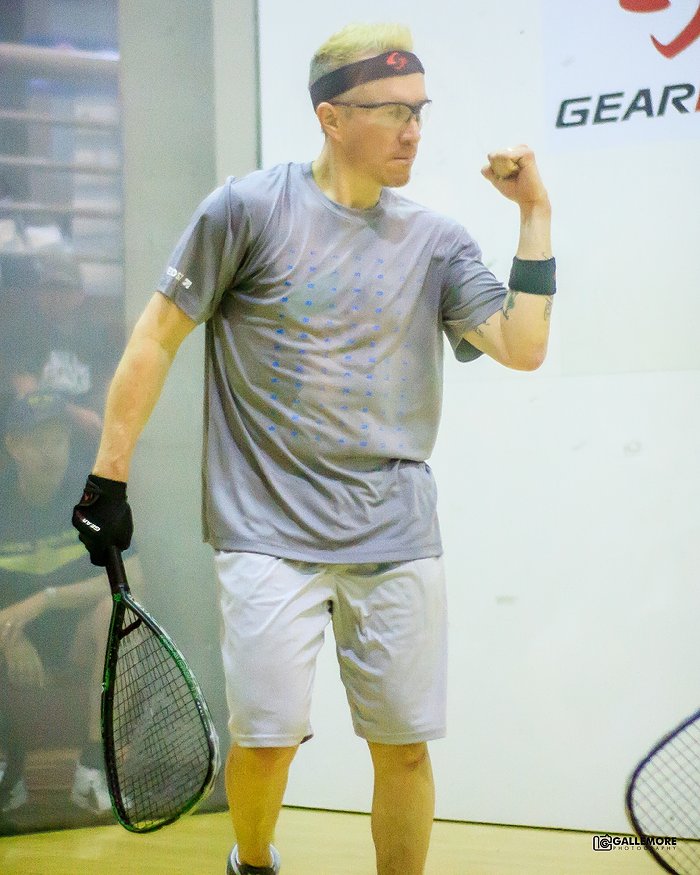 Professional racquetball is Back! The IRT heads to Chicago for one of its longer-running pro tournaments, the "36.5th annual" KWM Gutterman (fall) Shamrock shootout. Hosted by the legendary Geoff Peters and sponsored by long-time racquetball benefactor Keith Minor (the "KWM" in KWM Gutterman Inc.), this is the 36th iteration of this event.

R2 Sports App link: https://www.r2sports.com/website/event-website.asp?TID=37339
There are a ton of international players here; 7 countries are represented and includes what looks like the entire Guatemalan national team, most of the Bolivian national team, and a good chunk of the Colombian national team in addition to the regulars from the big 3. Its one of the last big events prior to IRF events and players want to get more tournament experience.

Who is missing? #1 Kane Waselenchuk is here, but only playing doubles (more on that later). #6 Conrrado Moscoso is also missing despite a bunch of his fellow countrymen being present. The only other top 20 ranked player missing is #20 Sebastian Fernandez.
Despite not playing an IRT event since Mar 2020, Kane still maintains the #1 overall ranking on tour, but that ranking (and his seeding at the US open in two weeks) is in jeopardy here. If #2 Landa advances to the final, he'll take over the #1 spot on tour and push Kane into the bottom half of the pro draw in Minneapolis. Read on to see my prediction on whether that happens or not…
---
Lets preview the singles draw. Here's some notable qualifying matches that i'm looking forward to:
In the round of 128:
#40 seed Bolivian 18U junior Hector Barrios, younger sibling to current LPRT top 10 player Angelica Barrios, is in the draw after making his pro debut in Denver in August. He gets an interesting matchup against Erick Cuevas, seeded 25th here.
Bolivian touring regular #21 Kadim Carrasco is matched up with Californian Patrick Allin, who is much better known for his outdoor racquetball exploits.
#36 seed Colombian 18U junior Juan Pablo Rodriguez, part of team Zurek in Florida, gets a winnable international match against Guatemalan #29 Edwin Galicia.
Former IRT regular John Wolfe returns to the tour for the first time since Oct 2019 and faces off against Mexican vet Abraham Peña.
Former top Mexican junior Rodrigo Rodriguez plays in a top-level event for the first time since 2018 and faces off against Formulaflow's MoMo Zelada, seeded #23.
top Mexican junior Erick Trujillo gets a tough test against Guatemalan veteran Javier Martinez.
---
In the round of 64, here's some projected fun matches to watch for:
#20 seed Colombian vet Set Cubillos Ruiz is set to face the winner of Rodriguez/Galicia in another all-international qualifier.
#19 Alan Natera Chavez projects to face countryman Pena for a spot in the 32s. On paper this is an easy one to call, but Pena could make things difficult for his younger rival.
If #38 Jordy Alonso can get past Arteaga in the opener, he stands a good chance of moving into the 32s. He's been playing well as of late, going deep into a local SLP event last weekend.
#18 Robert Collins faces a tough one in the winner of Trujillo/Martinez. I don't necessarily expect an upset, but look out.
Projecting the 32s: here's some possible matchups as the #9-#16 seeds enter into play:
In a bit of deja vu, the #16/#17 matchup is, again, Adam Manilla versus Acuna. They met in Denver, a 12,5 win for Acuna, and I see no reason for the result to change here … ensuring another juicy re-match that we'll talk about in the next section.
#9 Mario Mercado projects to play #24 Charlie Pratt Racquetball, a tough match-up for Mercado. Pratt has never lost to Mercado, and in their most recent meeting (2020 Lewis drug) won in two straight-forward games. Mercado is playing well … but so is Pratt and I think we get an upset here.
#14 Eduardo Garay Rodriguez is set to face #19 Natera; Garay keeps creeping up the rankings and is edging closer to a breakthrough win; he should advance past the mercurial Natera here.
#11 Carlos Keller Vargas projects to play Alonso, which could be a closer match than Keller anticipates. The Bolivian will look to build on his career best showing in Denver and moves on.
#23 Zelada runs into his personal kryptonite, frequent playing partner #10 Sebastian Franco, who moves on here.
#15 Javier Mar gets a winnable play-in against #18 Collins.
So, i'm calling for a few minor upsets in the round of 32, but nothing major.
---
round of 16:
#1 Alex Landa gets a rematch of his opener from Denver against Acuna, a match that featured some … hostilities shall we say, as the players took turns whacking each other with the ball and then had to be separated on the court. So, look out for more fireworks here. Landa is firey on the court and seems to play better when agitated, so don't be surprised if an innocuous play turns into another spat here.
#8 Jake Bredenbeck projects to play his doubles partner (both here and for Team USA) in Pratt at this juncture. Jake has not lost to Charlie in an event I track in the DB, but the matches are often close, since Pratt is a technician on the court and strategizes his way to wins. Look for jake in a tiebreaker.
#5 Andree Parrilla gets perhaps the one person he doesn't want to see in a round of 16 in his long-time Mexican rival #12 Rodrigo Montoya Solis. These two have been playing each other since they were 8yr olds, and they've gone back and forth often. Montoya generally has the upper hand in national team events, but Parrilla is better suited in pro events. Last time they played, Parrilla ran away with the match after a close game one with Montoya falling apart mentally, and I suspect something similar happens here. Parrilla to move on.
#4 Rocky Carson gets a winnable opponent in #13 Thomas Carter for a chance to move into the quarters.
#3 Samuel Murray, fresh off a win at Canadian Nationals, runs into a buzz saw in #14 Garay. Murray was beaten badly in the 16s in Denver and faces a similar fate here against Garay, who has the benefit of training in Florida with a number of top players regularly. Big upset here but Garay makes just his second pro quarter.
#6 Alvaro Beltran faces off against #11 Keller, hot off his semis appearance in Denver. Beltran and Keller have played internationally twice, both times in PARC, both times Keller wins. As much as Alvi will complain that i'm picking against him again … i'm going with Keller here in an upset.
#7 Eduardo Portillo Rendon takes on #10 Franco, who he defeated in the finals of the lower-tier IRT event in Severna Park earlier this summer. Lalo should advance here as well, as he continues to improve.
#2 Daniel De La Rosa probably gets the one qualifier he doesn't want to play, facing off against fellow country-man #15 Mar. But, these two also faced off in the 16s in Denver (when i probably wrote the same thing), and DLR took care of business en route to his title. DLR is playing with confidence and probably expects to win this tournament, and he's not losing here.
Projected Qtrs:
#1 Landa over #8 Jake: they've played 11 times across IRT, WRT and USA national events. Alex is 11-0. He makes it 12-0 here.
#5 Parrilla over #4 Carson. There's something about Chicago that Parrilla loves. He got his sole IRT win here in 2018. He made his first final in 2017. And, the last two times he's played Rocky here … he's gotten wins. I predict he wins again here.
#11 Keller over #14 Garay: in the upset special, one double digit seed advances to the semis. I have it being Keller, en fuego after a semis finish in Denver and who has topped Garay in the past.
#2 De La Rosa handles the youngster #7 Portillo again, as he did in the semis in Denver. Lalo pushed him to a breaker a few weeks ago and might do it again here, but DLR still has the upper hand in this rivalry … for now.
Semis:
#5 Parrilla over #1 Landa. Parrilla's Chicago streak continues. Parrilla beat Landa in Chicago in 2019 en route to the semis, has beaten him a number of times in the past, and moves onto the final here.
#2 DLR tops the upset-minded Keller. DLR is a step too far for Keller.

Finals;
DLR wins over Parrilla. Andree has just one career win over DLR (guess where? Chicago in 2017), but DLR has taken his game to a new level, winning impressively in Denver (which included a quarters win over Parrilla) and I predict he wins here again.
---
Doubles review
A great doubles draw is set for Chicago, with 14 teams and a ton of talent. Included in this draw is the fun partnership of Kane and IRT legend Sudsy Monchik, who are partners off the court and now are giving it a go on the court. They present an intriguing lefty-righty pair, each covering their forehand side with lethal consequences..
Unfortunately for Sudsy/Kane, a lack of ranking points lands them in the 9th seed, meaning they project to play the top seeds in the quarters. Much ink has been spilled in social media on this seeding, but for the neutrals what it does mean is a fantastic (if early) projected quarter final in the prime-time 8:30 friday night slot. I guess there could be worse things.
The top-half of this draw is stacked: #1 seeds Beltran/DLR, #9 seeds Kane/Sudsy, #4 seeds Montoya/Mar (the reigning Mexican National champs) and hard-hitting #5 seeds Garay/Franco are all worth finalists, and it may be tough to separate them on any given sunday. I'm going to predict a win by Kane/Sudsy in the quarters, then a win over the Mexican duo in the semis.
The bottom half features the #2 seeded team of Murray/Landa, a very strong team that plays together regularly, plus the #7 USA national team of Pratt/Jake the #3 up-and-coming team of younger Mexican players Lalo/Parrilla and the newly crowned Bolivian national champs Keller/Carasco. From this group, I like Landa/Murray to advance.

Hard to pick against the King and Sudsy in the final.
---
Fun stuff: if you're a better person, hit up Matthew Ivar Majxner on facebook for a $10 winner takes all prediction piece for the IRT singles draw. My picks are public … but not always right. I think i came in 2nd or 3rd in the previous competition, but i'm in it to win it this weekend.
Look for Streaming in the regular places; follow the IRT on facebook and sign up to get notifications when they go Live. Look for Dean DeAngelo Baer, Favio Soto, Pablo Fajre and the IRTLive crew all weekend on the mike, calling the shots!
Reminder to Players! Please like and follow this page so that when I tag you, you see it. Facebook will only retain tags of people that like/follow a page, which means lots of you are not getting the notoriety of getting tagged and noticed on FB. If your name is here and it isn't tagged … it probably means I attempted to tag you but FB stripped it.
Tags
International Racquetball Tour
International Racquetball Federation – IRF
USA Racquetball
Racquetball Canada
@federacion mexicana de raquetbol
@Federación Boliviana De Raquetbol – Febora
@Federación Boliviana de Racquetball
Racquetball Colombia
@Federacion Colombiana de Racquetball
@Federación Costarricense de Racquetball
@ASOCIACION DE RAQUETBOL DE GUATEMALA
Reaching Your Dream Foundation Foundation
Beastmade Apparel
Zurek Construction, LLC
Francisco Fajardo-Raquetball
Kwm Gutterman/Keith Minor
Hashtags #racquetball #proracquetball #outdoorracquetball #irt #lprt #wor