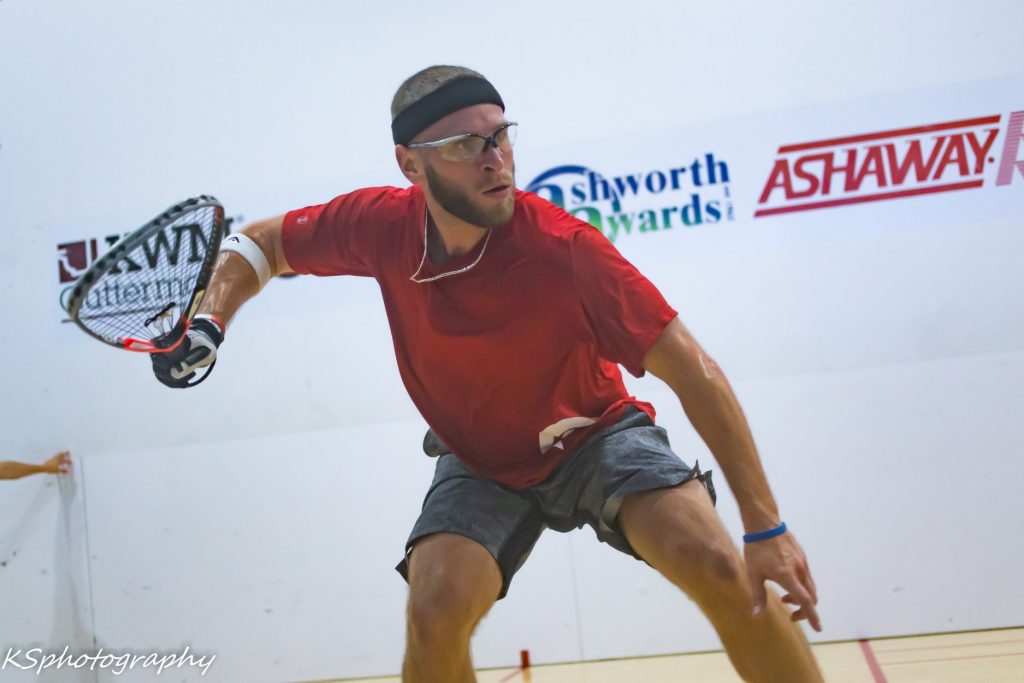 Congrats to your winners on the weekend:
Singles: Daniel De La Rosa
Doubles; Daniel De La Rosa & Alvaro Beltran

Daniel wins his second in a row, and now has 6 titles for his career, tying him with Drew Kachtik and Ruben Gonzalez for 16th all time. Quite heady company, now tied with two pro tour winners. Meanwhile, DLR and Beltran win their 8th IRT pro doubles title since 2017 and continue to claim the title of the best doubles team in the world.

R2 Sports App home page for event: https://www.r2sports.com/website/event-website.asp?TID=37339
---
Lets review the notable matches in the Singles draw.

Singles Match report in the PRS database: http://rball.pro/19A097
In the 128s and 64s:
Bolivian 18U junior Adrian Jaldin got a solid win over Guatemalan vet Juan Salvatierra, but couldn't follow it up and lost to his countryman Kadim Carrasco in the 64s.
Guatemalan vet Edwin Galicia won two qualifiers, including a nice upset win over long-time Colombian rep Set Cubillos Ruiz to earn a spot in the 32s.
Alan Natera Chavez held serve against countryman Abraham Peña to advance 13,9.
Jordy Alonso blasted two higher-seeded players, giving up just 14 points in four games across two qualifiers to earn a round of 32 spot.
The biggest qualifier upset was clearly though by Mexican junior Erick Trujillo, who upset top Guatemalan player Javier Martinez in the 128s, then took out IRT touring vet and #18 seed Robert Collins in a tie-breaker to earn a spot in the 32s. Trujillo, who is in his age 18U season and made the Mexican adult open quarter finals earlier this year, has been playing great lately and will be a force at Junior Worlds later this year.
---
In the 32s, the 9th-16th seeds get going, but faced some stiff challenges from the early round qualifiers.
For the second tourney running, the 16/17 seed featured the Costa Rican #1 Andres Acuña taking out up-and-coming American Adam Manilla.
#9 Mario Mercado got a very solid win over long-time touring pro Charlie Pratt Racquetball.
#19 Alan Natera got a great win over #14 Eduardo Garay Rodriguez, who I predicted to the quarters, to make his way into the main draw.
#38 seed Jordy Alonso nearly made the main draw, taking the first game off of #11 Carlos Keller Vargas before the Bolivian turned the game around and eked out the tie-breaker 11-8. Great showing by Alonso this event; he's definitely slimmed down since the last time I saw him on tour and he's playing really well.
However, the result of the round was a shocking win by Mexican 18U star Trujillo, who continued his run by topping #15 Javier Mar with authority 8,7. Fantastic tournament for Trujillo.
---
In the 16s:
#1 Alex Landa was really stretched by #17 Acuna in a rematch of their tense round of 16 from a few weeks ago. No fireworks this time, but Andre made him work for it 10,14.
#8 Jake Bredenbeck won a close one against #9 Mercado to move on. This is a solid, professional win for Jake.
#5 Andree Parrilla took a very solid win over his long-time junior Mexican rival Rodrigo Montoya Solis 13,10. This is the kind of match-up that can give Parrilla fits, with two players who know each other's game so well, but he held on for a solid win.
#4 Rocky Carson cruised past fellow American Thomas Carter to move into the quarters for the 228th time in 262 career tournaments. Just an amazing record for the veteran.
#3 Samuel Murray held off a challenge from Mexican Natera to move on. He resisted the post-Canadian nationals hang-over and moves on.
#11 Keller continues his hot streak, taking out #6 Alvaro Beltran with relative ease to move into the quarters. Keller looking to repeat his feat from Denver.
#7 Lalo Portillo won a close first game, then ran away from #10 Sebastian Franco 13,1. Portillo has really settled down into the top 8; when he first broached the lofty rankings on tour he struggled with round of 16 match-ups, but not lately, and it's just a matter of time before he's pushed his way into the top 4.
#2 Daniel De La Rosa began his quest towards a second successive title against his junior country rival Trujillo … and Trujillo came to play. DLR was nearly stretched to a tiebreaker and Trujillo really has made a statement lately. Final score 5,14, and nobody wants to see this kid in qualifying at the US Open.
In the Quarters, some big-time upsets
#8 Bredenbeck defeated #1 Landa for the first time in his career 10,12. Landa just seemed off all night and Jake capitalized. This loss removes any chance of Landa overtaking Kane Waselenchuk for #1 on tour and the #1 seed in the US Open, and gives Jake just his 3rd career IRT semifinal.
#5 Parrilla played flawless racquetball and dominated #4 Carson 6,5 to move into the semis. Parrilla loves this court, loves this town, and continues to dominate every time the tour comes to Chicago.
#3 Murray destroyed #11 Keller 8,5 and removed any doubt about his playing form as of late.
#2 DLR played a straightforward game against #7 Lalo, winning 6,13 to move business-man like into the semis once again.
In the Semis:
#8 Jake continued his run, taking out a player in #5 Parrilla who he had never beaten on the IRT. Jake kept the pressure on Andree through a tight tiebreaker, and Andree seemed to run out of ideas against Jake's relentless pressure. Jake moves onto his first ever IRT final.
#2 DLR played solid ball once again, topping fellow vet #3 Murray 10,12 to move into the final. Murray didn't play badly necessarily, just DLR was able to put balls away when he needed to.
In the Finals, Jake pushed DLR to a breaker but ran out of gas, and DLR raced to an 11-1 breaker finish to take the title.
---
Points Implications of results;

If my records are correct, the results on the weekend and Daniel's win has massive implications for the tour rankings heading into the US Open. Assuming that the tour expires all the Sept 2019 points … DLR's win pushes him to the #1 spot on tour. Kane drops to #2, with Landa getting pushed to #3.

Moscoso seems set to ascend to #4 thanks to having zero Sept 2019 points expiring, while Murray gets pushed to #5. Portillo's run of form has him jumped up to #7. But the huge news is the precipitous drop of Rocky Carson, projected to be seeded 9th in the new rankings. He had 700 points to defend from Sept2019 and has struggled to make the semis for some time now, and is now in jeopardy of dropping out of the top 10.
---
Doubles review
Match report in the PRS database: http://rball.pro/51BD4B

Well, after much social media consternation, the racquetball community was treated to a fantastic quarter final match involving four of the best doubles players to ever play the game on friday night, and they were not disappointed. GOAT Waselenchuk, playing only doubles here with his traveling clinic partner Sudsy Monchik, faced off against the #1 seeds and clearly the best doubles team in the world in De La Rosa and Beltran. The match featured some serious tactical play as the players tried to keep the ball away from the shooters in Kane and DLR, and much of the play came down to whether or not those players in particular were able to set their feet and put balls away. The second game featured one of those amazing rallies that pro racquetball is known for, a 17-shot rally that we've already submitted to ESPN. At the end of the night though, the #1 seeds advanced 14,14, with very little between the two teams on the night.

Elsewhere in the draw, the top four seeds went chalk into the semis. There, DLR/Beltran avenged a recent Mexican Nationals loss by topping #4 Montoya/Mar 12,11, while the #3 seeded youngster team of Portillo/Parrilla moved into their first final together (and first ever pro doubles final for Lalo), with an excellent win over #2 Landa/Murray.

In the all Mexican final, the #1 seeds cruised over their overmatched younger rivals 8,8 to take the title.
---
Men's Open
The Men's Open draw went nearly chalk to the quarters, and exactly chalk to the semis with the top 4 seeds advancing. This is quite shocking for a Men's Open draw at a pro event, which usually features withdrawals and drastically poor seeding as compared to the IRT draws. Nonetheless, four tough IRT veterans made it to the semis in Acuna, Natera, Manilla and Mercado.

In the semis, Acuna took out Natera in two close games, while Mercado cruised over Manilla. Acuna wins the final 11,6.
---
Women's Open
There was a small but talented Women's Open draw filled with LPRT touring players. Here's a quick recap:
In the quarters, Maria Renee Rodríguez took out Sheryl Lotts in a tie-breaker. These two are neck and neck in the LPRT rankings in the teens and this felt like a typical LPRT round of 32 match. Erika Manilla took out local open player Kristin Coulter in two. Lastly, Colombian Brenda Laime Jalil upset #2 seeded Bolivian junior phenom Micaela Meneses Cuellar 9,5, a match probably an upset by seed but not by talent levels.
In the semis, Top8 LPRT Bolivian Angelica Barrios took out MRR 1,10 to move into the finals. At the bottom, Manilla got a very solid win over Laime in a tie-breaker to also move to the finals.
In the final, Barrios was made to work for it by the American Manilla, but wins the breaker 11-8 to take the title.
---
Thanks for all the streaming on the weekend, especially from broadcasters Dean DeAngelo Baer, Favio Soto, Pablo Fajre and the IRTLive crew
Thanks to the Tourney Director Geoff Peters for putting this event on, and congratulations on having the court dedicated in your name after such a long career of supporting the sport.
Reminder to Players! Please like and follow this page so that when I tag you, you see it. Facebook will only retain tags of people that like/follow a page, which means lots of you are not getting the notoriety of getting tagged and noticed on FB. If your name is here and it isn't tagged … it probably means I attempted to tag you but FB stripped it.
—
Next up? The big one! The US Open in Minneapolis!
tags
International Racquetball Tour
Hashtags #racquetball #proracquetball #outdoorracquetball #irt #lprt #wor