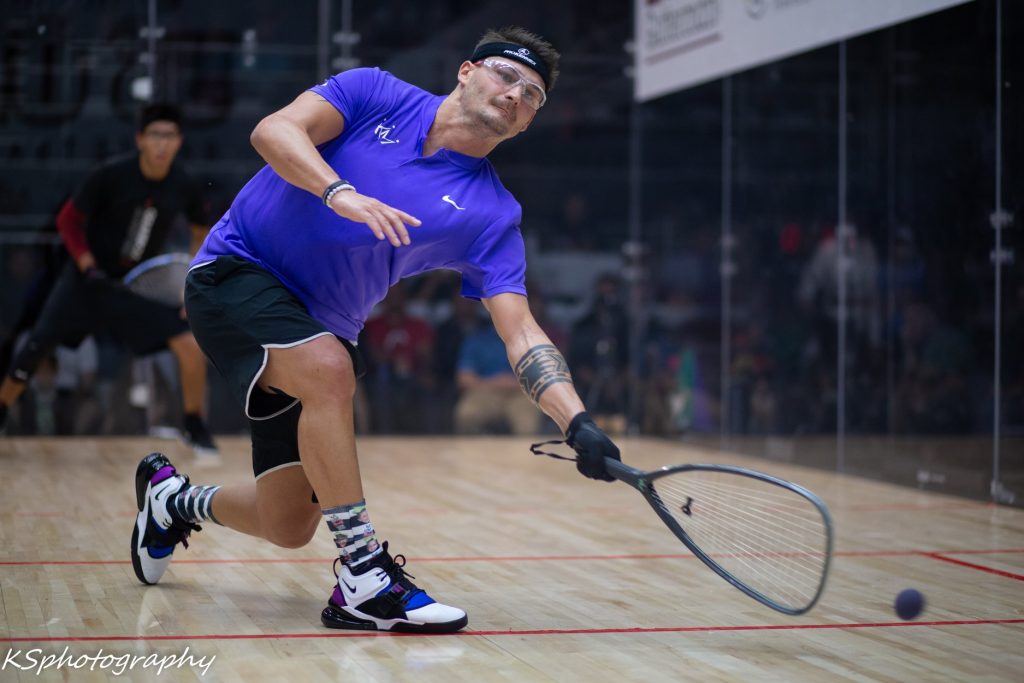 Welcome to the 25th annual US Open.

This is such a massive tournament that we'll break down the preview into Wednesday's qualifiers and then the rest of the tourney. 76 Men and 44 women pros entered into the respective singles draws; this is down a bit from 2019 for the Men, but is up a bit for the Women. Great to see players from all over the world in action on the sport's biggest stage.
r2sports home page: https://www.r2sports.com/website/event-website.asp?TID=31929
No real predictions here, just some thoughts on good matches in the four draws to look for as play starts on Wednesday.

IRT Men's Pro qualifying features two rounds on Wednesday; the 128s and the 64s. Here's some matches i'd be watching:
Solid east coast/west coast matchup between multi CT state champ Jose Flores and SoCal's Majeed Shahin.
Bolivia's Kadim Carrasco takes on Mexican legend Javier Moreno in a fun return for the former long-time International lefty. We havn't seen Moreno in an IRT event since May 2016, not at a US Open since Nov 2015. Great to see him back.
Florida state champ Jonathan Burns takes on Mexican veteran Abraham Peña in an interesting opener.
The Kelley brothers are here; Sam takes on Colombian youngster and team Zurek player Juan Pablo Rodriguez Castrillon, while Joe takes on Idaho junior Alexxander Purcell . Both Kelley brothers have solid chances to move to the 64s.
Veteran lefty and multi-national amateur champ Jeff Stark takes on Bolivian Miguel A. Arteaga Guzman in a tough opener for both.
Maryland's recently matriculated junior doubles national champ Dylan Pruitt faces off against a very tough Mexican lefty in @rodrigo rodriguez.
Arizona youngster Ben Baron takes on a player more than twice his age in veteran Floridian Alejandro Herrera Azcarate. Don't be fooled by the age difference; Herrera brings the heat.
The legend Cliff Swain returns to the tour for the first time since oct 2016 and opens against "The Ref" Scott McClellan. Might be a short tourney for the IRT's main ref; I have it on good authority that Cliff is playing lights out.
Projecting to the 64s, here's some possible great matches for spots in the main draw:
Troy Warigon versus Shaheen: another east coast vs west coast battle.
Carrasco vs Burns: I'm projecting a fun battle here of veteran players to make the main draw.
Georgia's Maurice Miller likely takes on Guatemalan Juan Salvatierra for the main draw.
another Georgian Austin Cunningham has an excellent chance to get to the 32s, projecting against Mexican youngster Erick Cuevas
Alan Natera Chavez, one of the higest ranked players pushed to qualifying, has his work cut out for him against Colombian international vet @andres gomez.
If Pruitt can win his first match, he likely gets his long-awaited grudge match against Formulaflow's Mauricio Zelada, who challenged his young Maryland-area rival last year in a money match that never materialized.
Sam Bredenbeck has a great chance to qualify against Colombian international veteran Set Cubillos Ruiz.
Two long-time international players project to play each other with Colombian Herrera projecting to Costa Rican vet Felipe Camacho.
Swain will have to earn his round of 32 against former IRT touring player Nick Riffel in the 64s.
Lastly, Eduardo Garay Rodriguez will be tested against the tricky Colombian player Francisco Gomez, who surprised with a couple of upsets in the 2019 US open.
---
LPRT qualifying preview

Like the Men, the women will play two rounds of qualifying to make the 32s. Here's some interesting qualifiers to watch for.
We have not seen Verónica Sotomayor since Dec 2016 on tour; but she's back and now living in Florida, training with her husband Sudsy Monchik and ready to play. I have it on good authority (ahem, Sudsy) that Vero is going to make noise this week. She starts in the 128s against Korean Sumin Lee.
Bolivian veteran Jenny Daza Navia gets started against American junior Minnesota native Ava Kaiser.
Projecting the 64s
Sotomayor has a great chance to move into the 32s against Colombian María Paz Riquelme.
Two top American women are set to go head to head, with Michelle De La Rosa projecting to play Erika Manilla for a spot in the main draw. Tough match here for both.
USA Florida youngster Graci Wargo will be tested by Bolivian vet Daza.
Texan youngster Shane Diaz has an interesting match against Ecuadorian Maria Jose Munoz.
Lastly, there's a second "Maria Munoz" in the draw who we think is actually Maria Paz Munoz ( Pazita Muñoz Albornoz ). We could be wrong, but if this is Pazita, she's an excellent international veteran who will really push her round of 64 opponent Erin Nocam aka Erin (Rivera) Groves into a tougher match than either deserves here.
---
IRT Doubles preview

So, I'll just say it. I hate the IRT doubles qualifying structure at the US Open. 4 teams get byes to the quarters, then another 17 compete for the other 4 spots. I just don't like this, but i'm not sure what the right way to fix it is. If you gave top 8 teams byes into the 16s … then you have 13 teams competing for those 8 open spots, which means some of them don't even have qualifiers and you're giving another 3-4 teams byes as well. So there's no good solution.

That being said, there's some very good doubles teams in qualifying, and a lot of good teams are going home early.
Costa Rican national team of Andres Acuña and Camacho takes on the reigning us national doubles champ Charlie Pratt Racquetball, playing this weekend not with his title-winning partner Rocky Carson but with Natera. Carson opted not to play pro doubles … but is playing Centurian doubles with Jerry Hall.
The #9 seeded Bredenbeck brothers take on a very tough Mexican lefty/righty duo in Sebastian Fernandez and Rodrigo Rodriguez. Upset watch here.
Top Bolivian doubles team and multiple-IRF title wining duo of Conrrado Moscoso and Roland Keller take on the Guatemalan national team of Javier Martinez and @juan salvatierra. I don't think the Bolivians are one and done here.
Meanwhile, the current reigning Bolivian National champs Carlos Keller Vargas and Carrasco take on two fellow Bolivians in Rodrigo Mendoza and Miguel Angel Arteaga Chavez. Tough draw; flying 4600 miles to play someone you could have driven to play in your home country.
Super interesting matchup between two all-American teams; Adam Manilla got David " Bobby" Horn out of retirement to play, and they face off against Warigon & Miller, a veteran team who has played together for years. Should be a very interesting matchup with plenty of trash talk on the court.
Assuming some first round results, here's some very interesting possible round of 16 matches to determine who makes the money rounds:
#5 seeds Rodrigo Montoya Solis and Javier Mar probably feel hard-done by the seeding forcing them to play two extra matches, but they should be able to handle their opener and then a likely meeting with the Costa Ricans.
Kellern & Moscos project to play the Lefty/Righty mexican pair of Patata and Rodrigo; fun one.
In another all-Bolivian match-up, Keller/Carrasco project to play team Formulaflow in Zelada and Mario Mercado. Keller/Carrasco topped Zelada at Bolivian Nationals earlier this year, but Mercado is a different beast on the court.
the winner of the all-american trash talking match between Manilla/Horn and Warigon/Miller likely faces the #6 seeded Colombian/Zurek construction team of Eduardo Garay Rodriguez and Sebastian Franco. I don't think Garay/Franco are losing here, irrespective of who they play.
---
LPRT doubles qualifying

Not a ton of doubles qualifying … but some very intriguing match-ups thanks to top players without a ton of doubles points.
Michelle De La Rosa and Sheryl Lotts take on Sotomayor and Maria Jose Vargas Parada. Wow. Brutal draw for both sides; It wasn't too terribly long ago that Vargas was part of the 2nd best doubles team in the pro tour.
Another fun one: Angelica Barrios teams with veteran Bolivian and excellent doubles player Daza and face Micaela Meneses Cuellar playing with Ana Laura Flores. The Lefty/Righty pair will give Barrios/Daza some things to think about, but the two native Bolivians should move on.
Should Vero/Vargas move on, they face a winnable match against #5 seeds and longtime Colombian pairing of Adriana Riveros and Amaya Cris.
2018 US national doubles champ Kelani Lawrence teams with Hollie Scott to take on two younger Colombians in Camila Rivero Torrez and Brenda Laime Jalil in a fun opener.
Should Barrios/Daza move on, they run into the tough lefty/righty Mexican pairing of Jessica Parrilla and Montserrat Perez, a darkhorse here.
the reigning US national doubles champions Manilla and Rhonda Rajsich should survive a first round against two young tough players in Naomi Ros and Shane Diaz, but will have their work cut out for them against #6 seeds Nancy Enriquez and Carla Muñoz Montesinos, two excellent doubles players.
---
Phew. Play starts bright and early Wednesday 10/6/21, 8am central. can't wait to start seeing some match results.