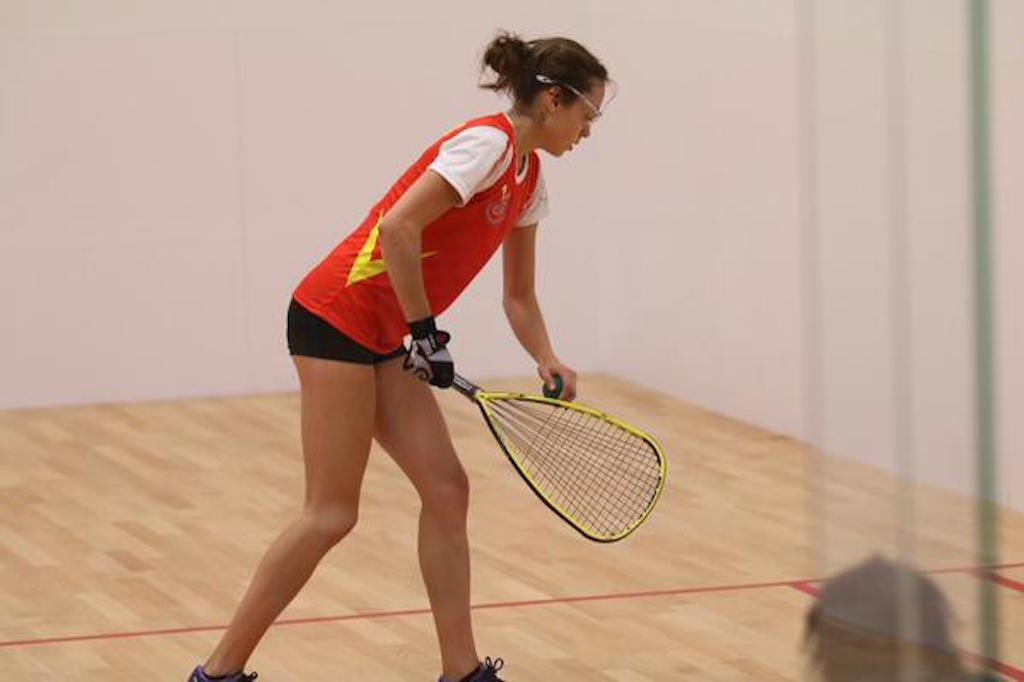 Day one down, and all pro qualifying complete. We had some interesting results, but not a ton of super upsets on both sides, and we're to the main draws.

Here's a quick run through of matches to watch for today. We're talking the 32s and 16s of IRT and LPRT singles, and the quarters of pro doubles on both sides.
---

IRT 32s and 16s: here's what i'm looking for in terms of watchables:

#1 Kane Waselenchuk gets his first singles action since March of 2020 on the main court against noted trash talker Troy Warigon. A good warm-up for the King as he looks to retain his US Open title.
16/17 seed we get, for the 3rd tourney running, Andres Acuña vs Adam Manilla. Can Acuna make it 3-for-3?
8/25 Rocky Carson gets his tournament going against Bolivian vet Kadim Carrasco; can Carrasco make the USA veteran sweat?
13/20 Sebastian Franco versus Mexican Alan Natera Chavez; Natera has shown upset power in the past; can he pull an upset here against the experienced Colombian?
3/30 Alex Landa versus Erick Trujillo. A very intriguing opener for the #3 seed Landa, who has scuffled a bit over the last three events. He was seeded #1 at all three 2021 events, but got upset in each tournament (a Semi and two Quarters). In once case he was clearly hurt, in another he was clearly distracted. What is Landa this weekend? If he's not on his game, Trujillo has been playing very well, with wins over solid players. If Landa isn't 100%, this could be a huge upset.
14/19 Thomas Carter has his work cut out for him against #19 Sebastian Fernandez; I sense an upset here. Patata's seen his seeding slip a little bit as he's stepped back a bit from playing, but he's here and he's a tough out.
#6 Andree Parrilla gets his start against a tough young mexican lefty Rodrigo Rodriguez. Expect Rodriguez to make Andree work for it here.
The 15/18 match will feature the most broken balls of the round, with two power players Rodrigo Montoya Solis and Eduardo Garay Rodriguez blasting off for a shot at DLR in the next round.
Projecting round of 16s:
The big one here is 8/9: Carson vs Alvaro Beltran. These long-time IRT veterans have played each other no less than 50 times on tour, with Rocky leading 28-22. Who has the edge here?
5/12 projects to two long-time Bolivian rivals in Conrrado Moscoso and Carlos Keller Vargas. They have met multiple times to determine the Bolivian national champion (including this year), they've met in IRF competitions … and they met earlier this year in Denver in the Semis, with Conrrado taking a close one. Keller can make this complicated for his talented rival.
4/13 Samuel Murray vs Franco; every time these two meet, it goes the distance. Deep into tiebreakers, 5th game super tiebreaker, etc. Similar power games on display, both are one-time Tier1 winners. They havn't met in years but they have split meetings in the past.
7/10: Eduardo Portillo Rendon versus Jake Bredenbeck; a tough one to call. Jake played lights out in Chicago no doubt, but Lalo handled him in the 16s in Denver and has never lost to Jake. I know many are rooting for the home-town Minnesotan to advance, but Lalo is favored here.
---
LPRT 32s and 16s to look for:
16/17 Kelani Lawrence versus Sheryl Lotts: Kelani has never lost to her sometimes-doubles partner, but its often pretty close.
#8 Jessica Parrilla is the unfortunate recipient of this year's biggest draw wildcard in Vero Sotomayor. Sotomayor, who has not played an LPRT event since Dec 2016, blitzed through qualifying and has been training with other top LPRT players (not to mention her husband Sudsy Monchik), and looks to remind people of the player who finished #6 on tour in the 2008-09 season.
#13 Carla Muñoz Montesinos has a tough opponent in #20 Hollie Scott as her opener. They havn't met on tour in years, but in the meantime Scott has proven herself to be among the elite the US has to offer.
14/19 Amaya Cris versus Maria Renee Rodríguez; two long-time international rivals meet again. They've met 8 times in pro and IRF competitions, with Amaya holding a commanding 7-1 career lead.
#11 Rhonda Rajsich comes into the US Open with her lowest seeding since her debut (when she announced her presence to the world by racing to the final of the 2000 US Open as the #44 seed). Here she'll be pressed by the tough mexican lefty Ana Laura Flores.
An all-Colombian 15/18 between Brenda Laime Jalil and Adriana Riveros should be close.
projecting the 16s.
#8 Valeria Centellas set to take on the winner of Sotomayor/Parrilla; expect a battle here no matter who advances, with an eye out there for another upset in the Sotomayor run.
5/12 Montse Mejia versus Nancy Enriquez; Mejia has shown signs of brilliance (winning in Kansas City) and then taken inexplicable losses (a round of 16 loss to Laime in Denver). Meanwhile, Enriquez has been playing well. upset watch here.
#7/10 Samantha Salas Solis vs #10 Angelica Barrios; an interesting matchup. Salas ended Barrios' run at the 2019 Bolivian Iris open, but that was a different Salas. Meanwhile, Barrios has been ranked as high as 4th on tour but comes into this tourney 10th thanks to a dearth of events. Both of these players are better than their seeding, but only one can advance, and Barrios has shown some upset capabilities.
---
IRT doubles:

There's still one qualifier to be played as of this writing and its between Mar/Montoya and Pratt/Natera; one would think the reigning gold medalists from the Pan Am Games would win, but its doubles. So you never know.
The Men's doubles draw is stacked. All of these matches could go either way. Here's a preview.

#1 Daniel De La Rosa/Beltran vs Roland Keller/Moscoso; the #1 seeds take on the very experienced Bolivian team, with a shot-maker in Moscoso and a doubles specialist in Keller. This is no cakewalk for the #1 seeds and could go breaker.
#4 Portillo/Parrilla take on the early morning final qualifier; it should be an all-Mexican affair, and I favor the Montoya/Mar pairing over their younger Mexican rivals in a slight upset by seed.
#3 Landa/Murray take on the upset kids of Manilla and David " Bobby" Horn, who pulled off the upset last night to take out the 6th seeds in an 11-10 thrieller.
All eyes will be on the #2 seeds Monchik/Kane, who get their tournament started against the reigning Bolivian doubles champs in Keller/Carrasco. I'd expect this to be a straight forward two-game win for the #2 seeds.
---
LPRT Doubles
A couple of upsets in the qualifiers have led to some fun quarter final matches:
#1 Paola Longoria/Salas take on the all-american team of Scott/Kelani. Expect the top seeds to move on here.
#4 Ana Gabriela Martínez is paired with her long-time Guatemalan teammate MRR, but they face a tough quarter going up against Sotomayor and Maria Jose Vargas Parada. I sense they'll "pick on" MRR here strategically and pull the upset.
#3 The current Argentinian national team pairing of Centellas and Natalia Mendez Erlwein takes on the reigning US champs Rajsich and Manilla. Fun match; can the US team pull the upset?
#2 Alexandra Herrera and Mejia take on the up-start all-Bolivian team of Barrios/Daza. While the Bolivian team are both top-notch doubles players, I'm not sure anyone is stopping Herrera/Mejia until the final.
---
both IRT and LPRT are streaming; make sure you follow both on Facebook for all your streaming needs.