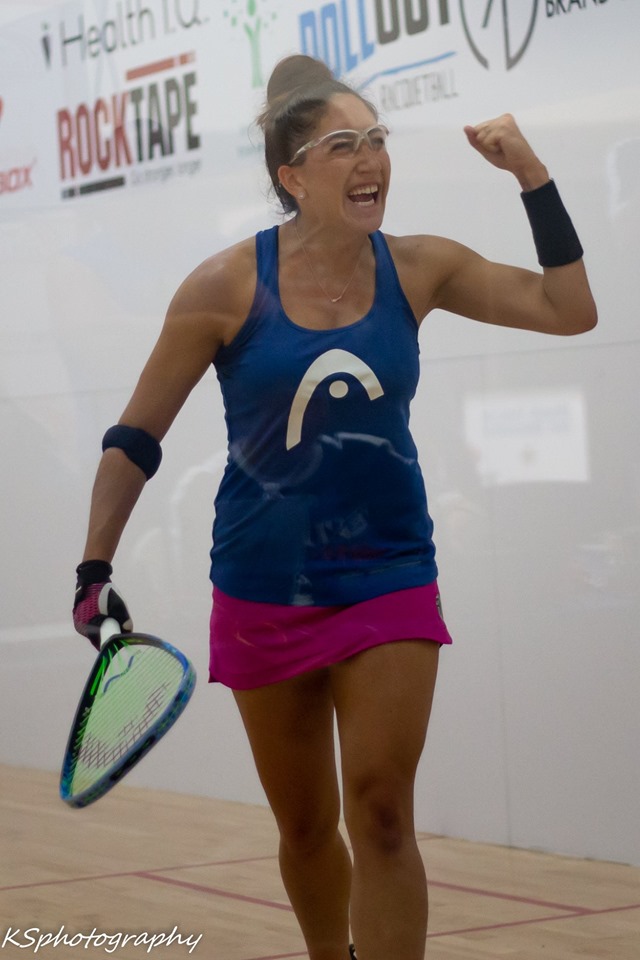 Hot on the heels of the finish of Worlds, the 29th annual Xmas classic tournament is upon us. This year it is being held in my old stomping grounds in Severna Park, Maryland, moving from its host from years past due to the long-standing Sportfit Laurel club closing during Covid.
R2 Sports App link: https://www.r2sports.com/website/event-website.asp?TID=36518
Thanks to the busy racquetball calendar over the past month, participation is down greatly here versus a typical LPRT event. Most of the women's pro draws over the past two seasons have been in the 30-35 range; this event has just 19 players entered.
top20 players missing; #4 Martinez (probably exhausted after finishing "hosting" duties in Guatemala), #6 Barrios (tough logistics between Bolivia, Guatemala and Baltimore), #8 Salas (hot off another doubles title), and #12 Laime (which is kind of weird because she lives about 20 minutes from the club).
Lets preview the draw.
The round of 16 features 3 play-in matches, all of which feature a regular touring player facing off against a younger rival. Perez-Chen, Ros-Scott, and Rivera-Diaz could all be interesting matches.
The Round of 16 features several really compelling matches that I can't wait to see.
#8/#9 Carla Muñoz Montesinos versus Valeria Centellas should be interesting: both players were upset early at Worlds (relative to their seedings in the singles and doubles knockouts) and will be looking for the quarterfinal spot here. Munoz has been gradually working her way back into the top 10 for a few years now after finishing 8th in 2017, and a show-me win against a similarly ranked player like Centellas are important to get that top 10 ranking.
#5 Montse Mejia vs #12 Erika Manilla; wow, great match for the 16s. Mejia, when she's in the game mentally, is among the four best players in the world and is on a short list of players who've beaten Longoria in the past few years. Manilla has been rocketing up the rankings on the back of her excellent US Open showing and will be riding high after playing a huge part of Team USA's IRF Worlds win last weekend. Which Mejia shows up in Maryland?
#3 Alexandra Herrera versus #14 Hollie Rae Scott; a first-time match-up for these two players, and it could be interesting. Herrera had a career best showing in the last LPRT event, beating Vargas in the semis and then going toe-to-toe with Longoria before losing the pro final 11-9. Can she build on that performance and regain #2 on tour? Meanwhile, Scott has a knack for beating top LPRT pros when she enters events; upset watch here.
#7 Rhonda Rajsich vs #10 Kelani Lawrence; these two just faced off in the semis of Worlds in Guatemala, with Kelani taking a straight-forward 12,7 win. They turn around and play in the 16s less than a week later; how will the travel and emotions of last week affect each player? On paper Rajsich is slightly favored, but these two keep trading off wins and losses over the past few years.
Projecting the Quarters:
#1 Paola Longoria, fresh off a dominant performance in Guatemala, should move past the winner of Centellas/Munoz here.
#4 Mendez could face a stiff foe against whoever advances between Mejia and Manilla. If Manilla wins, she's got the momentum to get to the semis, but if Mejia wins, Mejia would be slightly favored.
#3 Herrera over #6 Jessica Parrilla; the lefty Herrera has not lost to Jessica since 2016, and it doesn't seem like she'll lose here either.
#2 Vargas versus the Lawrence/Rajsich winner. An interesting wrinkle here: Rajsich upset Vargas to knock her out of Worlds in a shock round of 16 upset; could we see a rematch? Or, if Lawrence advances, can she take out the powerful Argentine, who might be looking for some revenge after losing so early last week?
My projected semis and finals:
Longoria over Mejia
Vargas over Herrera
and Longoria cruising to another pro title in the final.
Doubles review
Eight teams are entered here: Longoria is without her typical doubles partner Salas and instead has teamed up with Vargas … and are somehow only seeded third. The entire draw looks compelling and should be fun to watch.
From the top, I'll predict #1 Herrera/Mejia advance to the final; these two have shown they've got the chops to take over #1 at some point if/when Longoria/Salas retire.
From the bottom, we get an immediate rematch of the semis from Worlds, with team USA (#7 seed) facing off against team Argentina (#2 seeds). I'm going with team USA again, who then lose to the powerful Longoria/Vargas team in the semis.
In the final, look for some fireworks but for the two top ranked ladies to vanquish the budding Mexican duo.
Men's Draw: there's a pretty good little Men's Pro draw in Severna Park, with 17 players from up and down the east coast and beyond competing. We have not seen the draw yet, but it features top 10 quality IRT pros such as Lalo Portillo, Mario Mercado, Jake Bredenbeck, and MoMo Zelada to go along with top regional amateurs such as Ben Bleyer, Joe Kelley, Austin Cunningham, and NY junior phenom Josh Shea.
Kind of squinting to predict the seeds, i'd guess we'd see Portillo vs Zelada in one semi (barring any upsets), and Jake vs Mario in a tough Worlds rematch in the other. Great matches, especially Jake vs Mario, who just played in Worlds and where Mario took him out in a breaker.
Early prediction: Lalo beats Mario in the final.
Look for Streaming in the regular places; follow the LPRT on Facebook and sign up to get notifications when they go Live.
Look for Timothy Baghurst, Jerry J Josey Jr. and the one and only JT R Ball on the mike (JT has flown in all the way from California for this event).
Thanks to the Tourney Directors Karen Grisz and all your crew for putting this event on!
Reminder to Players! Please like and follow this page so that when I tag you, you see it. Facebook will only retain tags of people that like/follow a page, which means lots of you are not getting the notoriety of getting tagged and noticed on FB. If your name is here and it isn't tagged … it probably means I attempted to tag you but FB stripped it.
Tags
LPRT