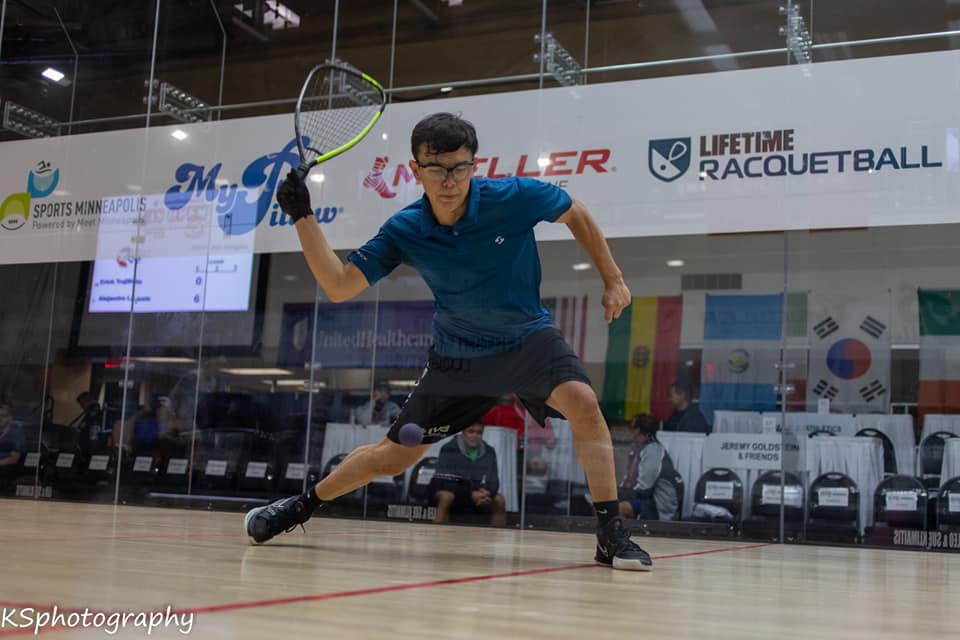 Congrats to all the newly crowned Junior Worlds singles champions:
Boys 18U: Erick Trujillo, Mexico
Boys 16U: Jorge Gutierrez, Mexico
Boys 14U Eder Renteria, Mexico
Boys 12U: Sebastian Terrazas, Bolivia
Boys 10U: Gustavo Cordova, Bolivia


Click here; http://rball.pro/043BA8 for a matrix of all Junior Worlds Boys champions for all of time.

Comments on the draws:
Boys 18U:
A first (and only) junior world championship for Trujillo, who graduates from Juniors with a win at the highest level. We look forward to his continuing to compete on the IRT, as he's had a decent debut so far. He topped fellow Mexican Sebastián Longoria in the final.
Boys 16U
Mexican champion Jorge Gutierrez topped Bolivian's #1 Ezequiel Subieta in a competitive final that featured all Bolivia/Mexican semis. This is Gutierrez's first ever world title.
Boys 14U:
Renteria captures his third ever Junior World Title in his age 13 season, winning the final over countryman Sebastian Ruelas in a rematch of the Mexican 14U final earlier this year.
Boys 12U
Terrazas wins his first junior world title in a draw dominated by Bolivians: all three entered advanced to the semis.
Boys 10U
Cordova won an all-Bolivian final over countryman Matias Garabito.
---
Girls 18U: Micaela Meneses Cuellar, Bolivia
Girls 16U: Krystin Salinas, Bolivia
Girls 14U: Natalia Mendez (no relation), Bolivia
Girls 12U: Jamileth Sipec, Guatemala
Girls 10U: Michelle Gomez, Mexico
Click here: https://rball.pro/BCE571 for a matrix of all Junior Worlds winners for all of time.
Comments on the victors:
Girls 18U
Bolivia's Meneses finishes a grueling two weeks in Guatemala, having also represented her country in the Adult competition. She finished in 13th place, just outside of the guaranteed spots for World Games 2022, but would be first in line if one of the top 12 drops out. She wins junior worlds in her age 17 season in dominant fashion, winning the final 5,2 and still has a year to go. She's already a regular on the LPRT and we look forward to more from the young Bolivian. She tops the promising lefty Argentine Martina Katz in the final, who impressed all weekend.
Girls 16U
After a nail-biting semi win over Mexico's #2 player @Angela Ortega, Salinas crushed Mexican's #1 @Cynthia Gutierrez 3,5 to win her first ever Junior World title.
Girls 14U
Bolivian Natalia Mendez (no relation to the LPRT touring player Natalia Mendez Erlwein) captured her first ever Junior World title, topping Mexican champ and #1 seed Maria Fernanda Trujillo in the final.
Girls 12U:
Sipec broke the Bolivian stronghold on girls titles by vanquishing both Mexican top seeded players en route to the title.
Girls 10U
Gomez avenged a loss to Costa Rica's Larissa Faeth in the group stage by topping her for the 10U title.
Doubles: We have captured the doubles champions into the database; see http://rball.pro/943497 for a complete list of all Junior worlds doubles champions from 2021 and going back in time.
We have not seen team results posted officially, but it seems that Mexico just beat out Bolivia for the team competition. No idea who might have come in third.
Thus ends a long two weeks of competition in Guatemala. Congrats to all players, to all who competed. Thanks to the IRT broadcasting crew who spent the better part of two weeks in Guatemala City broadcasting. Dean DeAngelo Baer and Pablo Fajre should get some well-deserved rest.

Next up for IRF? The Pan American Racquetball Championships next april in, hopefully , Bolivia!
International Racquetball Federation – IRF