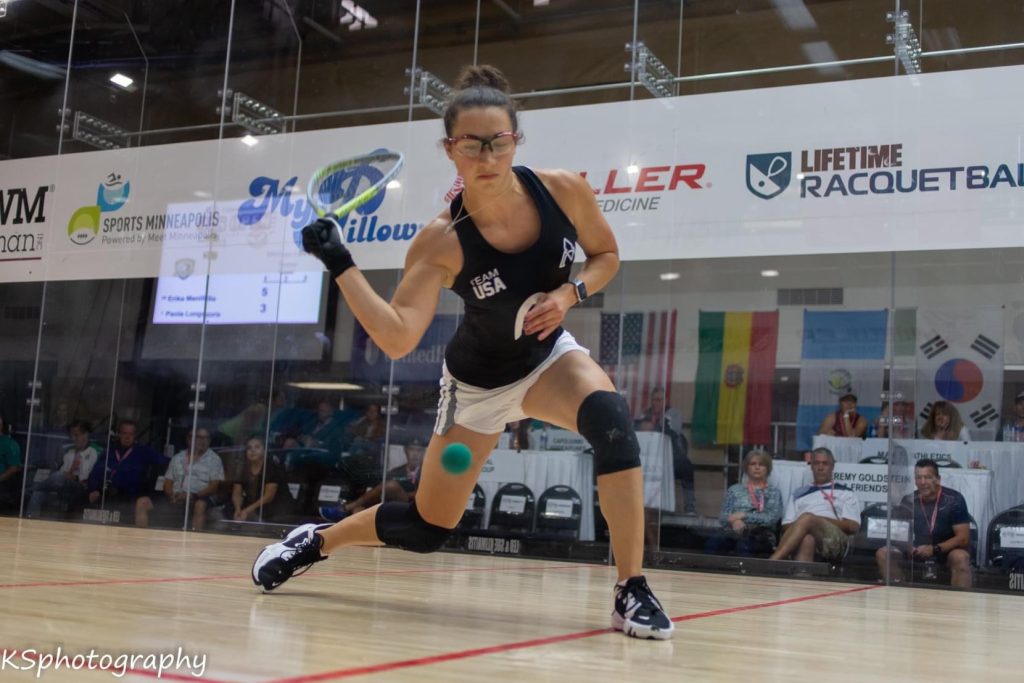 Congrats to Paola Longoria, who was the double pro winner on the weekend yet again. She adds to her already amazing pro title history; this is her 105th pro Tier 1 singles title and her 49th Pro Doubles title since we started tracking pro doubles on the women's tour in Aug 2014.
Paola won the doubles title this weekend with Maria Jose Vargas Parada, and not her regular doubles partner Salas (who was absent this week).

Singles Match report: http://rball.pro/5819A5
Doubles match report: http://rball.pro/6AAF40
Here's a quick run-through the notable singles matches this weekend for me:
Great win for Erika Manilla in the 16s, controlling the powerful Mexican player Montse Mejia in two games. Mejia won a grand slam earlier this year, but has several head scratching losses since. Not to take anything away from Manilla, whose US Open performance and subsequent playing has her firmly in my world top 8 right now.
Also a great win for Carla Muñoz Montesinos in the 16s, taking out #9 Valeria Centellas in the round of 16 with ease. Munoz is close to breaking back into the top 10 and this was a solid win that will help cement her return.
Kelani Lawrence got another win over her American rival Rhonda Rajsich, and had to come back from a game down to do so.
Maria Renee Rodríguez took #6 Jessica Parrilla to a breaker after a somewhat disappointing Worlds showing.
The seeds held from the quarters onward, with the draw going perfectly chalk. But there were some closer games and matches.
Lawrence nearly took game one in the quarters from #2 Vargas before losing 14,6
Herrera could not repeat the feat of downing Vargas twice in a row and fell in the semis in a breaker 7,(13),8. However, it does seem like we're starting to see a real rivalry for the #2 spot on tour, which means great projected semi finals each week.
#4 Natalia Mendez Erlwein cooled the hot Manilla in the quarters to play to her seed once again.
In the final, Vargas really pushed Longoria in game one 15-13 before falling. Would like to see some consistent competition for the #1 player.
---
On the doubles draw, the #1 seeds of Alexandra Herrera and Mejia advanced to the final as expected, where they faced the tough Vargas/Longoria pairing. The two top teams split games before Longoria/Vargas blew away their young Mexican counter parts in the breaker to take the title.
In Mixed doubles, we had some excellent play. A number of the top LPRT pros teamed up with the pros and top amateurs playing to give the draw a really solid mixed feel.
The semis featured Lalo Portillo and Alexandra Herrera taking out two local players in Ben Bleyer and Masiel Rivera Oporto, while on the bottom Mario Mercado and Erika Manilla made for a formidable pairing and topped Lawrence, playing with lefty North Carolinian Jacob Matthews.
In the final though, Mercado/Manilla could not overtake the excellent doubles players in Lalo/Herrera and lost in two.
Men's Open draw
A healthy 17 player draw featured four top pros who held to their seeds and advanced into the quarters.
Local amateurs Josh Shea (NY), Joe Kelley (PA), Austin Cunningham (GA) and Dylan Pruitt (MD) advanced into the quarters and put up good fights against the top touring pros; indeed, three of the four quarters went to breaker. However, the top seeds advanced to the semis for some quality late-round pro action. At the top, Portillo cruised past local favorite MoMo Zelada 11,0, while at the bottom Mario Mercado​ lost a Worlds quarterfinal rematch against USA's Jake Bredenbeck, but then was given an inj fft into the final. Unfortunately, no final was held; Mercado got the walkover win despite losing the semi.
Great last tournament of the 2021 from all involved; thanks to the Grisz clan Karen Grisz and Mike Grisz for running the 29th version of this long-running tournament.
What's next?
After an incredibly busy month, the ladies get a break. The next scheduled pro stop on the LPRT isn't until mid February, when Sudsy Monchik is hosting the tour in Vero Beach, FL. We hope for a January event for the ladies pros.