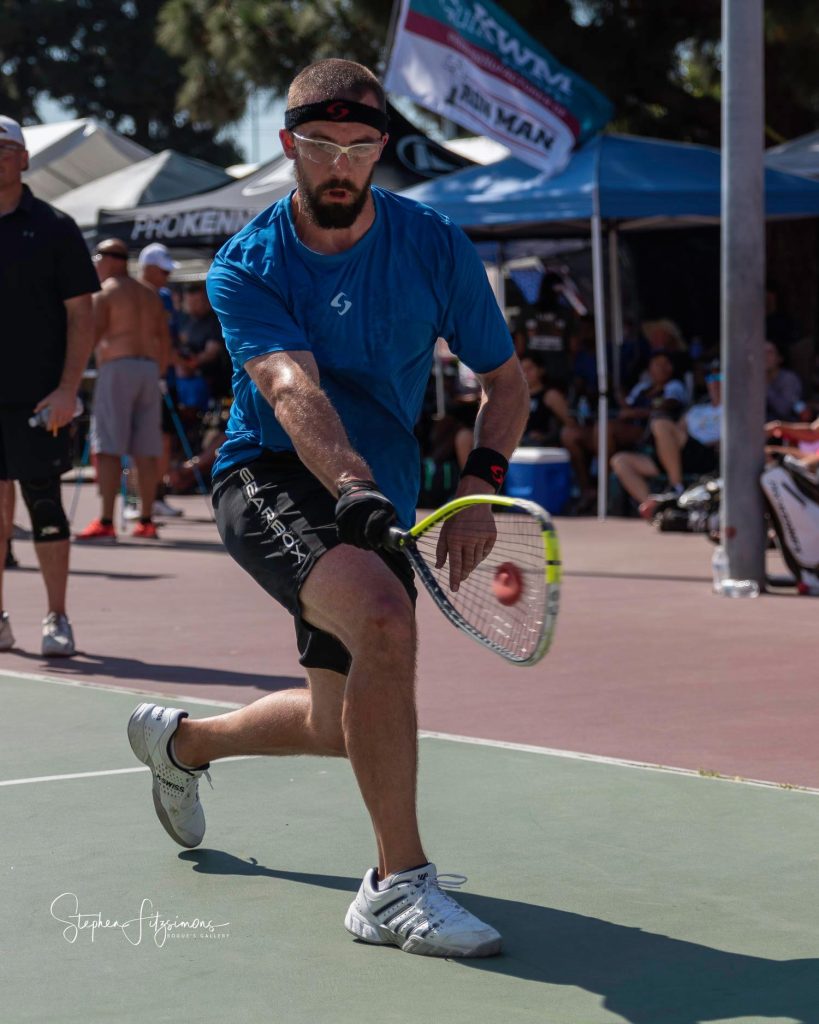 To kick off the 2022 season, on January 8th 2022 3Wall Ball and MC Vegas hosted an invitational Outdoor shootout at the courts of West Newport Park, right on Highway 1 in Newport Beach, California. These 3-wall/mid-wall courts are Rocky Carson 's favorite, his "home courts" that he practices on most frequently, and he was part of one of nine top-level teams invited to play in this shootout. Some of the players were rusty; it had been several weeks of inaction for most of the competitors, but eight games of round robin cleared off the dust by day's end for everyone. And the shootout featured a great collection of top talent from SoCal and beyond.
Here's a recap of the action.
The nine teams played a pure round-robin, one-game to 11 against the other eight teams, making for a ton of racquetball on the day. The top 6 teams from the RR stage advanced to a knockout round. Two teams dominated in the RRs (Geis/Rich and Lavely/Solis) going 8-0 and 7-1 respectively, and looked to be the favorites for the cash.
Here's how the knockouts went.
In the quarters:
– #5 @Tom Durham and @Matt Barserian upset #4 @Tony Berg and @Scott Sinclair 15-10. This is a great result for the relatively unknown Barserian, who (like Micah Rich) is a great player who plays recreationally and can put up results when he's in practice.
– #3 Rick Koll (aka "Soda Man") and Emmett Coe took out the home-court playing Carson and his regular partner @Jesus Ustarroz 15-11. Soda Man traveled to LA with Coulter from Vegas and teamed up with the ever-tough Paddleball champion Coe to take out the two-time Outdoor National champs Carson & Jay.
In the semis:
– #1 @Jason Geis and @Micah Rich, your 2021 Outdoor National champs and Vegas 3WB pro finalists, topped Durham/Barserian 15-5 to move into the final.
– #2 @Greg Solis, WOR Hall of Fame inductee in 2018, and partner @Danny Lavely crushed Koll & Coe 15-2 to move into the final.
In the final, Lavely got hot and made the best adjustments to the fast penn ball being used, took advantage of some tiring arms after a long day, and pushed his team to the upset win over #1 Geis/Rich 15-5.
Thanks to @Mike Martinez and @prokennex for stopping by, thanks to 3WB and other sponsors, thanks to Coulter as always for his support of the sport, and thanks to the players for putting on a show.
(Photos courtesy of Mike Coulter)