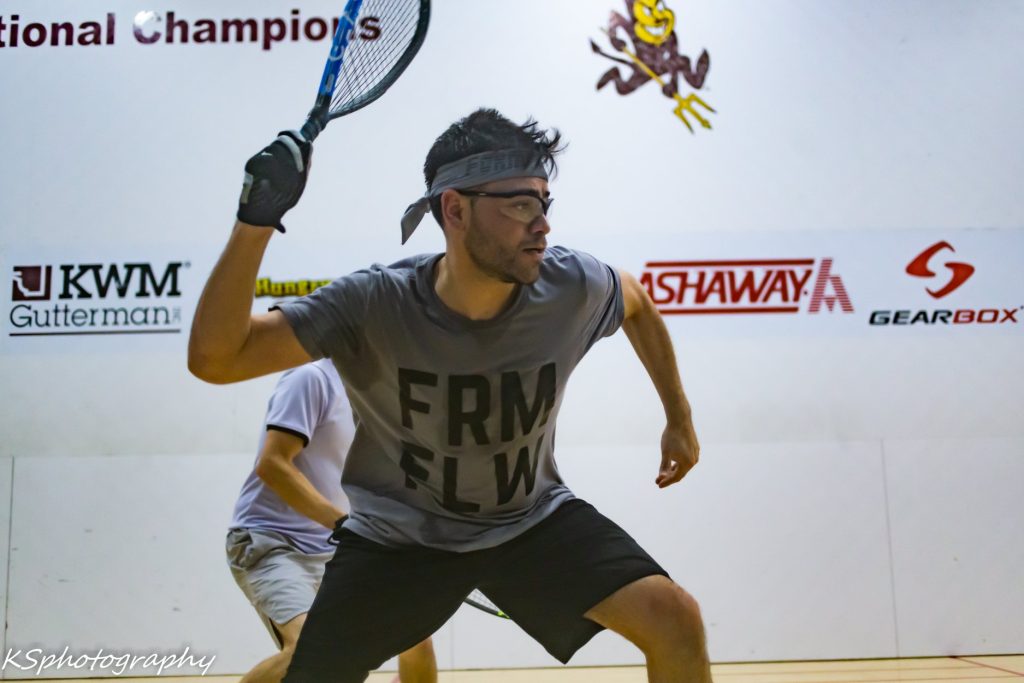 The first appearance of the top IRT pros of the new year is set to happen this coming weekend, at the annual Wintergreen classic held in Severna Park, located halfway between Baltimore and Washington in Maryland. This year's event, run by long-time racquetball benefactor and IRT investor Slemo Warigon , has been upgraded to be a tier 3 event for the first time, which has attracted a slew of top IRT regulars for a solid draw.
R2 Sports App link: https://www.r2sports.com/website/event-website.asp?TID=38089
Lets review the major draws on the weekend, which will feature some solid women's draws, fun doubles matchups, and even some pro-level mixed doubles.
———————————
IRT Pro Singles
There are 20 players entered, including three top-10 players, another 5-6 regular touring players ranked in the teens, and a slew of top east coast open players. It should be a fun draw.
Fun round of 32 and 16s to look for:
– #8/#9 is MoMo Zelada versus @Jaime Martel Neri , in what should be a very interesting match. Zelada has been playing regularly and has some good wins, while Jaime rarely travels outside his native Mexico but has been known to make noise when he does play. Look for Martel to upset Zelada here (they met in 2015 and Jaime won in 3 easy games).
– #6/#11 Alan Natera takes on NY junior @Josh Shea in what could be a closer match than Natera may want. Shea has been improving his results lately and has been facing better and better competition.
– #7/#10 Bolivian vet @Kadim Carrasco takes on Maryland's own Dylan Pruitt in what should be a stiff test for the local player playing on courts he knows pretty well.
projected quarters.
– #1 Daniel de la Rosa faces the winner of the Martell/Zelada match, but should have no problems moving on.
– #4 Sebastian Franco projects to face #5 @Andres Acuña , an interesting matchup of mid-teens IRT regulars. Franco is 3-0 lifetime against Acuna, never really being pushed, but all their past meetings are in the 2016-18 range. Acuna is a different player right now, and I sense an upset here, even though these courts are well known to the long-time Maryland resident Franco.
– #3 @Mario Mercado versus #6 Natera. Mercado is fresh off a tier 1 win late last year and an excellent showing at Worlds. He beat Natera twice heads up on tour last year, but both times were really close. I expect Mercado, a long-time DC area native who is quite familiar with this club, to advance in a close match again.
– #2 @Lalo Portillo projects to face #7 Carrasco. They have played once; in 2017, when Lalo was a shell of the player he is now. Portillo moves on in two.
Projected Semis and Finals:
– DLR over Acuna
– Lalo over Mercado
Final: Lalo upsets DLR, but not without DLR putting up a fight. He didn't fly here from Arizona to not get the top prize. Lalo took the IRT component at this tourney last summer, taking out Franco and Zelada along the way, so he is not unfamiliar with the courts. And Lalo upset DLR in Sarasota last November, so he's got a playbook for winning. How motivated is DLR in his first tourney back? We'll see.
———————————
Men's Open doubles
13 teams are entered into Open doubles, and the top four seeded teams are all touring regulars, which should make for some great semi finals action.
From the top half, look for #1 seeds Portillo/Franco to advance to the final, vanquishing teams that include top Maryland amateur @Dylan Pruitt playing with top junior from New York @Josh Shea, the #4 seeds Acuna/Natera, and the voice of the IRT Dean Baer , playing with fellow New Yorker @Anthony Armanuse.
From the bottom half, I like the #3 seeded team of @FormulaFlow players Zelada & Mercado to upset the #2 seeds from Bolivia Keller/Carasco to make the final. They'll advance out of a quadrant that includes top teams from Virginia (Peter Appel and Ross Weinberg), Texas (@Richard Eisemann and @Cole Sendry), and frequent east coast tourney players @Brent Walters and Thomas Gerhardt.
In the final, Lalo/Franco win to give Lalo a double on the weekend and some serious confidence heading into the 2022 season.
———————————
Mixed Open doubles features five teams and some top women's players. @Erika Manila is in town; she's teamed up with the excellent mixed doubles player Mercado as the #1 seed in the RR draw. They'll be challenged by fellow LPRT touring pro Brenda Laime at the #2 spot (teamed with house-mate and fellow FormulaFlow player Zelada) for the title. Also competing are two top-level Virginia mixed pairings in Kristin Junkin & Weinberg and two outdoor regulars @Aime Brewer and Gerhardt.
I like the draw to play out chalk; with Manilla/Mercado taking the title.
———————————
Look for Streaming in the regular places; follow the IRT on Facebook and sign up to get notifications when they go Live. Look for Dean Baer and Pablo Fajre and the IRTLive crew all weekend on the mike, calling the shots!
Reminder to Players! Please like and follow this page so that when I tag you, you see it. Facebook will only retain tags of people that like/follow a page, which means lots of you are not getting the notoriety of getting tagged and noticed on FB. If your name is here and it isn't tagged … it probably means I attempted to tag you but FB stripped it.
Tags/Sponsor links
International Racquetball Tour
USA Racquetball
@Federacion Mexicana de Raquetbol
@Federación Boliviana De Raquetbol – Febora
Racquetball Colombia
Federacion Colombiana de Racquetball
Formulaflow
@Zurek Construction, LLC / Francisco Fajardo
AGE SOLUTIONS Andy Gomer
@Reaching Your Dream Foundation
Hashtags #racquetball #proracquetball #outdoorracquetball #irt #lprt #wor