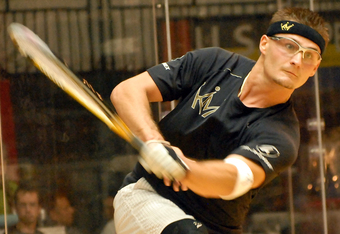 Congrats to your winners on the weekend:
Singles: Kane Waselenchuk
Doubles: Javier Mar & Rodrigo Montoya

Kane returns to the winner's circle for the first time since before Covid and takes his 124th career Tier-1 title. Mar/Montoya take their 3rd pro doubles title together in dominant fashion.
R2 Sports App home page for event: https://www.r2sports.com/website/event-website.asp?TID=38590
Lets review the notable matches in the Singles draw.
Singles Match report in the PRS database: http://rball.pro/BF73A5
The round of 64 was relatively straight-forward with expected results. But the round of 32 had some serious fireworks and some serious upsets. A number of players had career wins. Here's a run through:
#16 Thomas Carter put down a statement, splitting the first two games with #17 @Eduardo Garay before racing to a dominant 11-1 tiebreaker win. This is a very solid win over a strong player, one of the best of Carter's IRT career.
The biggest upset of the round was #9 Jake Bredenbeck , who made the final of this event last October, falling to the little known Mexican Jordy Alonso 12,10. Alonso is a rare IRT participant, but has been getting more time on the court lately and nets a huge win.
We've been predicting it for a while, but the defending World 18U champion @Erick Trujillo finally got a breakthrough win over a big-time touring pro, taking out #12 @Sebastian Franco in a tight 11-9 breaker. Trujillo will have a similar looking match in the next round against #5 Murray and could go further.
#14 @Andres Acuña got a very solid win over #19 @Javier Mar in a breaker. Though not an upset by the seeds, Mar's ranking has taken a tumble from its peak in the upper teens after taking time off to heal. This was another in a long line of incrementally excellent wins for Acuna, as he continues to improve on tour.
#11 @Alvaro Beltran split games with @Erick Cuevas before settling down and dominating the breaker 11-0 to move on.
– In what was likely the most entertaining match of the round, two power players from Mexico faced off in the 15/18 match-up, and the former World Champion @RRodrigo Montoya held off match-point against in the breaker to advance past @Sebastian Fernandez 4,(10),10.
In the 16s, some normalcy returned to the draw with 7 of the 8 top seeds advancing, but the one upset was a big one.
#1 @Daniel de la Rosa held serve against #17 Carter 11,12 in a match that was a big closer than I expected. Bravo to Carter for pressing the #1.
#8 Rocky Carson blew past the upset-minded Alonso to move into the quarters.
#5 Samuel Murray held off the phenom Trujillo 9,12 to move into the quarters.
#4 @Alejandro Landa , who hasn't been seeded this low in an event since Oct 2019, went tiebreaker with the improving Manilla but moved on to setup a meeting with his doubles partner.
#3 @Kane Waselenchuk was the least "troubled" in the round, crushing the Costa Rican #1 Acuna 3,3 to move on with ease.
#6 @Eduardo Portillo , coming off a knee injury, got a fortunate walk-over against #11 @Alvaro Beltran (who injured a hip in his double match earlier in the evening) to get into the quarters without much fanfare.
#7 @Conrrado Moscoso made a statement, taking out an opponent who has pressed him in the past in #10 @Mario Mercado with ease 6,4 to get to the quarters yet again.
– And in the biggest upset of the day, #2 @Andree Parrilla 's difficult draw caught up with him, as he couldn't convert match point opportunities in game two and fell 11-9 to his long-time rival @Rodrigo Montoya . Parrilla's run of semis or better at this event comes to an end.
In the Quarters
#1 DLR seemed completely frustrated with his shot-making on the day, while #8 Carson turned back the clock and played some of the most complete racquetball i've seen out of him in years, upsetting Daniel 11,4 to move into the semis.
#5 Landa held off his long-time doubles partner #4 Murray after an incredibly slow start, dropping the first game 15-3 before rebounding to win the second 15-1 and outlasting the Canadian in the breaker 11-7. Landa's emotions got the best of him on the day from a professionalism perspect ive, but he moves on.
#3 Waselenchuk made fast work of the knee-hampered youngster Lalo 7,5.
– #7 Moscoso cruised past an opponent in Montoya who he had never beaten before 6,12, getting another statement win. Montoya started very slowly (because he was late getting to his match), and Moscoso came out firing. Montoya made it closer in game two, but Moscoso's relentless drive serves earned him lots of Aces and lots of 3-shot rallies on the day. He moves on to a highly anticipated semi.
In the Semis
#8 Carson continued his hot streak, dropping a close first game to Landa before blowing him out in the second and outlasting him in the breaker 11-9. He gets back to a final for the first time since November 2019.
#3 Kane dominated #7 Moscoso in the highly anticipated semi 6,7. Moscoso's shot making wasn't up to the level of Kane's, who continued making short work of his opponents here.
In the Finals, we get a throwback match-up; a final between Rocky and Kane, something we saw week in and week out for years. Their 82nd career meeting ended as most of them had; with a Kane win 6,9.
---
Points Implications of results
This win should jump Kane up one spot over Parrilla to take over #2 on tour. He will still be 1100 points or so behind DLR, but has the rest of the year to make that up. There's little other movement in the top 20 anticipated.
---
Doubles review
Match report in the PRS database: http://rball.pro/FCC970
The story of the Doubles draw was the early exit of the #1 team of DLR/Beltran. They were taken out 11-8 in the breaker by the rapidly improving Carson/Lalo team. The other three top seeds advanced to the semis, setting up some great doubles action.
In the pro doubles semis:
#4 Keller/Moscoso, the reigning Bolivian champs and who have made the finals of the last three major IRF championships took out the Carson/Lalo team…. but not without having to survive match points against in an 11-10 breaker.
#2 Mar/Montoya (who barely survived their quarterfinal) rebounded against Big Canada/Big Minnesota (aka Jake and Sam) 11,11 to setup a great rematch of the last three major IRF finals.
In that final, the Mexicans again topped the Bolivians, as they have done in the last two major IRF finals, to take the crown 9,9.
---
In Men's Open, the top four seeds advanced to the semis. #1 Mercado topped #4 Cuevas in one semi, #2 Acuna topped #3 Trujillo in the other semi, then Mario outlasted Acuna 11-10 to take the open title.
Thanks for all the streaming on the weekend, especially from broadcasters Dean Baer, Favio Soto, Pablo Fajre and the IRTLive crew
Thanks to the Tourney Directors Geoff Peters and @Dan Jaskier for putting this event on!
Reminder to Players! Please like and follow this page so that when I tag you, you see it. Facebook will only retain tags of people that like/follow a page, which means lots of you are not getting the notoriety of getting tagged and noticed on FB. If your name is here and it isn't tagged … it probably means I attempted to tag you but Facebook stripped it.
Next up?
Per our handy master racquetball calendar …
https://docs.google.com/…/1V6OTid6rZ356voXVkoV2sN7KMMb…/
Next up is Beach Bash! The first outdoor major of the year, returning after a 2 year hiatus. Also next weekend is an IRT Tier 4 in Louisiana, and USAR Intercollegiates in Tucson.
tags
Associations
International Racquetball Tour
LPRT
International Racquetball Federation – IRF
Pan American Racquetball Confederation – PARC
UnitedHealthcare US OPEN Racquetball Championships
WOR – World Outdoor Racquetball
Countries
USA Racquetball
Racquetball Canada
Federación Mexicana de Raquetbol
RKT
Federación Boliviana De Raquetbol – Febora
Federación Boliviana de Racquetball
Racquetball Colombia
Federacion Colombiana de Racquetball
Federación Costarricense de Racquetball
Asociación Argentina de Racquetball
Federación Chilena Racquetball
Racquetball Rancagua, Chile
ASOCIACION DE RAQUETBOL DE GUATEMALA
Ferac Racquet
Federación Ecuatoriana de Racquetball – FERAC
India racquetball
Major Sponsors
Reaching Your Dream Foundation / Michael Lippett
FormulaFlow / Momo Zelada and Mario Mercado
Splathead / Joe Hall
onewallball / Ruben Pagan
3wallball / Mike Coulter / mc vegas
Beastmade Apparel / Jake Bredenbeck
Wear Rollout / Jonathan Clay
Racquetball Warehouse / Ben Croft
Splatit
Suivant Consulting / Williams Accounting / Donald Williams
Zurek Construction / Francisco Fajardo
AGE Solutions / Andy Gomer
team root / Randy Root
KWM Gutterman / Keith Minor
APCON/MZ Companies / Abel Perez
Team Dovetail / Mike Kinkin
Manilla Athletic / Adam Manilla Erika Manilla Bobby Horn
Hashtags #racquetball #proracquetball #outdoorracquetball #irt #lprt #wor