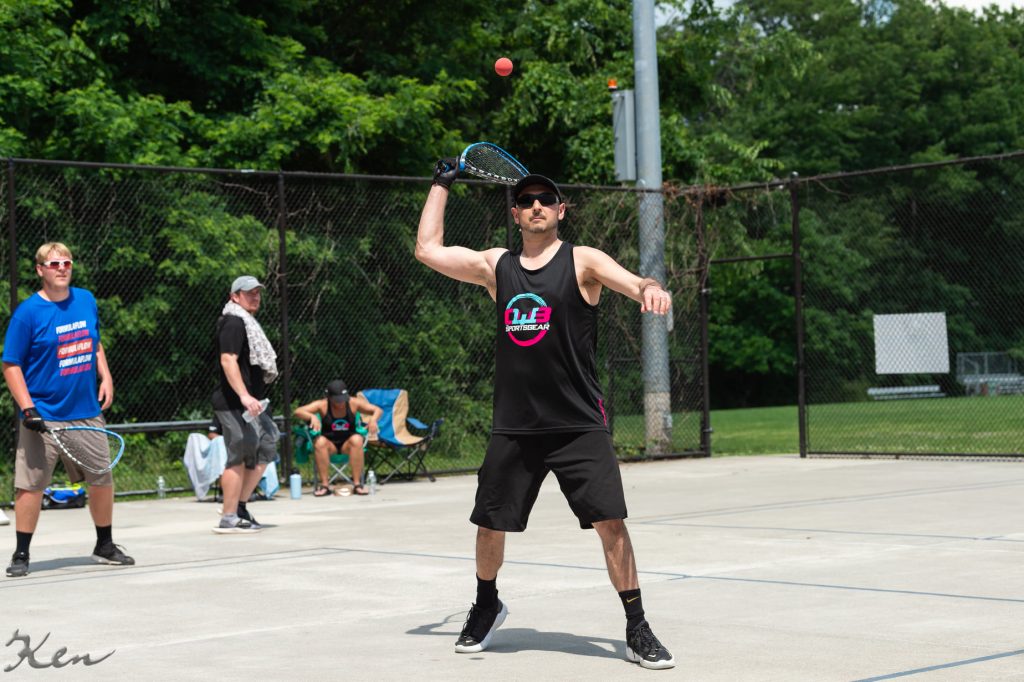 After a 2 year hiatus, Beach Bash is back! The best one-wall players in the land are descending as we speak to South Florida to join the Spring Breakers and to play some racquetball on the historic Garfield Street courts, right off the Boardwalk in Hollywood, Florida.

This will be the 14th iteration of what was first called "Beach Bash for Cash," which started in 2007. It was the follow-on tournament to the seminal 2004 WOR One-Wall National Doubles Championships held on these same courts, which was a formative event in the history of WOR and Outdoor Racquetball in this country in general.
It is great to have this tournament back … and judging by the talent of players entered, so is the community at large.

A huge number of regular "indoor" touring pros are entered this week, including 5 of the current top 10 on the IRT and a slew of regular touring LPRT pros. They are joined by a literal who's who of top one-wall outdoor players from DC, NY, and FL to compete for the pro titles. This weekend's event shall be great.
Further adding to the import of the year's first outdoor "major" is the inclusion of the new Outdoor Cup Series for 2022. Winners here this weekend will have a big leg-up on the competition for the "Road to Vegas" year-long cup series.
R2 Sports App link: https://www.r2sports.com/tourney/home.asp?TID=31509
Lets preview the draws. There's a ton of pro draws, singles and doubles, so we'll run through them with some thoughts given in each competition.
---
Men's Pro Doubles

A stacked Men's pro doubles draw is headlined by the #1 seeds and defending champs Ryan Lopez and @Benny Goldenberg. Seeded #2 is the top outdoor doubles team of @Daniel de la Rosa and @Alvaro Beltran , who together have won six Major outdoor pro doubles titles, including the last five straight Vegas 3-wall pro titles. But, Beltran injured his hip in the IRT event last weekend … and this is one-wall, not three-wall (where all their titles together are), so DLR/Beltran may not be the favorites here.
The rest of the draw is littered with top pairs with past titles. The top half features @David Blatt and William Rolon as the #4 seeds (they were the 2018 Beach Bash champs), the hard hitting #5 seeded team of @Sebastian Franco and @Joe Young (the 2015 Beach Bash champs), the 2021 Vegas one-wall pro doubles champs as a #12 seed (that being @Adam Manilla and @Nick Riffel ), and then we throw in top outdoor one-wall player @Rick Koll playing with perhaps the land's best paddleball player in @Emmitt Coe.
That's a stacked draw … and its just the top half of this bracket.
Challenging DLR/Beltran from the bottom half include the #3 seeded team of Sostre and David Horn (Sostre has 4 Beach Bash titles and another 4 finals), teams comprised of top IRT touring players like Conrrado Moscoso , Mario Mercado , and @Javier Mar, and long-time outdoor player @Tito Montanez playing with the legend himself Ruben González. Lastly there's #6 seeded team of @Nelsen Dieda and @Richie Miller … Miller and Dieda together made 5 straight Beach Bash pro doubles finals between 2013 and 2018, winning three of them, and Miller himself made the final of every Beach Bash pro doubles event for 8 straight years.
Whoever comes out of the bottom will have more than earned it.
Predictions? I like Lopez/Benny from the top to beat Franco/Young in the semis. From the bottom, whoever wins the 3/6 matchup between Sostre/Horn and Miller/Deida runs to the title. I'm leaning Miller/Deida, but wouldn't be surprised if the strength of Iceman on the one-wall court pulls them to the final.
---
Women's Pro Doubles
There's several tough teams in this Women's pro doubles draw, each of whom you could make an argument for winning. Scott (the 2018 winner) is playing with the most decorated women's outdoor doubles player in the land in @Michelle De La Rosa: they're the #1 seed. But they have to get by the Zerega-veteran team of Ramos/Guinan to make the final.
On the bottom half two-time Beach Bash champ and outdoor legend @Anita Maldonado is playing with three-time winner @Jasmine Suarez ; they'll likely face the very tough doubles team of Hall of Famer Aimee Roehler and LPRT touring pro @MasieMasiel Rivera in the bottom half.
Great matches ahead; my money is on Roehler/Rivera to top mDLR/Scott in the final.
---
Mixed Pro Doubles

Its tough not to look at this draw and immediately predict a #1 vs #2 final, given who is there and how they generally fare in these events. #1 Seeds and defending champs the De La Rosa husband/wife pair
will be pushed in the semis by 2015 Mixed pro champs Maldonado/Deida, while the #2 seeded team of Sostre/Rivera will face a gauntlet of interesting pairings of experienced outdoor players playing with solid indoor-only partners (teams such as Portillo/Scott, or Riffel/Neils, or Pagan/Roehler, or even the Manilla bro/sis combo).
At the end of the day though, i'm going chalk to the finals with another title for the De La Rosas.
---
Men's Pro Singles:
19 players are entered into Men's pro singles, trying to dethrone the two favorites and two top seeds in 2019's finalists @Daniel de la Rosa and @Robert Sostre. DLR took out IceMan in the 2019 singles final, breaking Sostre's streak of four straight titles in the event.

From the top side of the draw, DLR will face an immediate threat from a seasoned one-wall expert in @Tito Montanez in the 16s, before having to navigate possibly against 2019 semi finalist @William Rolon in the semis. That's if Rolon can get past the winner of @Thomas Gerhardt and Conrrado Moscoso , who is playing one-wall for the first time and could be a dark-horse thanks to his extensive experience playing Fronton in his native Bolivia.
From the bottom side, #2 Sostre may face a heavy challenge in the quarters from #7 @Andres Acuna , who topped two excellent outdoor singles players in 2019 en route to the 3WB outdoor final. Otherwise, the projection would be for Iceman to meet his long-time doubles partner Freddy Ramirez in the semis for a shot at the title.
Despite all the talent in the draw, look for a rematch of the 2019 final when all is said and done and for DLR to retain the title. He's just too strong on the outdoor courts and is in the peak of his playing years.
---
Women's Pro Singles .

Two time defending Beach Bash pro singles winner Hollie Scott is here to defend her title. She'll take on a round robin of fellow LPRT touring pros and Outdoor veterans, trying to dethrone her.
My prediction: Scott rolls to another pro title.
---
Look for Streaming on the LPRT feed for the weekend, with JT R Ball flying into town from Southern California to man the mike with a series of guest stars all weekend.
Thanks to the Tourney Directors @Peggine Tellez and the @3WallBall Outdoor World Championships team (Mike Coulter) for putting this event on! Thanks to @Abel Perez and the title sponsor of Apcon/MZ Companies for your patronage.
Reminder to Players! Please like and follow this page so that when I tag you, you see it. Facebook will only retain tags of people that like/follow a page, which means lots of you are not getting the notoriety of getting tagged and noticed on FB. If your name is here and it isn't tagged … it probably means I attempted to tag you but Facebook stripped it.
Associations
International Racquetball Tour
LPRT
International Racquetball Federation – IRF
Pan American Racquetball Confederation – PARC
UnitedHealthcare US OPEN Racquetball Championships
@WOR – World Outdoor Racquetball
Countries
USA Racquetball
Racquetball Canada
Federación Mexicana de Raquetbol
RKT
Federación Boliviana De Raquetbol – Febora
Federación Boliviana de Racquetball
Racquetball Colombia
Federacion Colombiana de Racquetball
Federación Costarricense de Racquetball
Asociación Argentina de Racquetball
Federación Chilena Racquetball
Racquetball Rancagua, Chile
ASOCIACION DE RAQUETBOL DE GUATEMALA
Ferac Racquet
Federación Ecuatoriana de Racquetball – FERAC
India racquetball
Major Sponsors
Reaching Your Dream Foundation / Michael Lippett
FormulaFlow / Momo Zelada and Mario Mercado
Splathead / Joe Hall
onewallball / Ruben Pagan
3wallball / Mike Coulter / mc vegas
Beastmade Apparel / Jake Bredenbeck
Wear Rollout / Jonathan Clay
Racquetball Warehouse / Ben Croft
Splatit
Suivant Consulting / Williams Accounting / Donald Williams
Zurek Construction / Francisco Fajardo
AGE Solutions / Andy Gomer
team root / Randy Root
KWM Gutterman / Keith Minor
APCON/MZ Companies / Abel Perez
Team Dovetail / Mike Kinkin
Manilla Athletic / Adam Manilla Erika Manilla Bobby Horn
Hashtags #racquetball #proracquetball #outdoorracquetball #irt #lprt #wor