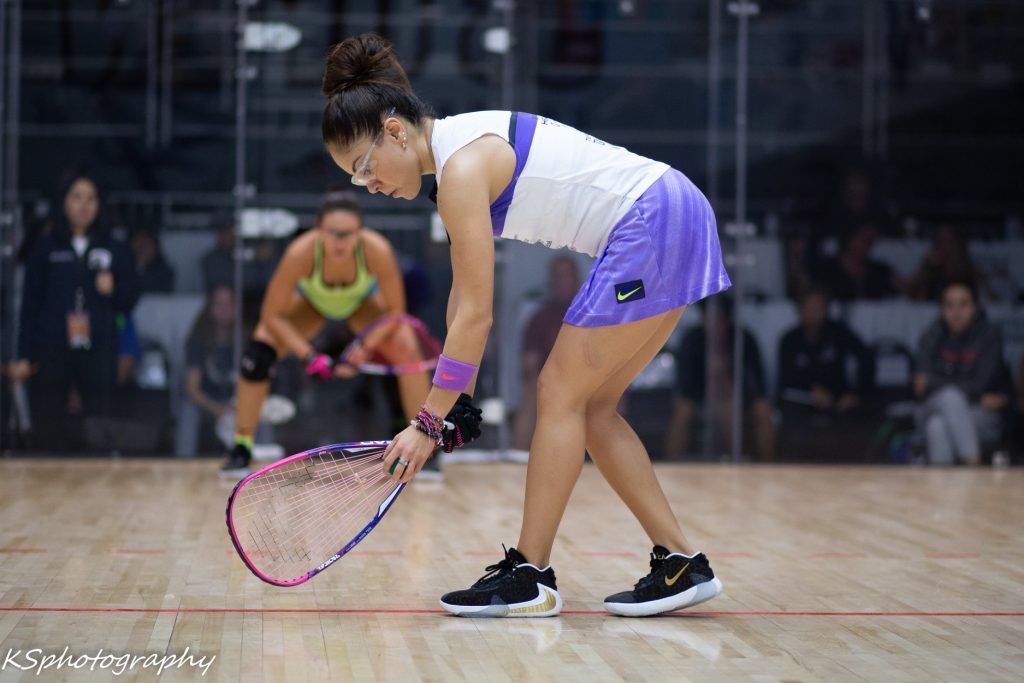 Congrats to your winners on the weekend:
Singles: Paola Longoria
Doubles: Alexandra Herrera/Erika Manilla
Longoria secures her 107th career Tier1 title and sews up her 12th year end #1 title. Manilla wins her first ever pro doubles title, teaming with the hobbled Herrera.
R2 Sports App home page for event: https://www.r2sports.com/website/event-website.asp?TID=39192
Lets review the notable matches in the Singles draw.
Singles Match report in the PRS database: http://rball.pro/466E25
In the 32s, a couple of notable results:
In the 16/17, Lotts got a solid win over MRR in a breaker.
In the 15/18, Scott held serve and downed Centellas in a breaker.
Munoz absolutely destroyed Meneses 0,4 to move on. Meneses has gone from one promising result after another to getting blown away in the last two pro stops.
In the 16s, a slew of upsets and surprising results.
#1 Longoria was pushed to a breaker by Lotts before advancing. These two played in the South Carolina event a month ago and it was a 3,1 beat-down. Bravo to Lotts for playing really well here.
#8 Manilla got a really solid win over #9 Parrilla to continue her excellent run of form.
#5 Gaby was pushed to a breaker by #12 Laime (now representing Colombia)
#13 Salas got an upset win over #4 Mendez in a breaker.
#3 Vargas was upset by #14 Munoz in a breaker. (note: Vargas is roughly 4months pregnant, a likely factor in the upset loss, not taking away anything from Carla's solid win of course).
#6 Mejia looked quite dominant over #11 Lawrence, and the bottom side of this draw has opened up widely for the defending champ (as we'll see in a moment)
#10 Rajsich turned back the clock on #7 Barrios, a player half her age, to advance to the quarters.
In the biggest upset, #2 Herrera, who reportedly was in a walking boot last week, defaulted her match to American Hollie Scott after just a few points.

So, that's #2, #3, #4, #7, and #8 out at this juncture, a ton of upsets.
Also, 3 American's into the quarter finals for the first time in a pro event since 2016.
In the Quarters:
#1 Longoria was pressed in game two by Manilla, but held on for a 4,13 win.
#13 Salas turned back the clock and got her second top -5 win in a row, dominating Gaby 5,12 to return to the semis for the first time since this event last year.
#6 Mejia made fast work of Munoz 1,7
– #18 Scott dominated her fellow team USA teammate Rajsich to make her first ever pro Semi final.
In the Semis, no real shocks. #1 Longoria trounced Salas to beat her for the 55th time in 58 pro meetings, while #6 Mejia handled Scott efficiently to setup a rematch of last year's final in this same event.
In the Finals, Mejia bent Paola but did not break her, getting close but losing 14,10.
Points Implications of results
Not much changes in the top 10: Longoria already had #1 sewn up and the top 5 spots shouldn't change. Manilla should jump to #6 on tour, her highest ever ranking. Despite making the final here, Mejia will take a tumble in the rankings due to expiring points but should remain in the top 10. Rajsich should keep her top 10 ranking to secure her 22nd straight season in the top 10.
However, this is all speculation until we see the final LPRT season-ending rankings, at which point we'll do a recap and talk about movements in the rankings.
---
Doubles review
Match report in the PRS database: http://rball.pro/19DB35
The big storyline in the doubles draw was the upset of the #1 team Salas/Longoria in the semis; they were dethroned by the Guatemalan veteran doubles team of Martinez/MRR. They met the new Herrera/Manilla team in the final, who survived Alexandra basically playing on one leg to get a tiebreaker win over Parrilla/Mejia.
In the final…Herrera may have been hobbled but when the ball came to her she executed, and she/Manilla took the doubles title.
---
Women's Open:
The only other draw here was the Women's Open, which went mostly chalk and featured #1 Barrios taking out #2 Lawrence in the final.
Thanks for all the streaming on the weekend, especially from broadcasters Timothy Baghurst and special guests Sudsy Monchik and Leo Vazquez.
Once again, thanks to Randy Root for your generosity in sponsoring the biggest prize purse in the sport.
Reminder to Players! Please like and follow this page so that when I tag you, you see it. Facebook will only retain tags of people that like/follow a page, which means lots of you are not getting the notoriety of getting tagged and noticed on Facebook. If your name is here and it isn't tagged … it probably means I attempted to tag you but Facebook stripped it.
Next up?
Per our handy master racquetball calendar …
https://docs.google.com/…/1V6OTid6rZ356voXVkoV2sN7KMMb…/
There's a lower tier IRT event in Costa Rica next weekend, then the next big event is US Junior Nationals in Des Moines.
tags