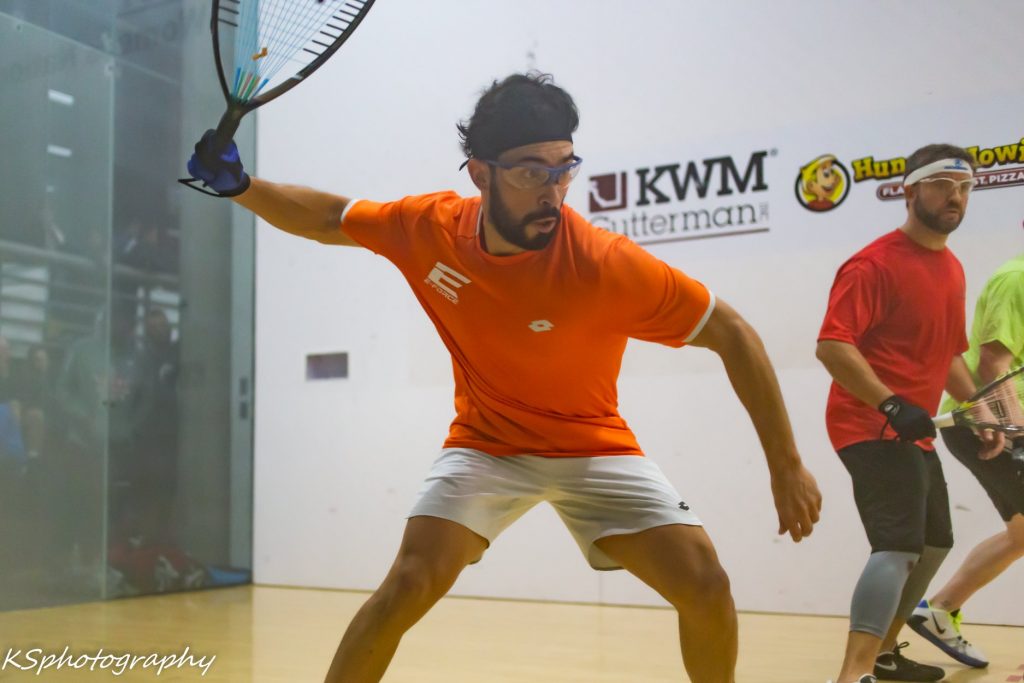 Here's a recap of the excellent satellite IRT event from this past weekend in Juarez.
Congrats to your winners on the weekend:
IRT Singles: Andree Parrilla
Open Doubles: Rodrigo Montoya & Javier Mar
IRT21 Singles: Erick Trujillo
R2 Sports App home page for event: https://www.r2sports.com/tourney/home.asp?TID=39837
Lets review the notable matches in the Pro Singles draw.
Not too many surprises before the quarters; Cuevas got a walkover against Christian Longoria, @Jordy Alonso was a no-show, giving Diego Gastellum a pass into the 16s, otherwise the top players advanced.
In the 16s,
Andree Parrilla took out former WRT #1 Alex Cardona in two games.
Gastellum got a marquee win, topping Cuevas to get to the quarters.
Rodrigo Montoya handled former Mexican national champ Polo Gutierrez in two, a solid win against a very tough opponent.
Alvaro Beltran went breaker to top the under-rated Jaime Martell (who I thought would get this upset).
#2 and tournament namesake @Alex Landa had his typical slow start and dropped a game to Sebastian Hernandez before advancing.
All in all, only a couple of minor surprises into the quarters.
In the Quarters
#1 Parrilla handled the upstart Gastellum in two to advance to the semis.
#4 Montoya blitzed #5 Sebastian Fernandez , donuting him in the first to advance in two. Kind of a shocking result honestly.
"The Kid" Erick Trujillo took out the Veteran @Alvaro Beltran in a breaker. It looked like it would be a two game win, but Beltran had a huge comeback in game two to force the breaker, where Trujillo ran away with it 11-2. Another excellent result for the reigning 18U Mexican national (and World) champ.
– Landa made a statement against his long-time Mexican rival @Javier Mar, taking game one 15-1 and holding on for a two-game win.
The Semis went chalk:
#1 Parrilla, who has a losing record in tier1s against his long-time rival Montoya, flipped the script and took out Rodrigo in a breaker. After saving match points against in game two, Parrilla blew out the breaker 11-1 to win.
#2 Landa won two close games against the upstart Trujillo to move into the final.
In the Finals, it was a tale of streaks between the two top seeds. Landa cruised to a game one win, then Parrilla ran of a ton of points straight to win game two … then Landa blew it out in game three 11-1 to take the title in his home town tourney.
Open Doubles review
The doubles draw was relatively chalk into the finals, where the two top seeds of IRT veterans (#1 Montoya/Mar and #2 Landa/Beltran) were set to meet.
In the final, the #1 seeds took a close game one win, then cruised to a two game victory and the title.
IRT 21 Singles results:
#1 Trujillo advanced to the final from the top half, but not before getting pressed by Luis Renteria , who is playing in his age 17 season.
The bottom half featured a big run of upsets by @Jose Ramos (who holds 6 junior Mexican titles himself and just matriculated out of 18U), who topped both Orteaga and Cuevas with relative ease to make the final.
In the final, Ramos gave Trujillo everything he could handle, and it went down to the wire, with Trujillo taking a thrilling 11-10 win.
Thanks for all the streaming on the weekend, especially from broadcasters Dean Baer, Favio Soto, Pablo Fajre and the IRTLive crew
Reminder to Players! Please like and follow this page so that when I tag you, you see it. Facebook will only retain tags of people that like/follow a page, which means lots of you are not getting the notoriety of getting tagged and noticed on Facebook. If your name is here and it isn't tagged … it probably means I attempted to tag you but Facebook stripped it.
Next up?
Per our handy master racquetball calendar …
https://docs.google.com/…/1V6OTid6rZ356voXVkoV2sN7KMMb…/
there's a break in the schedule on the 8/7 weekend, then 8/15 marks the first pro tournament since May, with the LPRT returning to Mexico for a grand slam kickoff to their new season.
tags
International Racquetball Tour