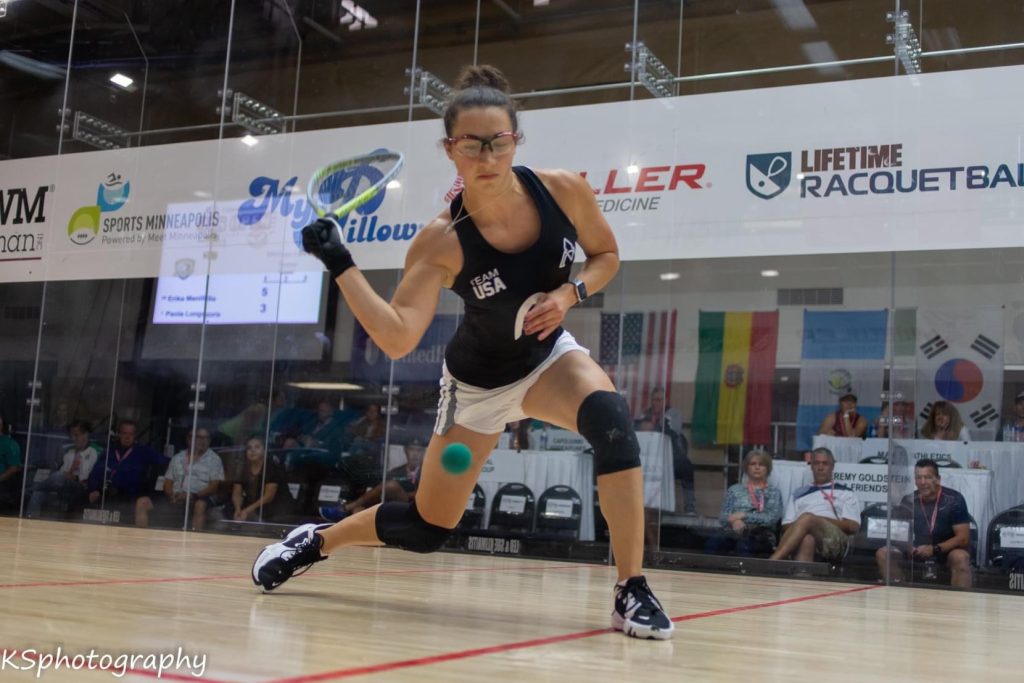 Welcome to the 2022-23 LPRT season! The LPRT starts off with a bang; a Grand Slam season opener and a return to tournament racquetball in Mexico.
For three years running, from 2017-19, the "Paola Longoria Experience" was held in her hometown of San Luis Potosi as a kickoff tournament for the tour each season, but then Covid hit and the tournament took three years off. But we're back, and this time the tournament is being held 100 miles west of SLP in the town of Aguascalientes.
R2 Sports App link:https://www.r2sports.com/website/event-website.asp?TID=39838
Perhaps due to fixture congestion, the draw for the opener is way down, with just 21 players entered (by way of comparison, the Supermax GS in Kansas City in June had 25% more players with a 28-person draw). A huge chunk of the ladies tour is qualified for Worlds, taking place the starting next weekend in SLP proper, and its likely that many decided not to add a week to their next trip. Understandable.
As a result, this event is missing 6 of the top 20 players in the world: #3 Vargas (pregnant), #5 Gaby, #9 Rajsich (which is odd; she's missed just 3 events in her entire career!), #12 Lawrence, #13 Laime, and #16 Scott all are out of this draw, which will give us a ton of elevated seeds and solid opportunities for lower ranked players. Most of the American national team is missing the event, which could have been a nice tune-up for Worlds.
Lets preview the singles draw. Here's some notable qualifying matches that I'm looking forward to:
The round of 32 features 5 relative unknowns playing 5 regular LPRT players. We may see some upsets, but not likely as the LPRT veterans advance.
Round of 16: there are a few compelling matches:
In the usually competitive 8/9 seed game, we get two players in Carla Munoz and @Samantha Salas Solis who have had some battles in the past. Some of Munoz's best ever wins have come at the hands of Salas, so she'll be confident. Salas saw her ranking dip out of the top 10 last season, but she finished strong with a semis appearance in Kansas City. Great match here. I'm leaning Munoz to win here.
Long-time international rivals #3 Natalia Mendez and #14 Cris Amaya are set to meet for the 8th time in all competitions. Mendez leads h2h 5-2.
#6 @Jessica Parrilla takes on #11 Maria Renee Rodriguez. MRR is a long-time tour competitor and will seek a top10 win for her resume.
– In the 7/10 matchup, we get a very competitive match between @Montse Mejia and Valeria Centellas . Mejia is undefeated against the Argentinian in her career, and as I frequently intone has the talent to be in the top 4 on tour, but needs consistent attendance and consistent performances.
Projected Qtrs:
#1 and tournament namesake @Paola Longoria should advance over the Salas/Munoz winner.
A great match is projected between #4 Erika Manilla and newly crowned World Games champ #5 @Angelica Barrios. These two met in Vero Beach, a two game win for Erika, and I'd expect the same here, but under-rate Barrios at your peril.
Upset watch for #6 Parrilla over #3 Mendez: these two met in South Carolina and that's exactly what Leoni did. She's finally back into the top 10 consistently after her knee injury and will look to stay there.
#2 Alexandra Herrera projects to meet her long-time doubles partner Mejia in the quarters. They've met more than a few times, and Herrera has taken their last couple of meetings, but Mejia is arguably the better player, but needs to overcome the mental aspect of playing her friend and partner. Based on where these two are right now, i'm going with the lefty.
Semis projection:
Longoria over Manilla: this is becoming somewhat of a famous matchup, and many see Manilla as a leading rival to take down Longoria. Can Erika take a big step here? The game plan for beating Paola has been demonstrated by Herrera recently; simply put, don't make errors. Easier said than done.
Herrera over Parrilla: I still think there's a huge gap from the top 2 players to the rest of the tour, and see no reason not to predict a 1v2 final.
Finals: Longoria wins her namesake tourney and starts off the season with the upper hand against her primary rival for the 2022-23 title.
Doubles review
There's 8 doubles teams here … with some new teams competing thanks to regular partners missing. However, the top 2 seeds are the regular dominant teams of Longoria/Salas and Herrera/Mejia. It is difficult not to predict another final between these two teams, who have been battling for pro and National titles regularly for years.
I am intrigued by #3 seeds Manilla/Parrilla: both have regular partners at this point (Scott and Perez respectively), and it should be interesting to see how they play together. Both are great doubles players.
In the final i'll go chalk, with Longoria/Salas raising another doubles title together.
Look for Streaming in the regular places; follow the LPRT on Facebook and sign up to get notifications when they go Live.
Look for Timothy Baghurst, Jerry J Josey Jr., and Tj Baumbaugh on the mike, calling the shots!
Coincidentally, if you're interested in playing Fantasy Racquetball for this event, the links to the brackets are advertised on LPRT's main page. The winner each week gets free swag!
LPRT
Hashtags #racquetball #proracquetball #outdoorracquetball #irt #lprt #wor