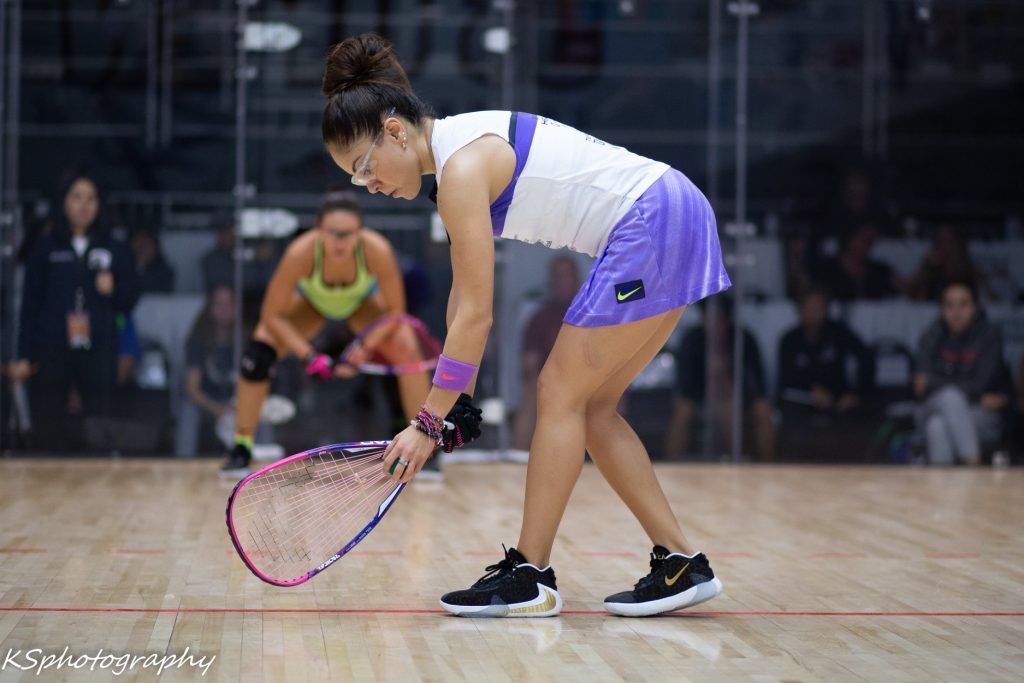 Congrats to your winners on the weekend:
Singles: Paola Longoria
Doubles; Alexandra Herrera & Montse Mejia

This was a unique tournament featuring Paola's "personal" portable court, which was setup on a covered court outside of the Deportivo Ferrocarrilero club in Aguascalientes, AG, Mexico.
It is a spectacle of a court, but the outdoor setting features very difficult sight-lines for players, especially in the later afternoon where the sun glared into the court from all sides. This seemed to really vex some players, as we saw all kinds of upsets in this event. They had to have a thunder delay midway through the event, something I can't quite say i've heard of before.
R2 Sports App home page for event: https://www.r2sports.com/website/event-website.asp?TID=39838
Lets review the notable matches in the Singles draw.
Singles Match report in the PRS database: https://rball.pro/k9q
In the 32s, no surprises from the 5 relative newbies to the LPRT tour.
In the 16s, we started to get some surprises.
In the 8/9 match, @Samantha Salas Solis got a solid win over top10 rival @Carla Munoz 5,13. Is this the return of Salas to the top 10?
#5 Angelica Barrios escaped by the skin of her teeth, winning 11-10 over #12 Sheryl Lotts.
The shock result of the round of 16 was former top10 player Nancy Enriquez blasting #4 Erika Manilla 10,4 to move on. Not a good start to Manilla's pro season.
– #6 Jessica Parrilla was stretched to an 11-7 breaker win over #11 @Maria Renee Rodriguez
In the Quarters
#1 @Paola Longoria topped her doubles partner Salas 8,4 to move on. These two have met more than 70 times now on the pro tour, by far the most frequent rivalry in the tour's history.
#5 Barrios had a comprehensive win over upset-minded Enriquez 11,5 to move into the semis.
#6 Parrilla continued her recent record over #3 Natalia Mendez , advancing to the semis.
– #7 @Montse Mejia dominated her doubles partner and #2 player @Alexandra Herrera 7,5. This is the most significant result of the round; Mejia is one of just a handful of players who have ever gotten a win over Paola, and this result spurred her into the finals.
In the Semis
Longoria flew by Barrios 3,6 to move into the finals in her namesake tourney. In 6 games she's given up a grand total of 23 points and looks unstoppable as always.
Mejia had little trouble over her country-woman Parrilla, moving into the finals 5,6. Mejia definitely looks "on" this weekend.
In the Finals, a great back and forth match between Mejia, a young player who when "on" can beat anyone in the world, and Longoria, the veteran who has proven time and again she knows how to win. Mejia raced out to an early lead in game 1, but Paola came roaring back to win it. Instead of being deflated, Mejia returned the favor in game two to force the tiebreaker.. In the breaker, Mejia was first to match point but could not convert, then Longoria worked the last two points to win 11-10 in the final. The fans could not have asked for a better singles final.
Points Implications of results
No changes in the top 3: Longoria did not play in Denver last year, so she had no points to defend and thus turned her 600 point lead over Herrera into an 1100 point lead overnight. Wow; Herrera really needed a result here to make the race this season close and missed out on a huge opportunity.
There was some big-time movements though, both by players who were here and players who were not. Mejia's result vaults her immediately to #4 on tour, jumping both Mendez and Manilla. Munoz moves into the top10 at #9. Salas continues to climb backup the rankings, now sitting at #12.
However the most impactful change is to Gaby Martinez, who plummets from #5 to #15 on tour. Martinez won the 2021 Denver event but defends none of those points and thus drops 320 points in an instant. This will make future seeding quite interesting, as she now projects to face a top 4 player in the 16s.
Doubles review
Match report in the PRS database: https://rball.pro/hu4
The 8-team doubles draw resulted with the expected 1-2 final. The two top ladies doubles teams in the world (Longoria/Salas and Mejia/Herrera) met in the final just after the singles final, and the losing singles finalist Mejia helped power her team to a comprehensive finals win, beating the #1 seeds 7,7.
Herrera is on quite a roll in doubles; she has won 4 of the last 5 pro doubles titles now and has done it with multiple different partners as Mejia does not always travel. It seems likely Paola will lose her #1 doubles ranking soon.
Thanks for all the streaming on the weekend, especially from broadcasters Timothy Baghurst, Jerry J Josey Jr., and Maria Renee Rodriguez.
Next up?
Per our handy master racquetball calendar …
https://docs.google.com/…/1V6OTid6rZ356voXVkoV2sN7KMMb…/
It is time for 2022 Worlds! Its being held just next door to Aguascalientes in San Luis Potosi, one of the hotbeds of Mexican racquetball. There's been all sorts of funding drama leading up to the event (well publicized elsewhere); lets hope the Mexican players do actually attend.
tags
LPRT