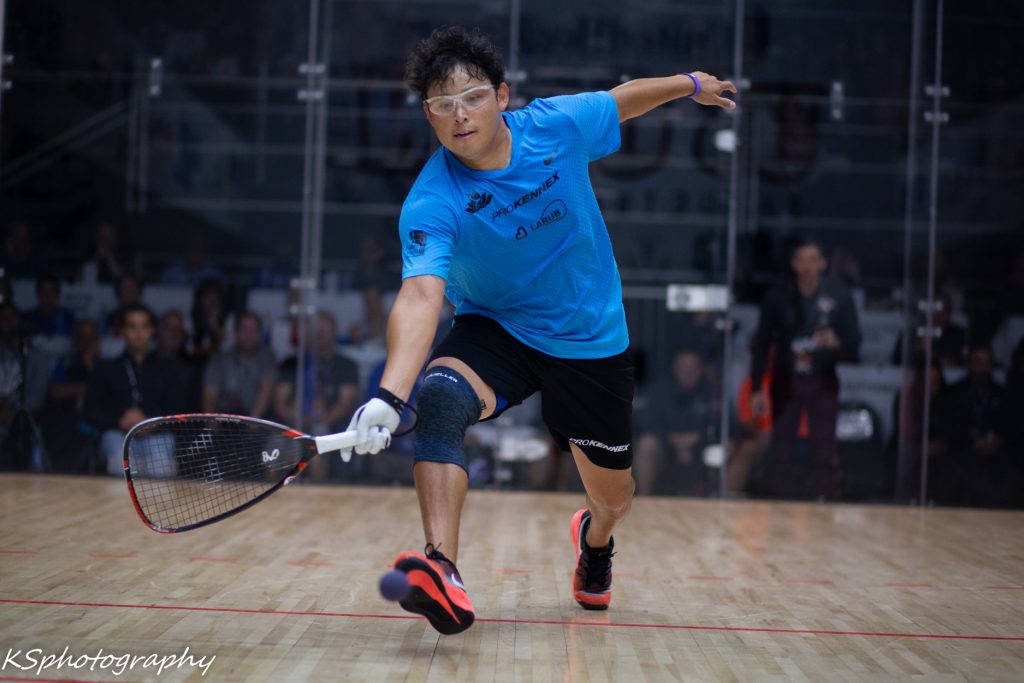 Congrats to your winners on the weekend:
– Singles: Daniel De La Rosa
– Doubles: Javier Mar & Rodrigo Montoya
PRS Singles match report: https://rball.pro/c5l
PRS Doubles match report: https://rball.pro/klr
De La Rosa wins his 9th career tier 1 title, putting him 13th all time. Mar/Montoya win their 4th pro doubles title together, first since Chicago in March.
R2 Sports App home page for event: https://www.r2sports.com/website/event-website.asp?TID=39931
——————
Lets review the notable matches in the Singles draw.
Singles Match report in the PRS database:
—————-
In the qualifying:
– Solid win for @Rodrigo Rodrigues , taking out Sam Bredenbeck in a breaker. A setback for Sam, who looked really strong at Worlds.
– @Christian Longoria got a very solid win over Alan Natera to move into the main draw.
—————-
In the 32s:
– #17 Erick Trujillo impressed against the classy Javier Mar but fell in a breaker.
– #20 @Jaime Martell played well and downed #13 @SSebastian Fran in two straight forward games, perhaps not really an upset by true talent levels.
– Solid win by #14 Thomas Carter over the upstart Longoria.
—————-
In the 16s, some upsets for sure
– #1 Daniel de la Rosa had to deal with Mar, a matchup that is more of a semis-quality match. 15-2 in the first made it seem like it'd be a laugher, but Mar ground out game 2 to force DLR to win the breaker.
– #8 @Jake Bredenbeck got a quality win over the red-hot #9 Mario Mercado .
– #12 Andres Acuña blew out a rusty #5 @Alejandro Landa 5,7. Landa reportedly had not played since the US Open and showed it on the court against the always-consistent Acuna.
– #4 @Eduardo Portilla outlasted the dangerous Martell in two tight games.
– #3 Andrés Parrilla was pressed by #14 Carter but moved on 11,8
– #11 Rodrigo Montoya is fast becoming the non-top 8 player nobody wants to see, again claiming a top-8 scalp in dominating #6 Samuel Murray 11,6. Are we finally going to see the uber-talented Montoya take his rightful place at the top of the IRT tour, after years of partial touring costing him the points he needed to stay there?
– #7 @Rocky Carson held off fellow American #10 @Adam Manilla, has he has done for a few tournaments now at this juncture.
– #2 Conrrado Moscoso surprisingly dropped game one to fellow hard-hitter @Eduardo Gara , but bounced back to move on.
—————-
In the Quarters
– #1 DLR continues to bedevil #8 Jake in the quarters when they generally meet (three times in the last year), but Jake did force him to a breaker this time. Being "stuck" at #8 can be a tough place to get out of without the "flip seeding" that the tour seems to have done away with.
– #12 Acuna got a walkover win against #4 Portillo, who was under the weather and was advised not to play. Acuna makes a semi for the first time in his pro career.
– #11 Montoya topped #3 Parrilla once again; it has been more than a year since Parrilla has beaten his cohort-mate in Rodrigo.
– #2 Moscoso cruised past #7 Carson 11,5.
—————
In the Semis,
– DLR was pressed by the upstart Costa Rican Acuna, but moved into the final 10,13
– In the other semi, what was shaping up to be a fantastic match on paper was cut short quickly when #2 Conrrado tripped over #11 Montoya's feet while back-pedalling to retrieve a ceiling ball, and banged his head on the back wall. He was judged not to have been concussed, but was advised to retire unfortunately.
In the Finals, DLR absolutely destroyed the player who put him out of the US Open, beating Montoya 5,3 to claim the title.
—————-
Points Implications of results;
This tourney expires the 2021 World Singles & Doubles championship, which was DLR over Moscoso in the final. So, DLR defends his winner points, and with just one tier 1 remaining in 2022 has an insurmountable lead at the top of the IRT tour. Congratulations to DLR for securing his second straight #1 year end ranking.
Other expected points machinations:
– Parrilla and Moscoso should switch places at 2/3, but its super close and if one or the other has some random tier 2/3 points that aren't in my model they may stay the same 2/3 order.
– Despite both losing early, Murray should move ahead of Landa at the 5/6 by virtue of having fewer points to defend from Denver.
– Manilla continues to climb the ranks; he's nearly in the top 10 now.
– Keller's absenses are catching up to him; he's nearly out of the top 16 now.
– Kane won't drop too much for the time being: he's entering a period where he missed most of the 2021 slate of events, so he'll have no expiring points. Meanwhil,e Beltran will continue to fall as he recovers from his injury; he'll likely be out of the top 20 soon.
—————-
Doubles review
– The #1 seeds Parrilla/Murray were upset in the quarters by Natera/Acuna.
– The Bredenbecks had to work far harder than they should have to top Cuevas/Ramirez
– Landa & Moscoso teamed up for the first time and looked solid together
– DLR picked up a last minute partner in Carrasco, topped Carson/Portillo, and took Mar/Montoya to a breaker. Not bad.
The final was a walkover unfortunately, when Moscoso got hurt. Would have been a solid match to see Landa/Moscoso vs Mar/Montoya.
—————-
Other notable draws from the event
– Erick Cuevas took the IRT U21 event with a solid win over Trujillo in the final.
– Diego Gastellum took the Men's open with the help of a couple of walkovers from the top two seeds along the way.
– Florida pair @Bradley Knudsen and Matt Fontana took the Men's Open doubles draw.
– Hollie Scott took the Women's Open draw, which featured 7 regular LPRT players, topping Veronica Sotomayor 11-9 in the final.
– Scott teamed up with Maria Renee Rodriguez to win the 5-team Women's Open Doubles over solid competition. Sotomayor and Costa Rican top junior Maricruz Ortiz finished 2nd.
– Finally, two Californians who made the trip won the Mixed Open title when Will Reynolds and @EsEstefania Perez Piña took out the all-florida pair of @Assuan Castaneda and @Graci Wargo in the final.
—————–
Thanks for all the streaming on the weekend, especially from broadcasters Favio Soto and Karen Grisz who worked the mike all weekend.
Thanks to the Tourney Director Mike Kinkin and @Team Dovetail for putting this event on!
Reminder to Players! Please like and follow this page so that when I tag you, you see it. Facebook will only retain tags of people that like/follow a page, which means lots of you are not getting the notoriety of getting tagged and noticed on Facebook. If your name is here and it isn't tagged … it probably means I attempted to tag you but Facebook stripped it.
——————
Next up?
Per our handy master racquetball calendar …
– @Racquetball Canada has a selection event next weekend.
– The weekend after the LPRT is back in action in Chicago
– Then there's a lower-tier IRT event in Monterrey, NL Mexico the same weekend.
——————-
tags