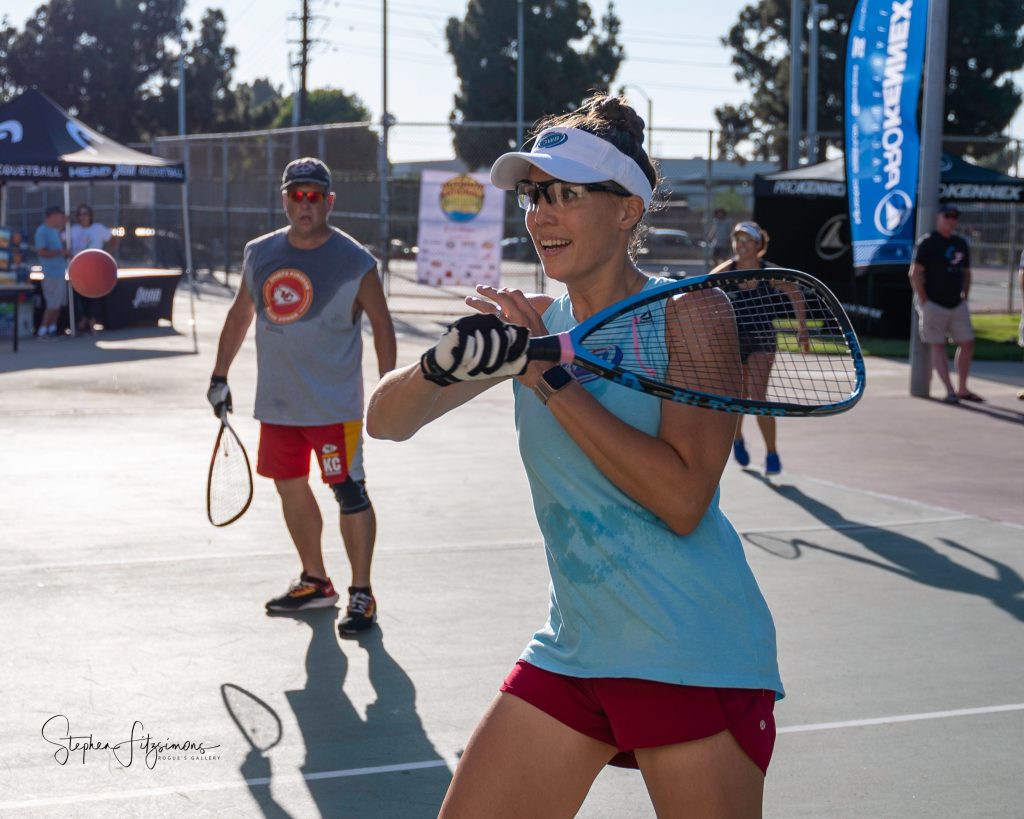 The final Outdoor Major of the year, the 2022 3Wall Ball Outdoor Championships which finished off a week ago Sunday in Las Vegas, also marked the culmination of the year-long Outdoor cup series competitions.
Click here for the Press Releases:
– LPL FinancialLPRT Cup Final Results: https://rball.pro/kpt
– Kwm Gutterman Men's cup final Results: https://rball.pro/n7d
————-
First, lets recap the Ladies competition. Your top three finishers in the money were:
1. Michelle De La Rosa
2. @Hollie Scott
3. Carla Munoz
De La Rosa led the competition from start to finish and removed any doubt of her Outdoor dominance by winning three titles in Las Vegas. Scott was ranked 5th after Beach Bash but reached all three finals at Outdoor Nationals and secured the One-Wall Mixed title in Vegas to clinch 2nd place. Munoz finished 3rd despite missing the Beach Bash event entirely; her four pro titles trail only De La Rosa for the most of any outdoor player in 2022.
The rest of the top 10 players with their 2022 outdoor highlights:
4. @Katie Neil , who won the Beach Bash women's pro doubles title and made two one-wall semis in Vegas.
5. @Kelani Lawrence , who made the Outdoor Nationals pro doubles final with her frequent partner Scott.
6. Brenda Laime , who finishes 6th despite only playing in Vegas. She made the final of both 3-wall pro doubles events (Women's and Mixed) in Vegas and was a break-out star.
7. Erika Manilla , who won Beach Bash doubles with Neils but who missed Outdoor Nationals during her hectic travel summer representing USA as our reigning National singles champ.
8. Alexandra Herrera , the LPRT #2 who played outdoor for the first time ever in Vegas and made three pro finals in her first foray into the outdoor game.
9. Janel Tisinger , who won Vegas 3-wall doubles with mDLR and made the singles final but who missed the other two outdoor majors.
10. Jessica Parrilla , who had solid results at both Outdoor Nats and Vegas.
————————–
Now let's recap the Men's Competition.
Your top three finishers in the money were:
2. Eduardo Portillo
3. Robert Sostre
De La Rosa completes a dominant showing in the Cup Series and was in first place after all three Outdoor Majors. He finishes the year with five outdoor pro titles. Portillo improved his standing to 2nd place by virtue of his 3WallBall Pro doubles title and a strong showing at Outdoor Nationals. Sostre was ranked 7th after Beach Bash, but two strong results in Las Vegas (winning the CPRT title and making the final of 1-wall Pro Doubles allowed Sostre to edge Mercado and Mar, who finished 4th and 5th respectively.
Rounding out the top 10:
4. Javier Mar was just pipped for 3rd by the Ice Man; Mar won both the Beach Bash and Vegas 1-wall pro doubles titles with Mercado. He was also the losing finalist in BB singles.
5. Mario Mercado , the double 1-wall winner with Mar, also made the Mixed 3-wall final in Vegas. Both Mar and Mercado likely would have been in the money had they made the trip to Huntington Beach.
6. @AAndres Acuña was in 2nd place in these standings after Outdoor Nats, but an early round Men's pro doubles loss in Vegas couldn't overcome his singles success and he drops to 6th on the year.
7. Alvaro Beltran 's Vegas performance was marred by his event-ending injury, which knocked him out of the pro semis (where he was favored), the CPRT finals, and a combined 100+ final.
8. Rocky Carson 's Vegas 3-wall pro doubles title couldn't overcome a slew of early exits at the other two events.
9. Solis Greg took both the Outdoor Nats and Vegas CPRT titles, enough for a spot in the top 10.
10. Jason Geis's Outdoor Nationals pro doubles title was enough to get him into the top 10.
————————–
For the full 2022 standings, use the following two Google Spreadsheet links:
– Women's Full 2022 Standings: https://docs.google.com/…/1gUgDx40hqxGPJydLNyUR…/edit…
– Men's Full 2022 Standings: https://docs.google.com/…/1HBH6v9KhPIuUkwYjjWlI…/edit…
See these two links at 3WallBall.com for the official home page for the series:
– Women;s Cup: https://www.3wallball.com/ladies-cup
– Men's Cup: https://www.3wallball.com/mens-cup
Thanks to all the pro players who competed in one of the three outdoor pro competitions this year (more than 100 men and more than 30 women). We look forward to 2023!