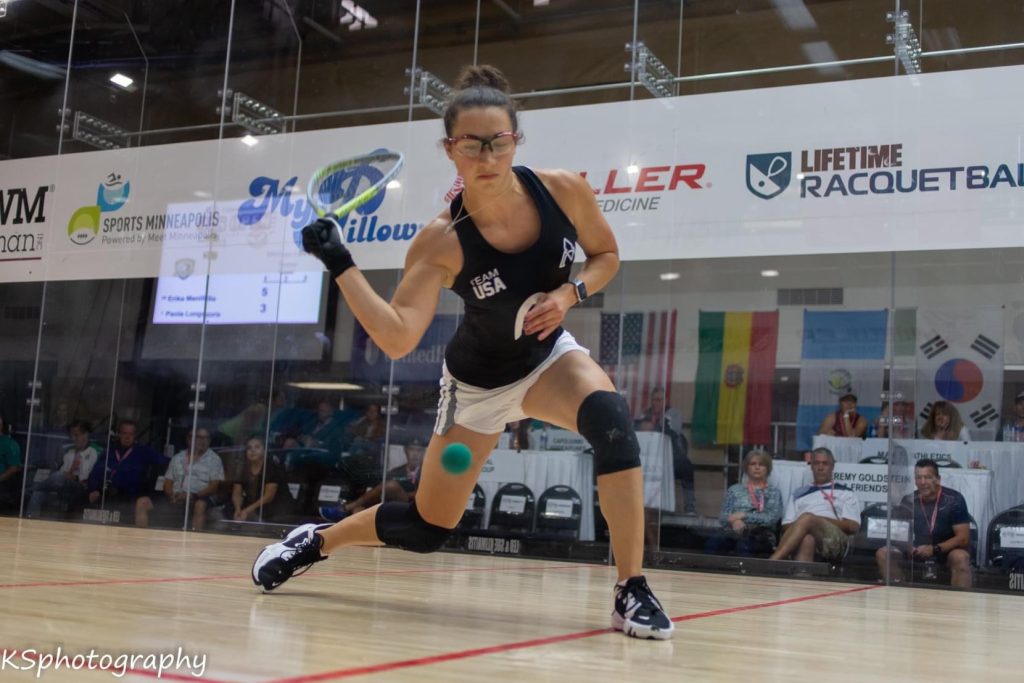 Welcome to the 30th Annual Turkey Shoot, presented in 2022 by Platt Hill Nursery and hosted at the famous Glass Court Swim and Fitness club in Lombard, IL. Home of the famous "fishbowl" sunken 3-wall glass court, this club is a regular host to both pro tours.
Last year's LPRT event featured a fantastic 11-9 final between #1 Longoria and then #3 Herrera as well as a couple of double-digit seeds into the quarters, shaking up the draw. See https://rball.pro/vxh for last year's results … what does 2022 have in store for us?
R2 Sports App link: https://www.r2sports.com/portfolio/r2-event.asp?TID=39960
There are 24 LPRT women's pros in Chicago-land this weekend competing.
Top 20 players missing this weekend include @Maria Jose Vargas , who has now dropped to #7 while on maternity leave; she may be back early next year. #13 Hollie Scott misses the event; curious as she has been traveling a lot for events lately. #14 Rhonda Rajsich continues her absence on tour; she has not played since the season ending event in June. Lastly Gaby Martinez , who won a major last year, has now dropped to #20 on tour; when she returns someone's going to have an awfully hard opening round match.
——————————
Lets preview the draw. Here's some notable qualifying matches that i'm looking forward to:
Round of 32:
– #14 Maria Renee Rodriguez has a fun match against USA U-21 and current Intercollegiate champ @Annie Roberts to open the tourney.
– #11 Samantha Salas Solis has an interesting one against USA's Lexi York , who has been training with the Bredenbeck boys in Minnesota and could be tough.
– In the #15/18 match we get Colombian-on-Colombian crime, as partners Cristina Amaya and @Maria Paz Riquelme are forced to play.
——————————-
round of 16:
– 8/9, tough as always: Brenda Laime versus Angelica Barrios . Both Bolivian born, both extremely tough to beat. Two contrasting styles; the classical flair of Laime versus the control grinding of Barrios. I see Laime upsetting the #8 seed to push for another Longoria meeting.
– 5/12: Montse Mejía and @Valeria Centella , who have been meeting since Juniors, meet again. They went breaker at the US OPen; can Centellas get an upset here?
– #6 @Jessica Parrill versus possibly Salas; two long-time Mexican top players set to battle once again.
– 7.10 projects to be Carla Munoz versus Kelani Lawrence , a total battle. I have them neck and neck in my personal world rankings, with Munoz slightly ahead. Expect a tiebreaker here.
——————————
Projected Qtrs:
– #1 @PaPaola Longo versus Laime: third time they will meet in the last three tourneys; Laime famously topped Paola in Virginia before Paola completely crushed Brenda at the US Open 1,8. What happens here? I don't think Paola is going to look past Laime again, so expect a win for the #1.
– #5 Mejia over #4 Natalia Mendez : Mejia is the better player, the more complete racquetball player, but has been known to drop games to fellow friends on tour like Mendez.
– #3 Erika Manilla over #6 Parrilla: Erika has handled Leoni the last couple times they've met, and Manilla has her eyes on #2 on tour. She'll be focused here.
– #2 @Alexandra Herrera vs Munoz: Carla is 0-6 lifetime against the lefty, and this would be the 3rd straight event they play. Alexandra is just too strong for Carla right now.
Semis:
– Longoria over Mejia: I know Mejia has topped Paola in the past, and it isn't out of the realm of possible, but is she prepared? Mejia hasn't played an LPRT event since mid August, having missed Worlds, Virginia, and the US Open. Longoria hasn't missed anything.
– Manilla over Herrera: they just met in Minn; a 6,6 dominant win for Erika, staking her claim to be the #2 player in the world. Can she repeat?
Finals;
Longoria over Manilla in a US Open final rematch. Manilla took game one in Minn before getting wiped out 5,3 in games 2,3. Can she make it closer here?
——————————-
Doubles review
Some interesting team machinations going on in Chicago: The clear #1 pro team of Longoria/Salas .. are not playing with each other for the first time that I can recall. And, long-time #2 team Herrera/Mejia have split up too, jumbling partners so that Herrera/Salas are taking on Longoria/Mejia. Weird.
From the top I like Herrera/Salas versus Munoz/MRR, while from the bottom i like Longora/Mejia over Manilla/Mendez.
Longoria and Mejia to win.
———————————
Look for Streaming in the regular places; follow the LPRT on Facebook and sign up to get notifications when they go Live.
Look for Timothy Baghurst , Jerry J Josey Jr. ., and Tj Baumbaugh on the mike, calling the shots!
Thanks to the Tourney Director @DaniDaniel Jay for putting this event on!
Reminder to Players! Please like and follow this page so that when I tag you, you see it. Facebook will only retain tags of people that like/follow a page, which means lots of you are not getting the notoriety of getting tagged and noticed on Facebook. If your name is here and it isn't tagged … it probably means I attempted to tag you but Facebook stripped it.
Coincidentally, if you're interested in playing Fantasy Racquetball for this event, the links to the brackets are advertised on LPRT's main page. The winner each week gets free swag!
Associations: LPRT