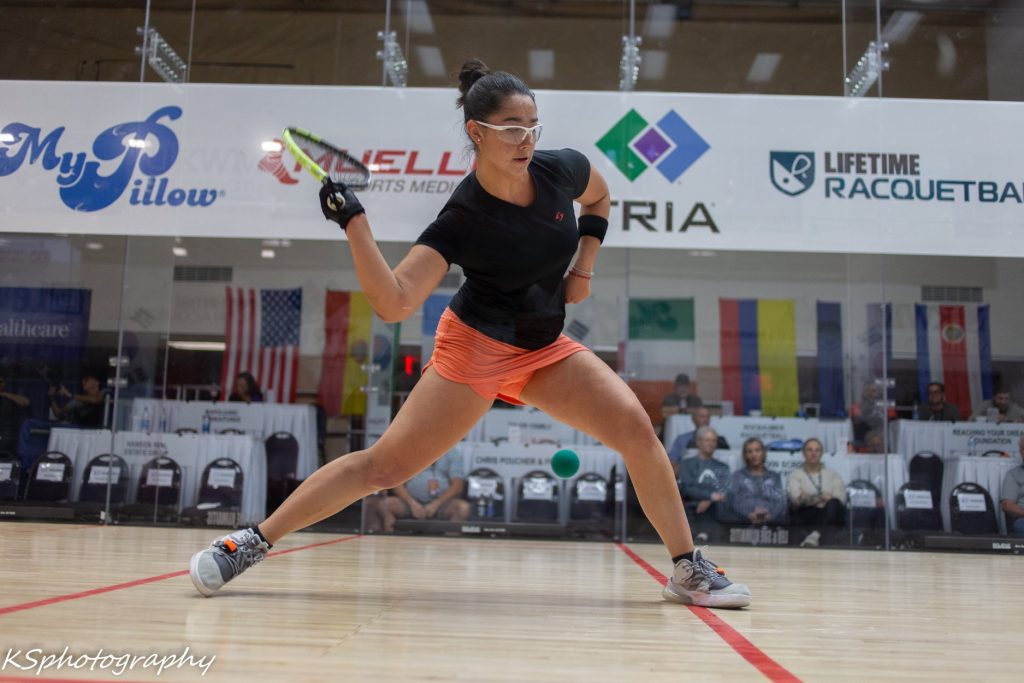 Congrats to your winners on the weekend:
– Singles: Montse Mejia
– Doubles: Alexandra Herrera & Samantha Salas
Match Reports in the ProRacquetballStats database:
– Singles: https://rball.pro/4tc
– Doubles: https://rball.pro/vcf
Mejia wins her 2nd career singles title, defeating #1 and #2 on tour to do so. Salas teams up with a new partner to win her 37th pro doubles title since we started tracking them.
R2 Sports App home page for event: https://www.r2sports.com/portfolio/r2-event.asp?TID=39960
——————
Lets review the notable matches in the Singles draw.
Singles Match report in the PRS database: https://rball.pro/4tc
—————-
No surprises in the 32s: Annie Roberts played well in taking MRR to 9,9, and Argentine junior Martina Katz played Lawrence well in game one before losing big in game two.
—————-
In the 16s, four upsets by seeds to talk about:
– #9 Brenda Laime with a solid win over #8 Angelica Barrios 11-6 in the breaker. These are the kinds of tough wins you have to continually get when you're in the 9-16 range in order to move up.
– #13 @Sheryl Lotts got her best career win, topping #4 Natalia Mendez 11-9.
– #11 Samantha Salas showed that she's not done yet on tour, topping fellow Mexican veteran #6 @Jessica Parrill 11-8.
– #10 @Kelani Lawrence met #7 @Carla Munoz for the first time on the pro tour (they've met 4 times internationally) and got the win 11-7. A solid win between two players that are neck and neck in terms of talent.
—————-
In the Quarters
– #1 Paola Longoria had to work for it, but she beat down the challenge from Laime (who had beaten her earlier this season). 11-8 in the breaker.
– #5 Montse Mejía made fast work of the Cinderella #13 seed Lotts, 13,2.
– #3 Erika Manilla held serve against the tough veteran Samantha Salas , moving into the semis in two close games 13,11
– #2 Alexandra Herrera dominated American Lawrence to move on 3,11.
A great set of semi-finalists; for me the best four players in the world.
—————
In the Semis
– #1 Longoria was beaten again, this time by Mejia in a breaker. Mejia was down big in each game but clawed back each time.
Longoria fought back in game 2 to force a tie-breaker, saving multiple match points against, but Mejia left no doubt by jumping out to a huge lead in the breaker to win going away 11-3.
– #2 Herrera demonstrated why there's still a gulf between #2 and #3, crushing Manilla 7,4 to move into the final. Herrera makes her 6th final out of the last 10 pro events.
In the Finals … the two long-time doubles partners (who have seemingly split) went to battle, and it looked for a time like Mejia was not going to compete. She took a bad injury in the doubles match the night before and looked sluggish in game one, losing 15-2. But she battled back, grinding out game 2 15-12 before taking the breaker after running out to a huge lead. Inspired play from Mejia.
—————-
Points Implications of results.
This tournament sees off two Nov 2021 events (Arizona and this same event in Chicago), both won by Paola, and neither of which Montse played in, so she gets a HUGE jump in the rankings as a result.
The top 2 remain the same, and despite her recent upsets Paola still has a commanding lead for #1, just as Alexandra has a commanding lead for #2. But Montse now sits at #3 on tour, jumping over several ladies in the process.
Elsewhere on tour, Munoz moves up to #7, jumping over Vargas, who slips from #3 to #8 by virtue of losing points in essentially three events. Barrios, who has been ranked as high as #4, will slip outside the top 10 for the first time in quite a while. Lotts with her big win moves up to #14, and the absent Rajsich now slips nearly out of the top 20.
—————-
Doubles review
Match report in the PRS database: https://rball.pro/vcf
The new pairing of Herrera & Salas proved too dominant, cruising into the final from the top half. From the bottom half, the seemingly dominant Longoria/Mejia team nearly was upset in the quarters by Laime/Barrios, having to save match points before advancing. They then lost to Manilla/Mendez in the semis (Mendez choosing not to play with fellow Argentine Centellas, who instead matched up with Parrilla and got crushed in the quarters).
In the final, the two excellent doubles players Herrera/Salas outlasted the improving Manilla/Mendez team, winning 13,14.
—————-
Other Draws:
– Lawrence cruised through the Women's Open draw, never giving up more than 8 points in a game while topping Maldonado, Amaya, and Centellas to win.
– @Thomas Carter took the 10-man Men's Open draw, topping fellow IRT tour veteran @Mario Mercado in the final after beating fellow lefty Rodrigo Rodriguez in the semis.
—————–
Thanks for all the streaming on the weekend, especially from broadcasters Timothy Baghurst, Jerry J Josey Jr., and @Tj Baumbaugh]
——————
Next up?
Per our handy master racquetball calendar …
We have Thanksgiving this coming weekend, then the first weekend in December sees the IRT visiting Portland for the Live Like John Pelham memorial. We also see the kick off of World Juniors 2022 in Guatemala.
——————-
tags