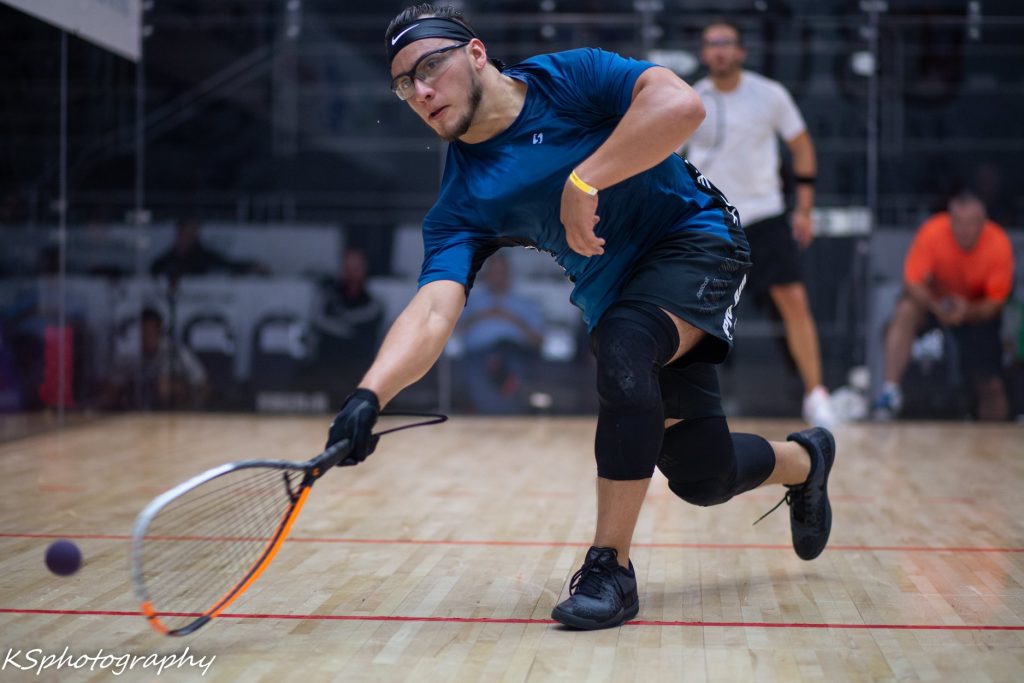 The Men's tour returns to Atlanta and has its first Grand Slam of the 2023 season at Recreation Atlanta, in Lilburn, GA. Great friend of the sport Donald Williams and his namesake companies have sponsored the Grand slam event.
R2 Sports App link: https://www.r2sports.com/website/event-website.asp?TID=40471
The draw includes 31 pros, and continues a downward participation trend we're seeing on the men's tour this year. Three events and the singles draws have gone 36, 30 and 31. Most of the 2022 tour events had draws in the 40-48 player range and its a situation to monitor. Perhaps as we get closer to the international events we'll have better turnout from international teams.
Top20 players missing; we're missing the newly ascended #1 player on tour Moscoso due to reasons that will likely be announced soon. We're also missing #3 Portillo (injury), #9 Waselenchuk (injury), #12 Mercado (visa/travel issues), #13 Carson (semi-retiring), #15 Mar (unknown), #18 Patata (travel), and #19 Garay (unknown). These absences give Jake a career best #3 seed and give some really high seeds to mid-teens players.
Most importantly, it opens a huge door for #1 seed and #2 ranked Daniel De La Rosa to return to #1. This tournament expires the 2021 Sarasota open, which Moscoso won, so he's losing 400 rankings points with no defense. Meanwhile, DLR has the chance to replace his semis loss (220 points) at that event with Grand Slam points this weekend. By my calculations, if DLR gets to at least the semis, he'll jump Moscoso and return to #1.
The 31 players in the draw are playing a straight draw, so we start with the round of 32. Here's some openers to watch:
– 16/17 Kadim Carrasco vs Guatemalan Juan Salvatierra : Carrasco is fresh off a doubles win at Bolivian Nationals, and had a quick turnaround and long flight to Atlanta here; he'll battle jet lag fatigue in this match but should advance.
– #4 Alejandro Landa versus #29 DJ Mendoza : Landa has gone one-and-done in two straight IRT events, complaining all the while about the slower ball. Is he in his own head at this point? Could we see a huge upset at the hands of USA 18U team member Mendoza? Probably not here, but something to watch for.
– #10 Erick Trujillo versus #23 Jose Daniel Ugalde : Trujillo gets a very tough opener in the veteran Ecuadorian, who has some solid international wins in his career. Upset watch.
——————————-
Round of 16: matches to watch for:
– #5 Samuel Murray vs #12 Alan Natera : is Murray back to being 100% ? He won the Canadian qualifier, but Natera played solidly at the last event.
– #4 Landa vs #13 Jaime Martell : Martell can get wins and can upset Landa if he's distracted. Landa has been distracted for weeks; i'm going with a Martell upset.
– #7 Andres Acuña versus #10 Trujillo: this is a solid matchup of two players on the rise. Acuna is higher seeded and is the better player, but this is the kind of statement match Trujillo can build on. If Trujillo wants into the top 10 on the IRT, this is the kind of match he needs to win.
——————————
Projected Qtrs:
– #1 DLR over #8 @Adam Manilla Manilla was the star of USA Nationals, winning mixed with his sister @erErika Manila and surprisingly making the men's doubles final with Wayne Antone . He was on fire all weekend; can he press the two-time defending IRT champ?
– #13 Martel over #5 Murray: last time these two played, it was a 2-game win Jaime and that was when Sam was full strength.
– #6 Rodrigo Montoya over #3 Jake: these two have played a bunch since both were on the WRT back in 2015. Rodrigo leads H2H 5-4, and has won the last two, and is coming off an impressive win at Mexican Nationals.
– #2 Andree Parrilla over #7 Acuna: Andree finally gets a straight forward path into the weekend and won't drop the ball.
Semis:
– DLR over Martel: Jaime's run ends.
– Montoya over Parrilla: he's the better player right now.
Finals: DLR over Montoya; Rodrigo has a handful of wins over DLR in their careers, but mostly DLR beats his fellow countryman and won't miss the opportunity to get 600 valuable ranking points to take back control of the tour.
——————————-
Doubles review
– USA National champs Landa and DLR have (finally) paired up on tour and are the #2 seeds. They'll be challenged by some newish looking teams (#3 seeds are Murray and Jake, who have played together a couple of times but not for quite a while) but should advance to the final.
#1 seeds Montoya and Parrilla used to be a frequent pairing and have a 9-4 career IRT doubles record together, but I can't see them topping the excellent DLR/Landa pair.
———————————
Look for Streaming in the regular places; follow the IRT on Facebook and sign up to get notifications when they go Live.
Look for Favio Soto, Pablo Fajre and the IRTLive crew all weekend on the mike, calling the shots!
Thanks to the Tourney Director Donald Williams for putting this event on!
Associations