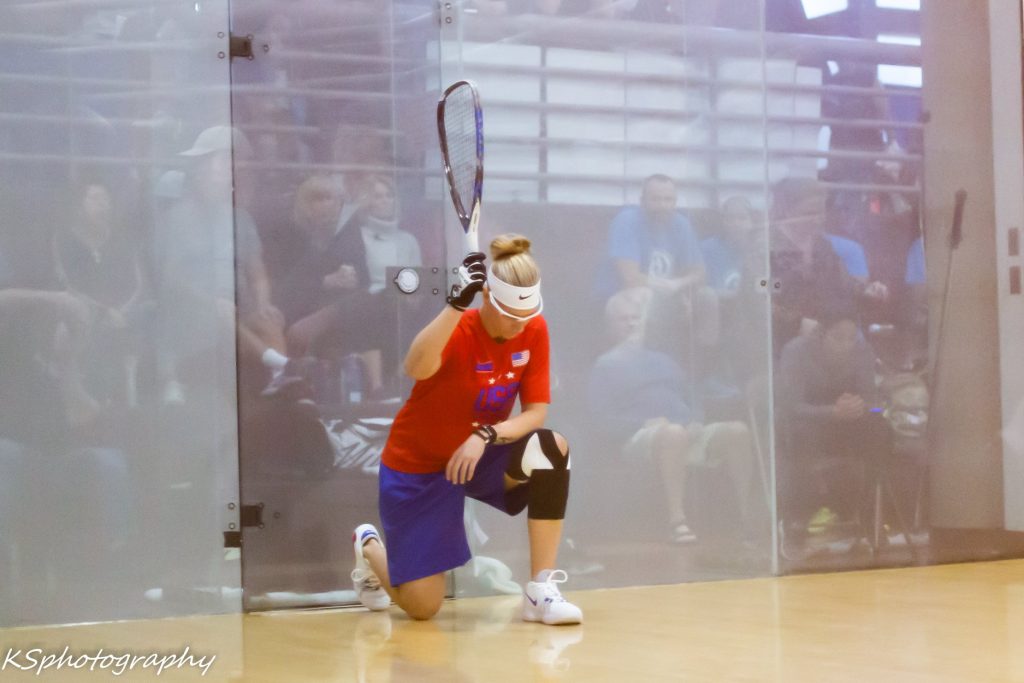 Big props to @Jim Winterton and all of Arizona Racquetball (known as the Racquetball Players Association of Arizona or RPAA for putting on a full blown ladies pro stop in conjunction with their state doubles event. Official title of this event: "023 Arizona State Doubles Championships w\ LPRT hosted by RPAA," held at the same facility at Arizona State that two weeks ago hosted National Doubles.
R2 Sports App link: https://www.r2sports.com/tourney/home.asp?TID=39119
Big news this weekend; the return of several big names on tour from the last few years. First off, 4-time LPRT champ and future Hall of Famer Rhonda Rajsich is in the pro draw for the first time since she "quiet quit" the tour after last year's Kansas City grand slam. The Arizona resident didn't have to go far to enter this event, likely a factor for her entry. Also back this weekend off of maternity leave is former #2 player on tour Maria José Vargas . Unfortunately for all parties, Rajsich and Vargas have to play first round. Lastly, former World champion Ana Gabriela Martínez is entered for just the third time this season; she's seen her ranking plummet and will have to fight her way back up.
Top-20 players missing: just two: #8 Salas, likely taking a break after nationals. #17 Enriquez is not here, also likely taking a break after Mexican Nationals.
——————————
Lets preview the draw. Here's some notable qualifying matches that i'm looking forward to:
– #16/17 Vargas vs Rajsich. I have no idea who's been playing, or how much. Rhonda was at US Nationals two weeks ago and finished in 3rd. But Vargas is closer to her prime and is the favorite here.
– #9 Kelani Lawrence gets the always dangerous Lucia Gonzalez in the first and is a prime upset watch.
– #12 Valeria Centellas faces off against #21 Lexi York in what could be an interesting first rounder.
——————————-
round of 16:
– #1 Paola Longoria versus Vargas: wow; a year ago this would have been a final. Now its a round of 16. I'm guessing Vargas is not nearly in playing shape to challenge Paola right now.
– #8/#9: If Lawrence can get past Lucia, she projects into Brenda Laime in a good old-fashioned Mid-Atlantic showdown. Advantage Laime here, who can't quite get out of the #8 seed and a Longoria quarter.
– #5-12 is an all-Argentine affair with Natalia Mendez and Centellas facing off.
– #6 Jessica Parrilla versus #11 Hollie Scott : tough one: Scott beat Jessica the last time they met but it was 11-10. Parrilla just topped both Herrera and Mejia to qualify at Mexican Nationals and is on fire. Advantage Leoni.
– #10 Angelica Barrios , fresh off her triple crown at Bolivian Nationals, faces #7 @Carla Munoz . Advantage Barrios, who is 3-1 lifetime against the Chilean.
– #15 Martinez over #2 Alexandra Herrera : what an awful matchup for Herrera, who is #2 on tour but yet is just 1-5 lifetime against Gaby. Practically any other play-in and you'd favor the lefty, but she is the underdog here.
——————————
Projected Qtrs:
– #1 Longoria over #8 Laime: after one shock loss, Paola won't look past the Colombian again. It still likely goes breaker.
– #4 Erika Manilla over #5 Mendez: Manilla is focused and won't look past the challenging Mendez.
– #3 Mejia over #6 Parrilla: I know this is a reverse of what just happened in Juarez, but Mejia will see the draw opened up and will pounce.
– #15 Gaby over #10 Barrios: Angelica has a win over Gaby, but it was on home soil internationally. Gaby's the better player.
Semis:
– Longoria over Manilla: Erika got a game off Paola at the US Open but then collapsed. What did she learn, and what can she do to take the next step? I expect another breaker, closer in the breaker.
– Mejia over Martinez: Montse has topped Gaby the last four times they've played, and will do it again.
Finals; Mejia over Longoria.
Montse has beaten Paola twice in a row on the LPRT, the last time handily, and should do it again. Yes, Paola just destroyed Montse at Mexican Nationals … something's different about Nationals versus pros for Longoria right now. A year ago we were asking whether Alexandra was the new heir-apparent … now I think we know who is.
——————————-
Doubles review
We don't normally preview in detail pro doubles, but there's a ton of interesting storylines in Arizona.
First off, Mejia and Herrera are back together; after splitting up for a couple of events and not really being happy with the move, they're back together, the #1 seeds, and the clear favorites. They just took out Longoria/Salas to take Mexican Nationals together and break something like a 15-year streak of those two winning the title in mexico.
But there's a ton of good teams from the top half to contend with. Team Argentina (Mendez/Centellas) is here, along with the former team Argentine Vargas (playing here with Munoz). USA's vanquished former national champs Scott/Lawrence are the #5 seeds, and two very dangerous doubles players in Barrios/Laime are the #8 seeds.
In the bottom half … Longoria's regular partner Salas is not here, so she's teamed with Rajsich as the #3 seed, but I can't see them getting past the newly crowned USA champs Manilla and Michelle Key. I see Manilla/Key taking out both the Longoria team and then the #2 Guatemalan team of Martinez/Rodriguez before losing to the Mexican champs in the final.
———————————
Look for Streaming in the regular places; follow the LPRT on Facebook and sign up to get notifications when they go Live.
Look for Timothy Baghurst, Jerry J Josey Jr., and Tj Baumbaugh on the mike, calling the shots!
Associations